Santiago spent offseason thinking he'd be traded
Angels lefty faces battle for rotation spot this spring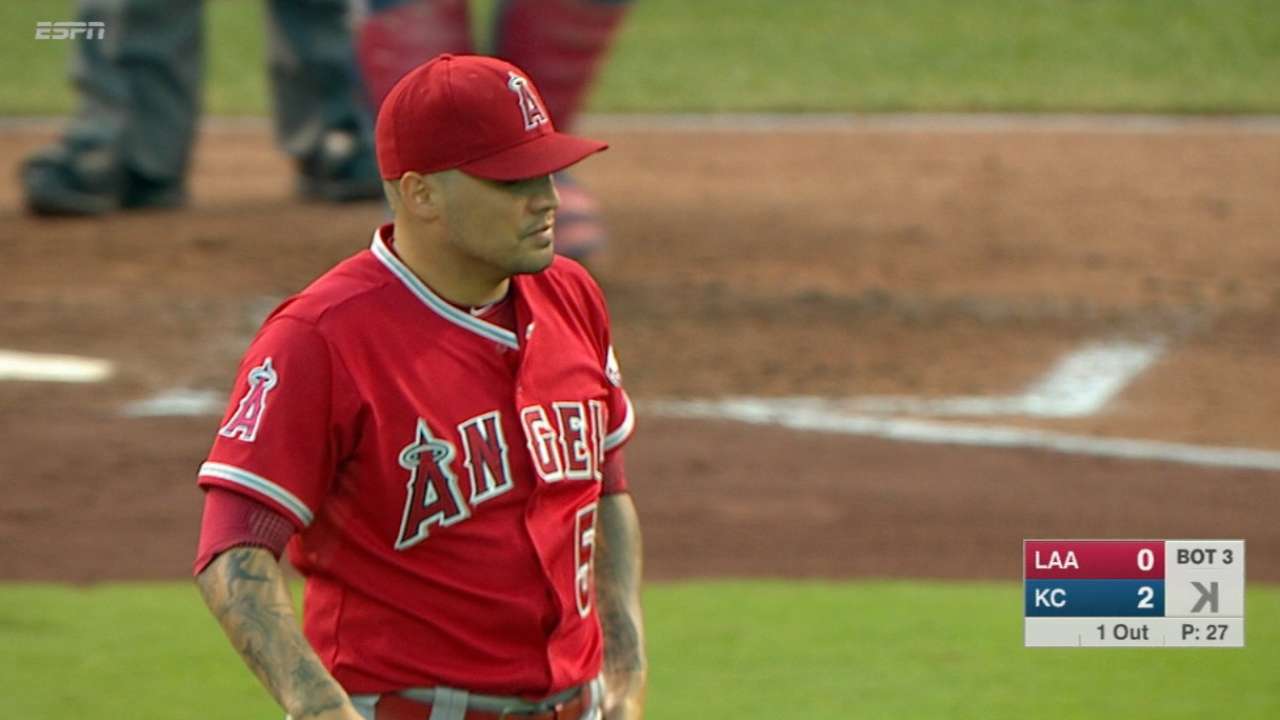 TEMPE, Ariz. -- This was the biggest offseason of Hector Santiago's life. He was set to be married, getting ready to host a multitude of family members at a ceremony in Puerto Rico and eyeing a relaxing honeymoon in the Dominican Republic. And then, in the buildup to all of that, the Angels' left-hander got a call from his agent, Jim Murray, who had a premonition.
"I think you're going to get traded."
Spring Training: Tickets | Schedule | Complete info
And so for several days in late November, the thought of a potential trade consumed Santiago. He found himself engrossed by social media -- even more so than usual -- and was constantly making sure the sound was turned up on his smartphone. At one point, he thought the Orioles would acquire him. Or the Pirates. Or the Marlins. Somebody.
The Angels had too many holes in their lineup, and they had too many pitchers for their rotation.
"For like a week and a half," Santiago said, "it felt like it was happening."
Santiago got married Nov. 27, the day after Thanksgiving. Thirteen days later, on Dec. 10, he departed for a five-day trip to the Dominican. That also marked the final day of the Winter Meetings, when crazy things tend to happen. The Angels still needed a left fielder, were eyeing a second baseman and continued to scour the market for help at third, before finally settling on Yunel Escobar.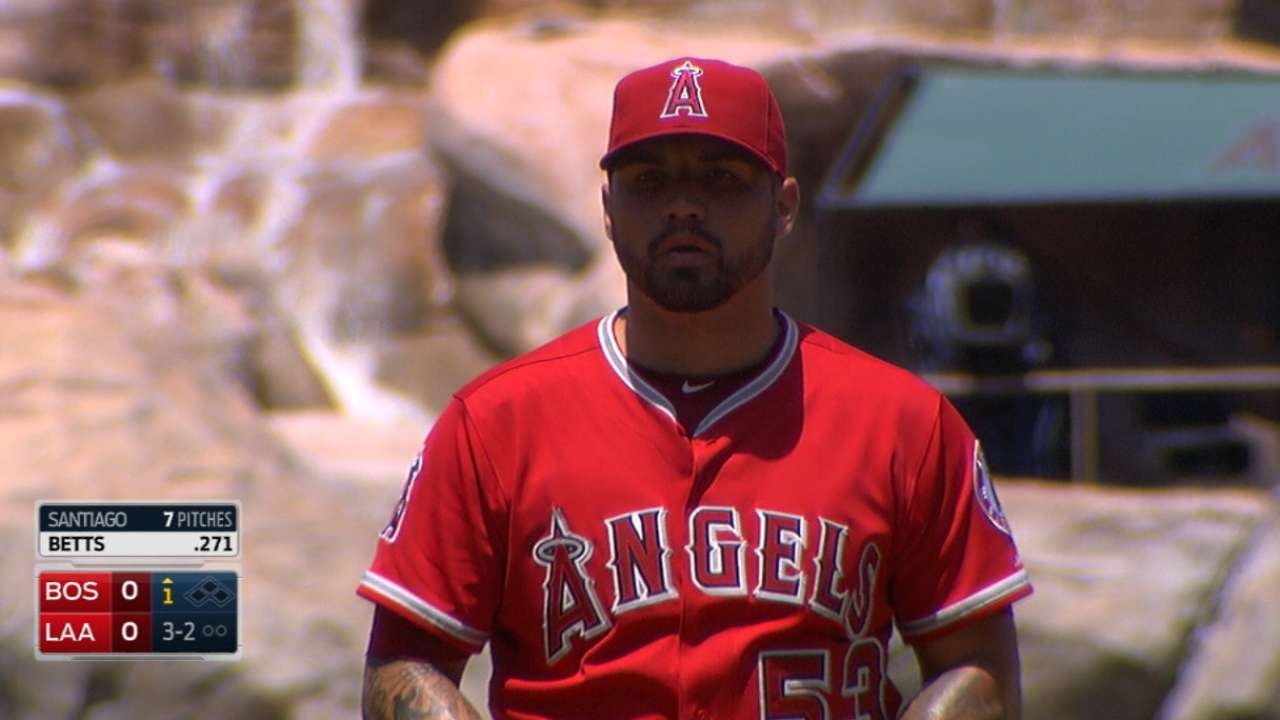 Santiago told his agent he would be unreachable. He and his wife switched their phones to airplane mode and kept them inside the safe of their resort, disconnecting them from whatever madness ensued back home.
It was a blessing.
"It's definitely better to not think about it than to have it be constantly going through the back of your mind," Santiago said. "I'd rather not see anything or hear anything."
Santiago never brought it up then and didn't so much as think about it. On the final day, he and his new bride, Esther, were laying by the pool when he finally turned to her and said, "I wonder if I got traded."
He didn't, of course.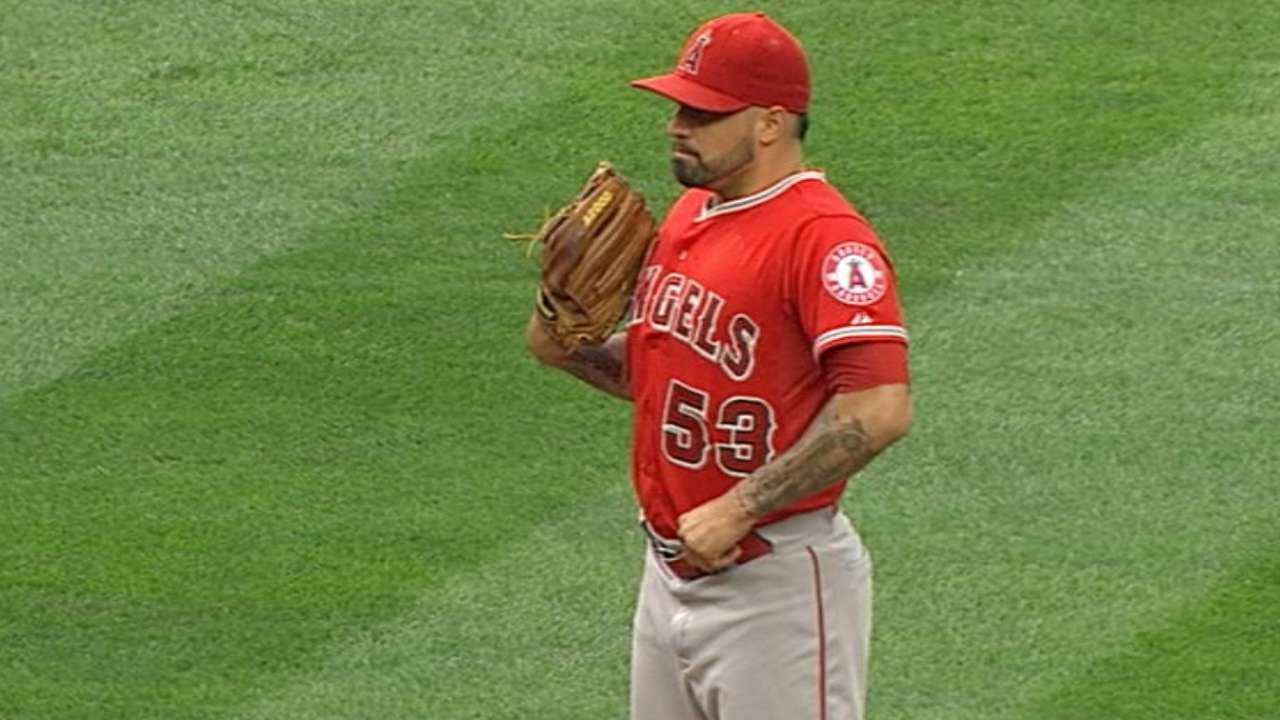 The Angels, under new general manager Billy Eppler, opted to keep all eight of their starting pitchers. And now Santiago finds himself competing against four of them -- Andrew Heaney, Matt Shoemaker, Tyler Skaggs and Nick Tropeano -- for what appears to be two open rotation spots.
Santiago would appear to have the upper hand for one of the openings, considering he was an All-Star last season and has the most service time. But he's also the only one of the group to have thrived in a bullpen role, making 38 of his 42 appearances with the White Sox in 2012 as a reliever.
"Every year, it's something different for me," Santiago said. "Whether it's for trade rumors, or starting and relieving, it's always a question -- what's going to happen?"
Santiago was brilliant in the first half last season (2.65 ERA) and erratic in the second (4.70 ERA). He walks a lot of hitters, and his delivery can be inconsistent. But he can throw an assortment of different pitches at any count, and he has managed to mostly keep runners from scoring. His results the last three years -- 3.62 ERA in 457 innings -- speak to a man who belongs in the Major Leagues.
But in what role?
"It's fun in the bullpen," Santiago said, "but starting is awesome, man. That's the life."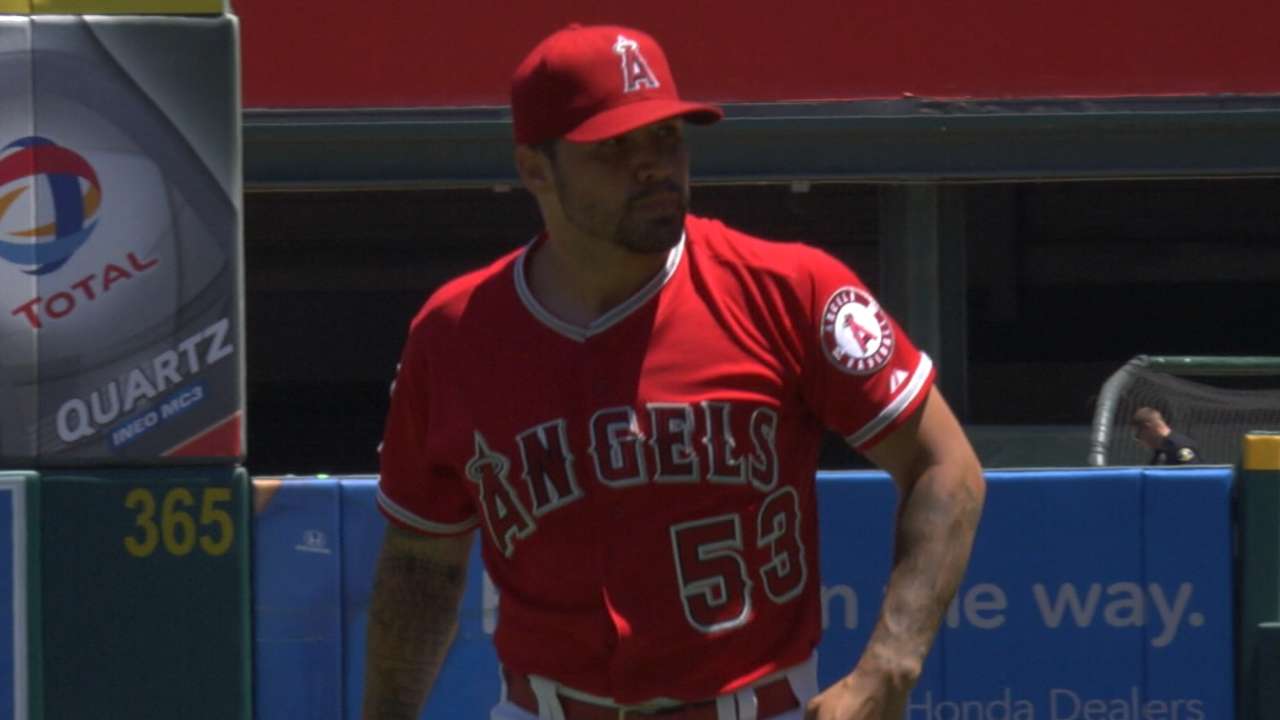 The lefty has been through this trade stuff before, having been acquired by the Angels in a three-team deal that took place in December 2013. He is generally at ease about the whole thing, understanding of the fact it comes with the job. This offseason was just different.
Santiago returned from vacation reasonably confident he would remain with the Angels through the winter. But then, in early January, the Angels avoided arbitration with him suspiciously early, meeting his representative's demands for a $5 million salary on Jan. 8, in part to facilitate a potential deal.
It made Santiago think, once again, that he was being traded.
Until, once again, he wasn't.
At one point, Santiago finally just told his agent, "I don't care. Honestly, it doesn't matter to me. If I get traded, I get traded." He's still here, but the Angels could still upgrade in left field and second base, so the possibility of a trade remains.
Santiago believes he's safe until Opening Day, at least.
"I think so, whether it's starting or relieving," Santiago said. "This late, if it's going to happen, it'll happen at some point before the Trade Deadline."
Alden Gonzalez is a reporter for MLB.com. Follow him on Twitter @Alden_Gonzalez and Facebook , and listen to his podcast. This story was not subject to the approval of Major League Baseball or its clubs.