Pujols showing signs of progress
Slugger hopes to be ready for Opening Day after recovering from foot surgery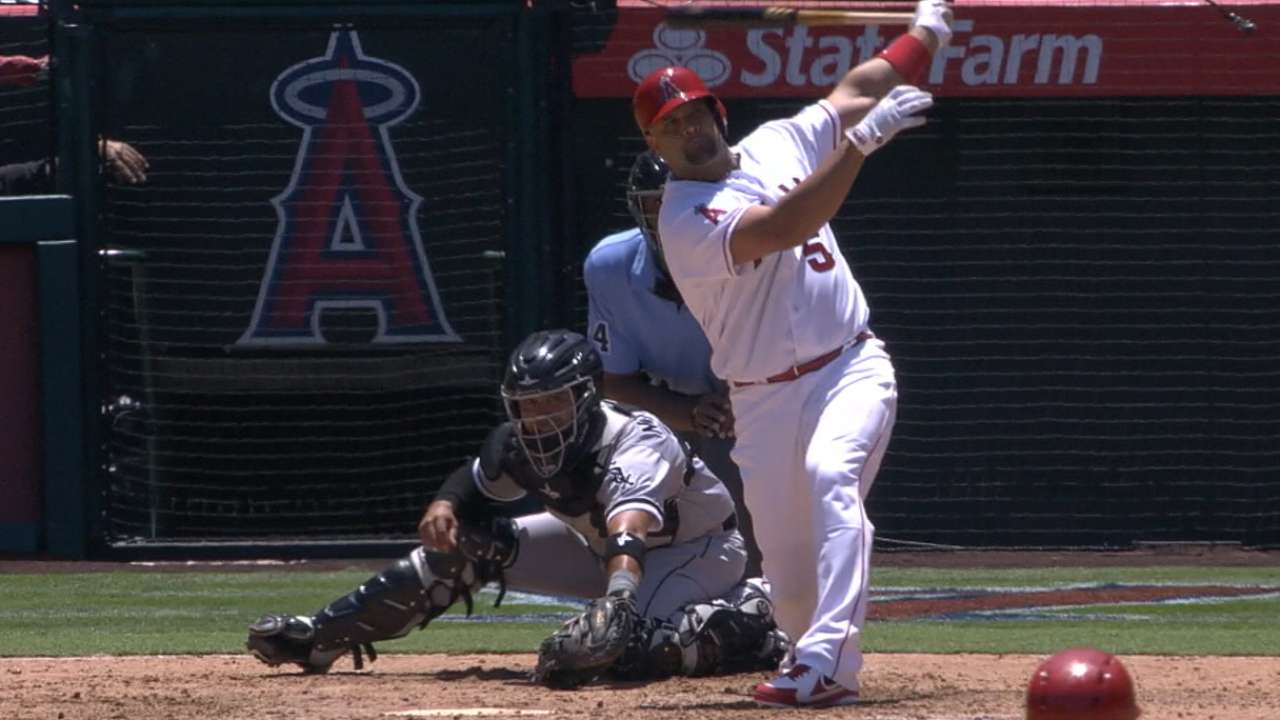 TEMPE, Ariz. -- Albert Pujols wouldn't promise that he'll be ready for Opening Day, but the Angels slugger sounded optimistic about the progression of his recovery from foot surgery.
"I think it's just like I did last year, just coming to Spring Training and progressing and just [taking] it how I go," Pujols said Tuesday as Angels pitchers and catchers reported to Tempe Diablo Stadium for the start of Spring Training. "I don't have really a date. I'll be ready when I'm ready. Same thing as last year, take it one day at a time."
Pujols, who dealt with a right foot issue for much of the 2016 season, initially believed he would be able to avoid offseason surgery and instead began shockwave therapy in September. But the treatment was unable to relieve the pain in his foot, forcing Pujols to undergo surgery on his plantar fascia in December. It was his third offseason surgery in the last five years.
"I did the procedure that the doctor told me to do, and it didn't work out," the 37-year-old Pujols said. "After six weeks, I still had the same pain, if not worse, than what I had when I finished the season. That's when I made my decision that I need to get this thing done.
"I wish I would have done it right away after the season and not have waited until December, but we had to wait six weeks for this treatment to take effect, and it just didn't work out."
The surgery, which was performed by Dr. Robert Anderson in North Carolina, typically entails a four-month recovery period, though Pujols said that he's been pleased with his progress so far. He is already hitting, taking ground balls and playing catch, essentially doing everything on the field besides running.
"Right now he feels really good," manager Mike Scioscia said. "I think he's getting a lot of the stiffness out of his foot. He's able to swing. He hit in the cage today. We're just going to let it go on its own pace."
Should Pujols not be ready for Opening Day, the Angels will likely deploy Luis Valbuena at first base, with C.J. Cron serving as the designated hitter.
Despite playing through pain, Pujols batted .268 with 31 home runs and 119 RBIs over 152 games for the Angels in 2016. He has five years and $140 million remaining on the 10-year, $240 million contract he signed with the Angels ahead of the 2012 season. "I know if I'm healthy what I'm capable of doing," Pujols said. "My expectation is to try to help this club win the World Series, like every year."
Maria Guardado covers the Angels for MLB.com. This story was not subject to the approval of Major League Baseball or its clubs.