Street aims to win back closer job
Angels veteran feels healthy after injury-plagued 2016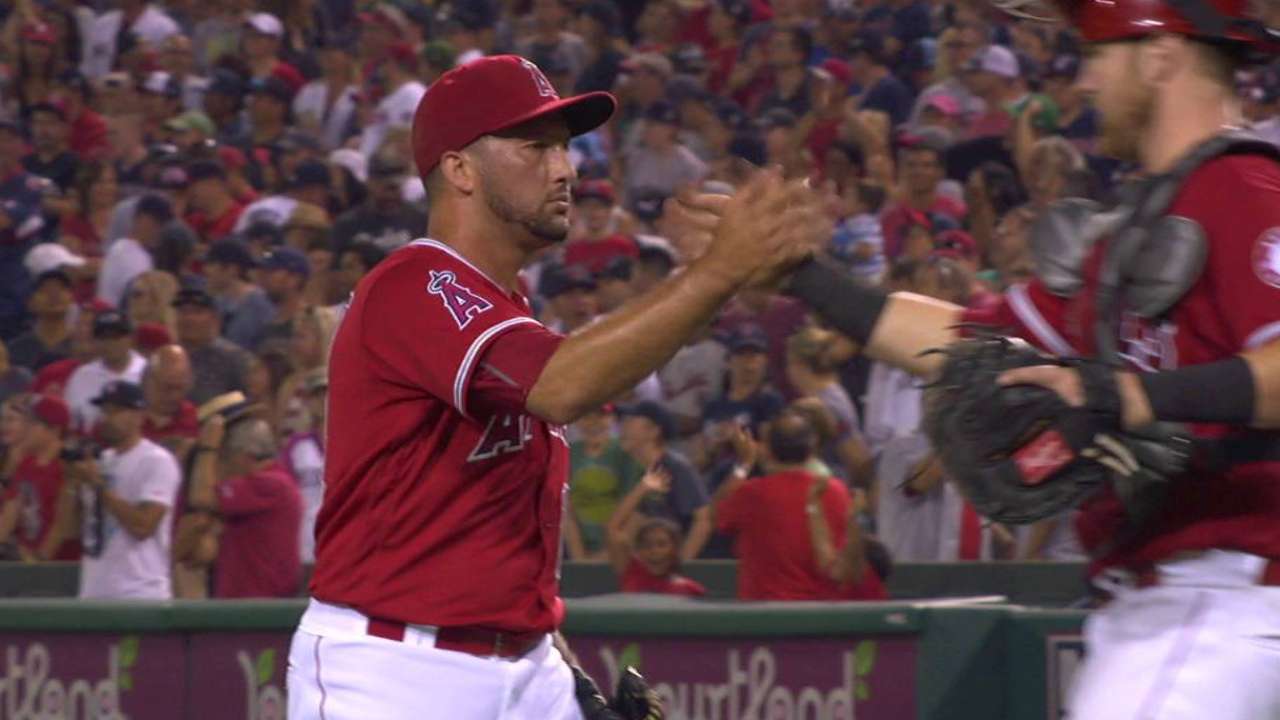 TEMPE, Ariz. -- It's been eight years since Huston Street arrived to Spring Training without a defined role on a club. The 33-year-old Angels right-hander has spent the majority of his career as a closer, but now he'll have to fight for the job, along with Cam Bedrosian and Andrew Bailey.
While Street made it clear that he wants to win the competition, he also stressed that his focus this spring will be to prepare for the season, particularly after injuries derailed his 2016 campaign.
"I'm getting ready for the season, same as I always am," Street said Wednesday before Angels pitchers and catchers took the field at Tempe Diablo Stadium for their first workout of the year. "I'm not trying to pitch different to win a job. The last time I was in a competition, I think, was 2009 [with the Colorado Rockies], and I said the same thing in camp then that I'm going to say now. I'm going to go out, I'm going to do my best. I'm pulling for these guys because these guys are my teammates. I'm pulling for them to do good. I'm pulling for myself to do good. But I want to be the closer, and I'm hoping they choose me."
• Spring Training: Information | Tickets | Schedule | Gear
Street recorded a 6.45 ERA over 22 1/3 innings and saved nine games for the Angels last season. He converted his first five save opportunities of the season before landing on the disabled list with a left oblique strain in late April. Street missed 32 games while recovering from the oblique issue, but he believes the injury also altered his mechanics, which ultimately resulted in ineffectiveness and right knee injury. His season ended when he underwent arthroscopic knee surgery on Aug. 24.
"We had the oblique obviously, which to led to, I think, mechanics change, which led to the knee, which led to in the middle of the mechanics changing, a lot of bad performance," Street said. "But I'm not worried. You can't really change anything about last year, so it's not something I'm necessarily going to even worry about or talk about. I know exactly how to play baseball. I was hurt last year. You just show up this year as a brand new year, try to make it like 2012, 2013, 2014, 2015. Those were all good years. I just had my first really bad one last year."
After recovering from knee surgery in October, Street dedicated the offseason to improving his conditioning. He lost some weight and hopes that his fitness will help him avoid the disabled list in 2017.
"I trained, tried to get a little stronger, tried to work on the things that I felt failed me last year," Street said.
"I think he's in the shape that he needs to be," manager Mike Scioscia said. "As you start to get a little bit older in this game, at times your goals on conditioning need to adjust. So he has, and he's in great shape."
Maria Guardado covers the Angels for MLB.com. This story was not subject to the approval of Major League Baseball or its clubs.