Angels will monitor Skaggs' workload
Lefty ready for first full season after Tommy John surgery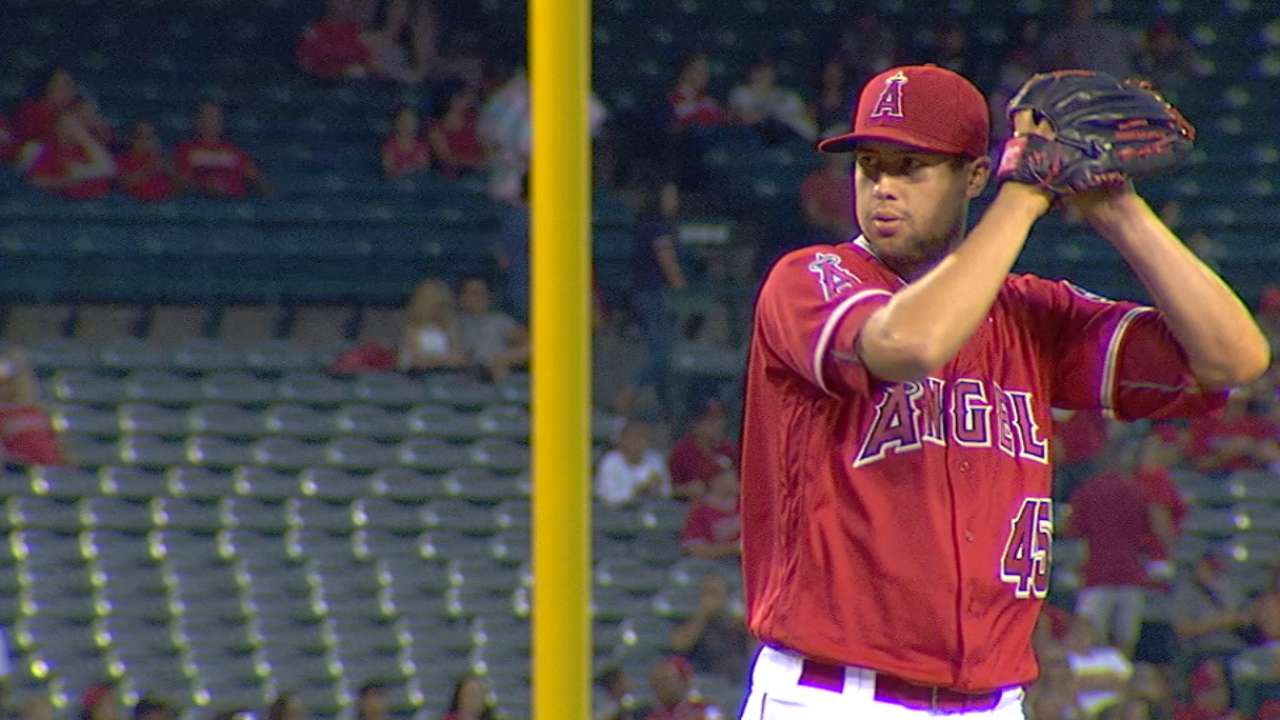 TEMPE, Ariz. -- It took nearly two years for left-hander Tyler Skaggs to return from Tommy John surgery, and when he completed his comeback in July, he produced inconsistent results for the Angels.
Skaggs, 25, posted a 4.17 ERA over 49 2/3 innings in 2016, but the Angels are hoping he'll be able to bounce back and stay healthy in 2017 after enjoying a normal offseason.
"He's stronger now. I think he feels good," manager Mike Scioscia said Wednesday. "I think you can see that his stuff is real. If he can stay healthy, we expect him to have a terrific season. That's really what our goal is with Tyler."
• Spring Training: Information | Tickets | Schedule | Gear
Skaggs has never pitched more than 113 innings in a Major League season, and the Angels will monitor his workload. Still, Scioscia said he hopes Skaggs will be a durable member of the Angels' rotation this year.
"Right now I don't think there's going to be any artificial barriers we're going to put up, but common sense says he won't be stretched out to 210 innings this year," Scioscia said. "At some point a young pitcher needs to jump off that ledge and hopefully climb for a higher ledge. If he's healthy, he should be able to push it forward and get up there closer to where you would expect a full workload to be."
#Angels' Garrett Richards, Ricky Nolasco and Tyler Skaggs are throwing bullpens today pic.twitter.com/Ct176P7Lim

— Maria I. Guardado (@mi_guardado) February 15, 2017
• The Angels announced that right-hander Deolis Guerra cleared waivers and was outrighted to Triple-A Salt Lake. Guerra, who posted a 3.21 ERA over 53 1/3 innings for the Angels in 2016, was designated for assignment last week to clear a roster spot for Austin Adams.
• Martin Maldonado and Carlos Perez will enter the season as the Angels' top two catchers, but it's unclear how playing time will be divided between them. Maldonado, who was acquired in an offseason trade from the Brewers, will likely start the year as the club's primary backstop, but he's never appeared in more than 79 games in a single season in the Majors.
"Maldonado hasn't caught 100 games yet," Scioscia said. "Hopefully he'll be ready to go catch and take that leap to the next level. I don't know where he's going to fit in. If they both catch 80, they both catch 80. If he catches 90, it's 90-70. If Carlos is playing his butt off and catches a little more, he catches a little more. ... But that remains to be seen."
• Alfredo Griffin will return to coaching first base, a position he held for 16 seasons before shifting to infield coach last year. Griffin will replace Gary DiSarcina, who left to become the Red Sox bench coach. Griffin will continue to work with infielders, though bench coach Dino Ebel will be more involved in coordinating the defense during games. The Angels did not add another member to their Major League coaching staff following DiSarcina's departure, but Scioscia said he expects assistant hitting coach Paul Sorrento to have a greater presence on the bench this year.
Maria Guardado covers the Angels for MLB.com. This story was not subject to the approval of Major League Baseball or its clubs.