Middleton on the rise since switch to relief
Hard-throwing prospect could join Halos' bullpen this year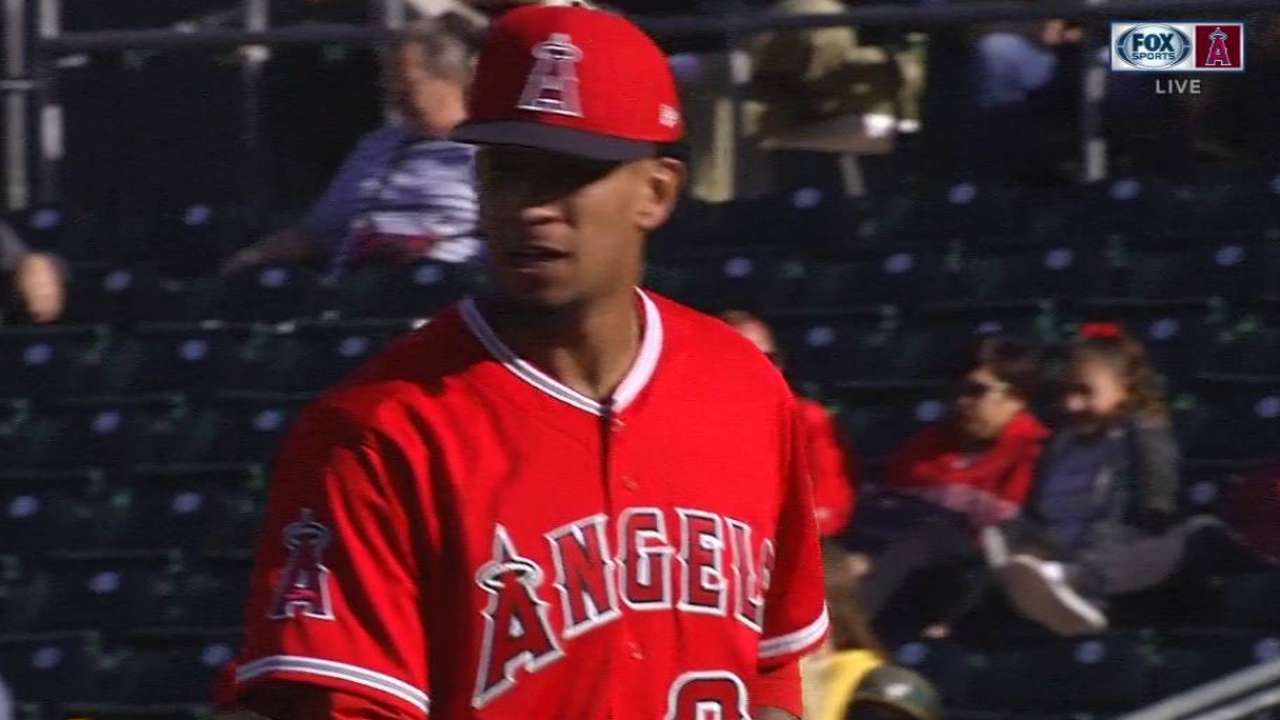 TEMPE, Ariz. -- Keynan Middleton didn't think he could do it. His fastball velocity had been creeping up into the upper 90s, but as hard as he tried, he could never seem to crack triple digits.
"I was telling all the guys in Double-A, I can't do it," Middleton said Sunday. "I'm throwing every pitch as hard as I can, and I can't do it."
Then came the breakthrough.
Last July, after picking up the save in Double-A Arkansas' 2-1 win over Northwest Arkansas, Middleton came back into the clubhouse and was greeted by a group of excited teammates, who revealed that he had finally reached the coveted threshold: 100 mph.
"I was like, 'Oh shoot, that's kind of crazy,'" said Middleton, who tossed a scoreless inning Sunday in the Angels' 5-3 win over the A's. "You just become part of an elite group of people. Not everybody can do that, so it makes you feel special."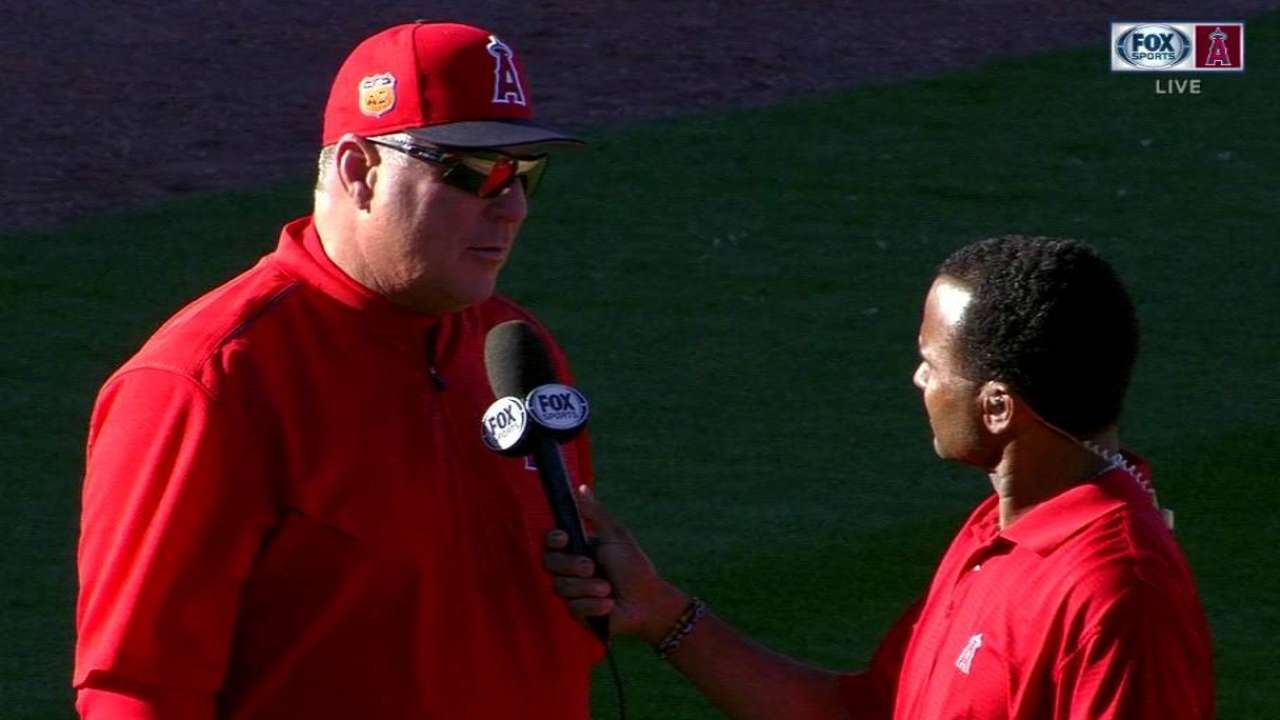 Middleton's rise in velocity has mirrored his personal ascent through the Angels' farm system. The 23-year-old right-hander was originally selected as a starter in the third round of the 2013 Draft out of Lane Community College (Eugene, Ore.), but he struggled in the rotation, posting a 5.30 ERA over 26 starts with Class A Burlington in 2015.
Last year, the Angels shifted Middleton to the bullpen, a move he said he welcomed.
"I was really excited actually, because when I was in Rookie ball, I had two games where I came out of the bullpen and I was really good," Middleton said. "I had success there, so I knew, 'Maybe that's the change I need.'"
It was. After switching to relief, Middleton took off, posting a 3.41 ERA with a 1.14 WHIP and 88 strikeouts in 66 innings across three Minor League levels in 2016. He is now ranked the Angels' No. 5 prospect by MLBPipeline.com, up from No. 23 last year.
"It's just been crazy," he said. "Pretty much all I can really say is that I just trusted the process. The Angels saw some stuff in me when they drafted me that I didn't even see. And they took a huge gamble, taking me in the third round. They gave me all these things to try out, some of them did work, some of them didn't. It just took that long for everything to click. Just trusting the process was huge."
Middleton finished the 2016 season with Triple-A Salt Lake, one step away from the Majors. With a high-octane fastball and an improved slider, Middleton has the potential to become a key bullpen piece for the Angels, perhaps as early as this summer.
"You see the raw talent," manager Mike Scioscia said. "He made some great strides last year, converting to the bullpen and then coming up to Triple-A and really starting to blossom. We'll just evaluate where he is. He's got a Major League arm, there's no doubt about that."
Maria Guardado covers the Angels for MLB.com. This story was not subject to the approval of Major League Baseball or its clubs.