MLB.com Columnist
Jim Callis
Q&A with Angels prospect Matt Thaiss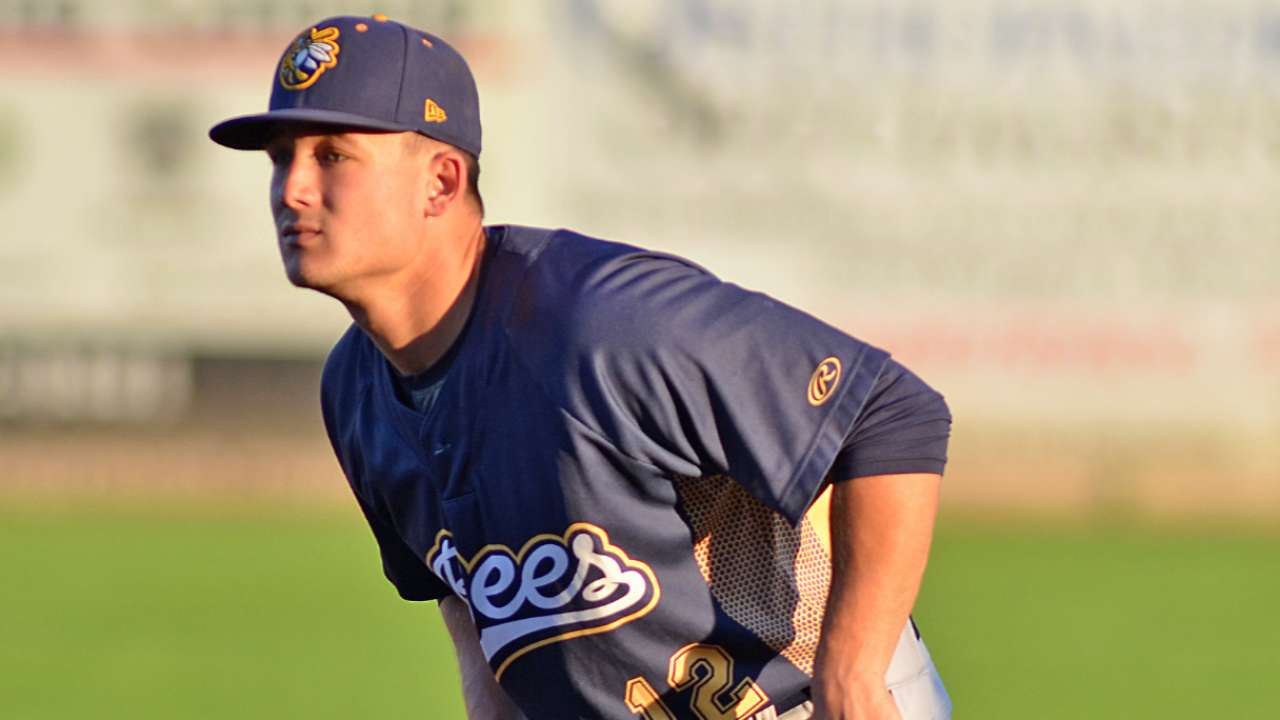 SCOTTSDALE, Ariz. -- As part of MLBPipeline.com's visit to all 30 Spring Training facilities, we'll be sitting down with prospects and getting to know them a little better. At Angels camp, it was No. 2 prospect Matt Thaiss, a 21-year-old first baseman.
Besides No. 2 overall choice Nick Senzel (Reds), there wasn't a college player who was a better hitter or had a better approach in last year's Draft than Thaiss. Part of Virginia's 2015 College World Series championship club, he signed for $2,150,000 as the 16th overall pick. After moving from catcher to first base, he hit .292/.361/.462 with six homers in 67 games while reaching Class A in his pro debut.
MLBPipeline.com: How much did you pay attention to Draft buzz last spring, when you were one of the top college position players available?
Thaiss: It's really easy to let the Draft weigh on you, but at UVA, it's almost impossible. My first year, Nick Howard, Derek Fisher and Mike Papi were all first-rounders, and they set an example for me. They went out and played for the team and didn't let the Draft bother them at all. While I was at UVA, the culture of the program really established that.
• Angels' Top 30 Prospects list
MLB Pipeline Spring Training Reports
MLBPipeline.com: How hard was it to give up catching?
Thaiss: I wasn't the best defensive catcher behind the plate. I knew that, but I took pride in my work back there. Whatever the team wanted me to do, I would do. That was my attitude at UVA, too. Why change it? When I first got to pro ball, it kind of hit me that I wasn't going to catch any more. I thought, "This kind of sucks." But after I went through the season and realized what I would have had to do, the time and the effort, and how my body would have felt, I realized it was a smart decision. I'm happy to be a first baseman now.
MLBPipeline.com: How is the conversion to first base going?
Thaiss: I've gone from really not playing there at all, maybe 25 games total in my career, to feeling very confident over there. The big thing is getting ground balls and game experience. I think it's going really well. First base is definitely less demanding. I don't get beat up like I did behind the plate.
• Angels Spring Training report
MLBPipeline.com: Scouts rave about your offensive approach. You had more walks than strikeouts in each of your two seasons as a starter at Virginia, and almost did so again in your pro debut. How did you develop your discipline?
Thaiss: When I went to school, that was a big emphasis. Ball or strike, look for a pitch in your spot. This organization is the same thing. You've got to be smart and disciplined. That constant flow from UVA to the Angels has helped me learn about my approach and my swing.
MLBPipeline.com: A lot of hitters talk about letting their power come naturally, but that's also easier said than done, because a lot of young guys get caught up swinging for the fences. How do you maintain that focus?
Thaiss: A big thing when I was at at school and when I got here was to have a line-drive approach. I hit the ball hard, but I'm not going to try to drive the ball over fence, even in batting practice. That's not who I am. It doesn't make sense to try to be someone I'm not going to be.
Jim Callis is a reporter for MLB.com. Follow @jimcallisMLB on Twitter. This story was not subject to the approval of Major League Baseball or its clubs. This story was not subject to the approval of Major League Baseball or its clubs.