NASCAR, 'Trotters and Angels, oh my!
Halos spend time instructing racecar drivers, Harlem's squad on their craft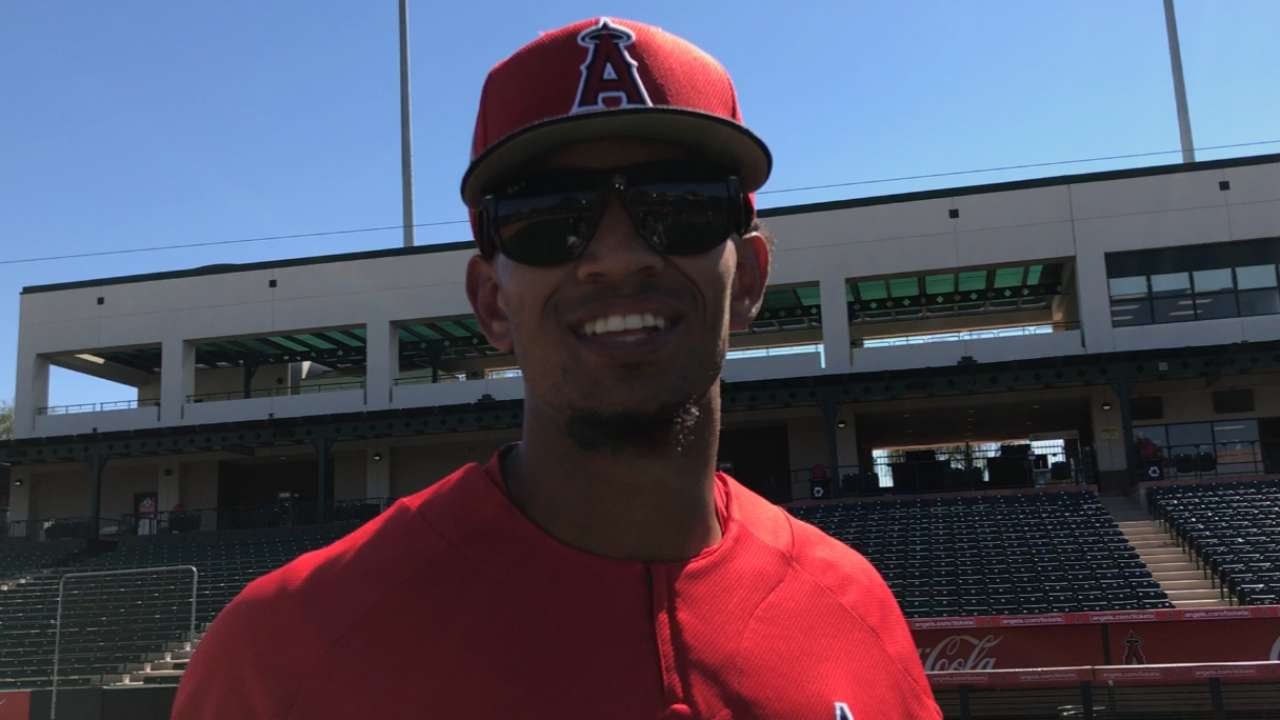 TEMPE, Ariz. -- A 6-foot-8 right-hander dressed in basketball shorts took the mound Thursday at Tempe Diablo Stadium and unleashed a perfect strike to Angels reliever Mike Morin, who was crouched at home plate anticipating the pitch.
"Hey, that has some cut on it!" said right-hander Keynan Middleton, who was observing from behind the mound alongside left-hander Tyler Skaggs. "That has a little bit of cutter action. I like that. Mariano Rivera style."
• Spring: Info | Tickets | Schedule | Gear
He wasn't talking about an up-and-coming Angels prospect. He was talking about Harlem Globetrotters forward Orlando "El Gato" Melendez.
Morin, Middleton and Skaggs all took a break from their regular Spring Training schedules Thursday to coach Melendez, fellow Globetrotter Bucket Blakes and NASCAR drivers Bubba Wallace and Ryan Blaney through a series of baseball drills. The event was part of a collaboration with Whistle Sports, Major League Baseball, the Globetrotters and the NASCAR Goes West adventures.
In addition to pitching, the Angels also had the baseball neophytes try their hands at robbing home runs, catching fly balls, throwing out basestealers and fielding bad hops. The results were mixed, though Middleton said he was impressed with Melendez, Blake, Wallace and Blaney's efforts.
"It's definitely difficult for them, but it just shows them how hard our sport is," Middleton said. "If you put us in their sport, I feel like it'd be the same way for most of us. I used to play basketball, but I bet you if I tried to go drive for NASCAR, I couldn't do it. But these guys, they're actually pretty good at it. They're quick learners."
Maria Guardado covers the Angels for MLB.com. This story was not subject to the approval of Major League Baseball or its clubs.