Angels' late rally comes up short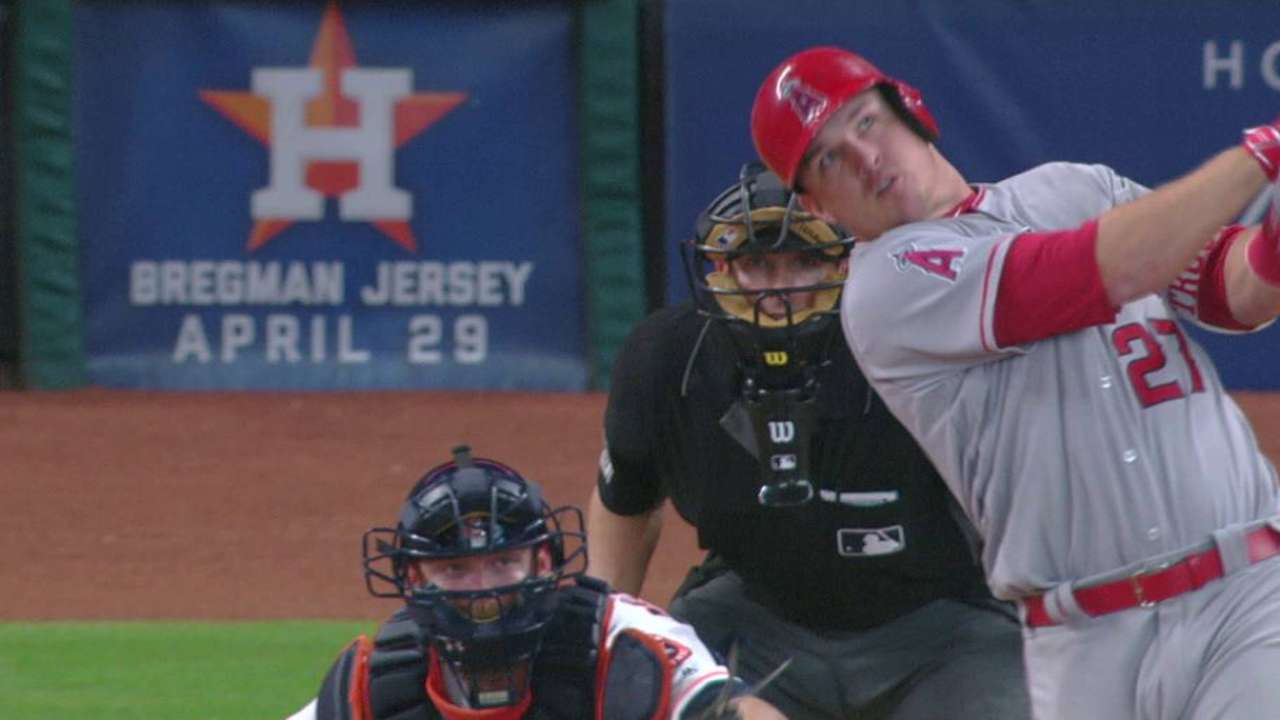 HOUSTON -- Mike Trout crushed a solo home run off Astros relief ace Chris Devenski to spark a ninth-inning rally, but the Angels' hopes for a comeback were dashed after their scuffling offense failed to produce a timely hit, resulting in a 2-1 loss in Thursday afternoon's series finale at Minute Maid Park.
The Angels were held scoreless through the first eight innings before Trout led off the ninth by launching an 0-2 changeup from Devenski to left field for his fourth homer of the season, which cut Houston's lead to 2-1.
"I was just trying to get something going, just trying to get a base hit," Trout said. "And just put a swing on it, fly ball, left field and it went out."
C.J. Cron and Andrelton Simmons kept the rally going with back-to-back singles off Devenski. With Cameron Maybin at the plate, the Halos then executed a double steal, putting the tying run at third and the go-ahead run at second with one out. But the Halos came up short after Devenski wriggled out of the jam by striking out Maybin and Danny Espinosa swinging on changeups to secure the Astros' win.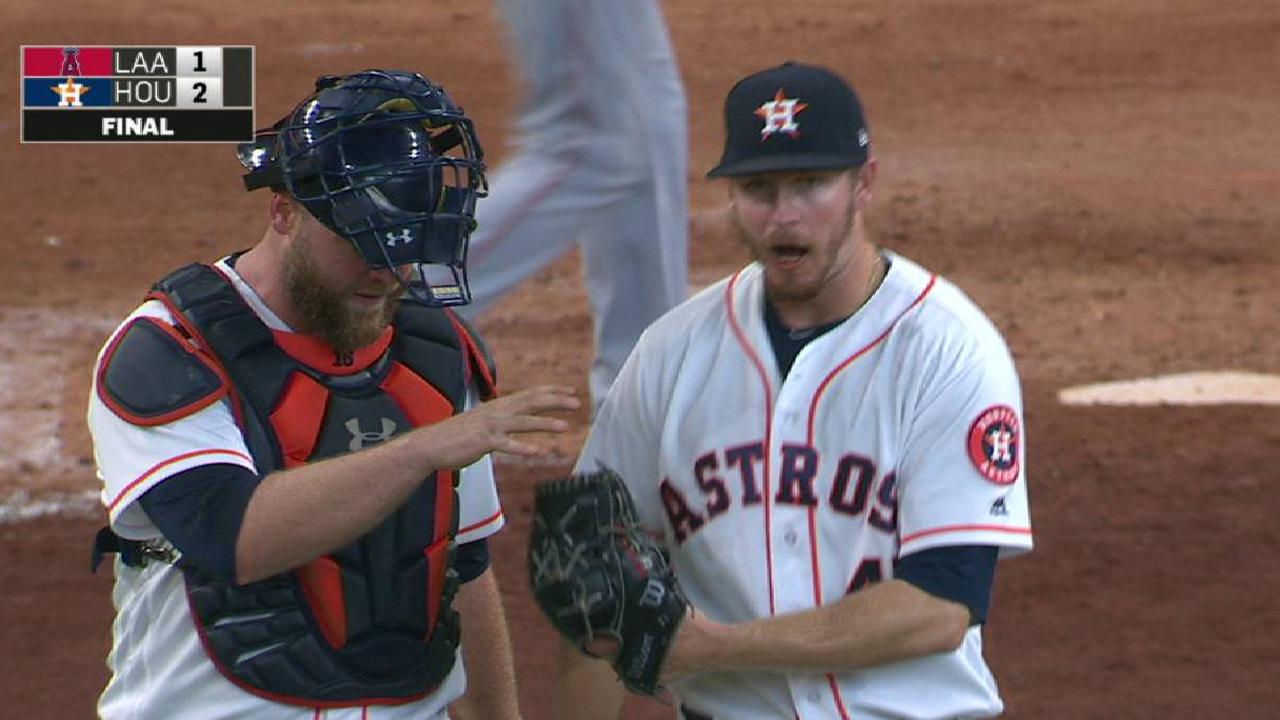 "We got ourselves in position," manager Mike Scioscia said. "We had the tying run at third with less than two outs and [Devenski] made some pitches to Maybin and Espinosa with the go-ahead run at second. He pitched out of a little bit of trouble. I think we got some good looks at him in the ninth inning, but give him credit, he made some pitches to get out of it. That was a tough 3-2 changeup he threw to Danny Espinosa to end it."
The defeat sealed a 1-6 finish for the Angels over their seven-game road trip, dropping them to 7-10 this year. Against the Royals and the Astros, the Halos batted just .181 (40-for-221) with eight extra-base hits and 65 strikeouts.
Their offensive woes were on display again on Thursday, as they mustered just three hits against Astros starter Lance McCullers Jr., who struck out eight over 6 2/3 innings. The Angels didn't manage to put a runner in scoring position until the seventh, when Simmons and Maybin drew back-to-back walks off McCullers with two outs.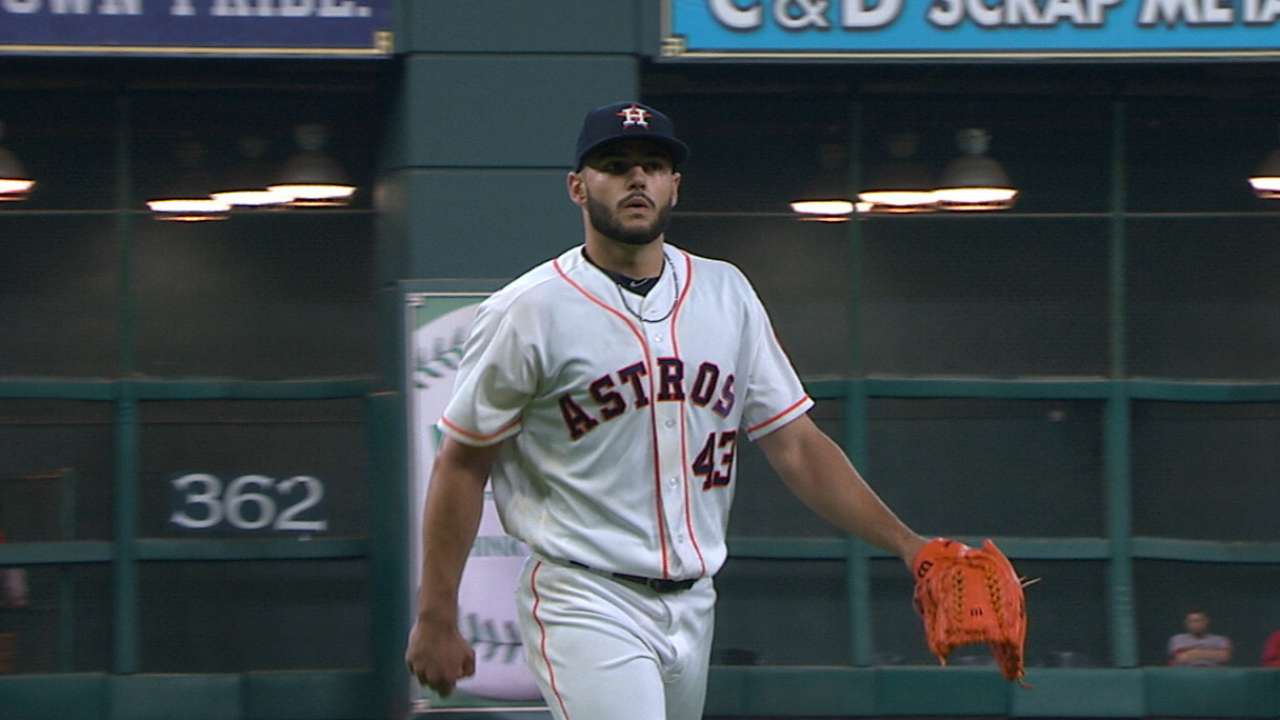 Astros manager A.J. Hinch subsequently brought in Devenski to face Espinosa, who struck out swinging on three pitches to end the inning. Espinosa, who declined to speak to reporters after the game, is batting .217 with 26 strikeouts and one walk in 60 at-bats this season.
"I was focused on getting that batter right there to help Lance get out of that little trouble," Devenski said. "It wasn't big trouble, but I'm glad I was able to get out of it for him."
Espinosa isn't the only Angel who's struggling. Kole Calhoun snapped an 0-for-20 funk with a single in the sixth, but he went 1-for-20 over the road trip. Cron finished 3-for-19, while Albert Pujols went 3-for-22.
While the Angels continue to be mired in a team-wide slump, one silver lining is that their pitching has turned around after a rough first week of the season, with a 3.00 ERA over their last six games.
"I think we're definitely going to be a strong offensive team," Scioscia said. "You'd rather have it happen sooner than later, but I think we're confident. Obviously this was a rough trip for us, but one of the things that is important to us is starting to materialize and that's starting pitchers getting to a certain point in the game. I think that has to happen if we're going to do what we hope to do. It's good to see."
Maria Guardado covers the Angels for MLB.com. This story was not subject to the approval of Major League Baseball or its clubs.