Despite injuries, Angels' staff has delivered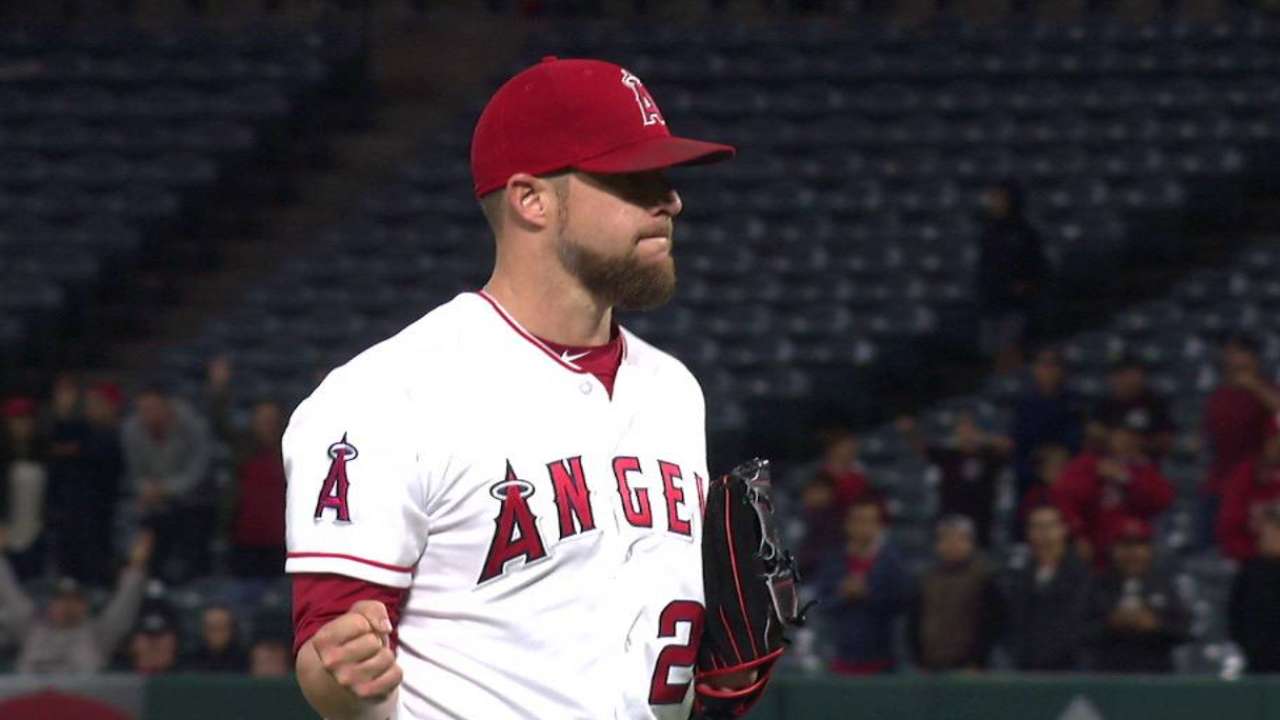 ANAHEIM -- Angels manager Mike Scioscia said Tuesday he maintains confidence in his pitching staff, from the top down.
"The trust is there," Scioscia said before the Angels took on the White Sox. "But as far as trying to manage the bullpen and trying to line them up where it makes the most sense, sensitive to overuse, sensitive to matchups, I think [bullpen coach] Scott Radinisky and [pitching coach] Charles Nagy have done a great job with this group."
In recent years, the Halos' bullpen, in particular, hasn't been an area of strength. This season, though, Angels relievers have proven to be consistent.
Last week marked the second time in three weeks the unit earned Bullpen of the Week honors. The feat was accomplished with key members Andrew Bailey, Cam Bedrosian, Mike Morin, Huston Street and Nick Tropeano on the disabled list.
"Through some injuries, it made some decisions for us as to how we had to move some pieces around," Scioscia said.
Look no further than right-hander Bud Norris for proof. In an unfamiliar and revamped role, the 32-year-old has notched eight saves -- the first eight of his career.
Scioscia mentioned the importance of new staff members, such as righties David Hernandez and Blake Parker, who have "caught along with us extremely well" and produced for the club despite having started their careers elsewhere.
"I think we're getting a much better idea right now of not only how much length guys have, [but] where they can pitch in a game, how they can match up, and how we can hold leads," Scioscia said. "And those guys are doing a very good job."
Worth noting
• Scioscia said Morin is scheduled to throw to live hitters on Thursday in Arizona. Morin has been on the DL since April 21 with a neck injury. The 26-year-old righty has logged 6 2/3 innings over four appearances this season.
• Outfielder Cameron Maybin's ability to get on base epitomizes his importance to the Halos' batting order, according to Scioscia.
"The one thing Cam has been doing is getting on base. He's been walking at a tremendous rate," he said. "We've got to find that balance of finding his swing and his rhythm. It's not a conscious effort to increase his walks, but it's a byproduct of him looking at a lot of pitches."
Maybin, who entered Tuesday hitless in his last five games (0-for-16), drew six walks and had an on-base percentage of .300 over that same span.
Kaelen Jones is a reporter for MLB.com based in Los Angeles. This story was not subject to the approval of Major League Baseball or its clubs.