Trout adds another HR to #ASGWorthy tear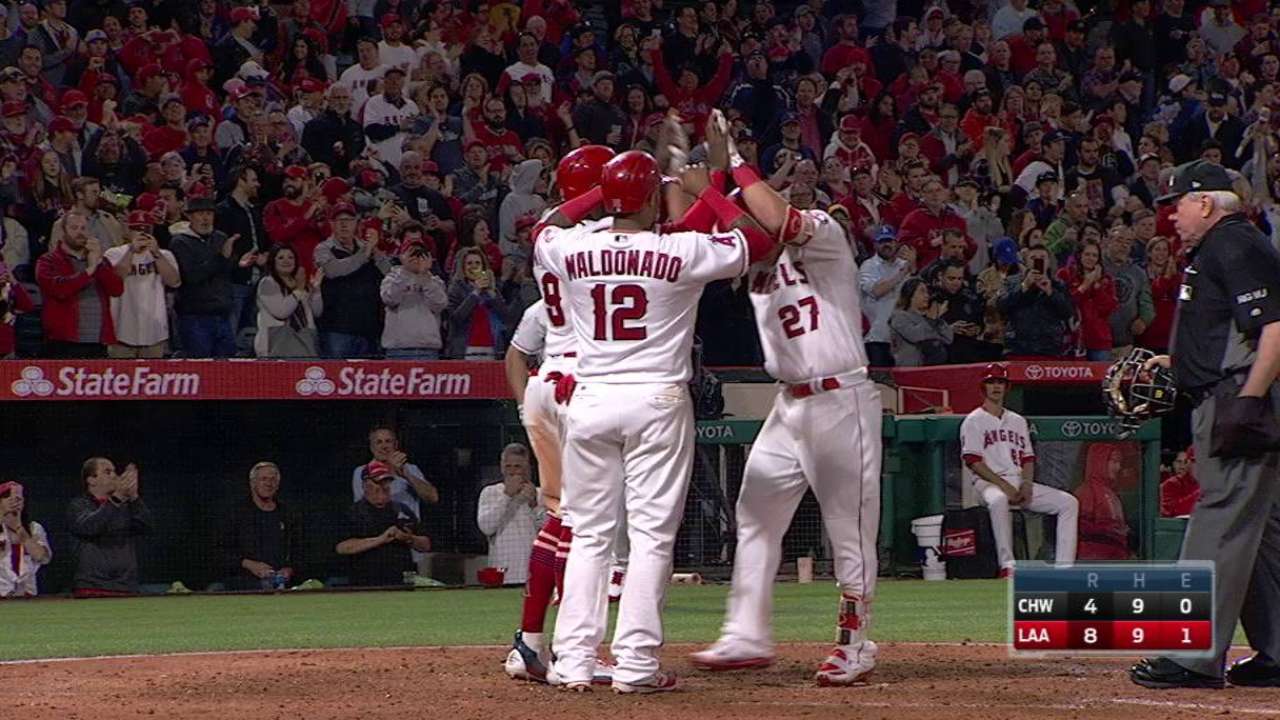 ANAHEIM -- Mike Trout continues to impress amid a hot start to the season.
The reigning American League MVP improved his case for a sixth All-Star Game by smashing a three-run home run off White Sox reliever Anthony Swarzak during a 12-8 Angels win on Wednesday night.
Swarzak had been nearly unhittable this season -- he had gone 19 2/3 innings without giving up a run and had given up just two hits and a walk against the last 50 batters he had faced.
• Cast your Esurance All-Star ballot for Trout and other #ASGWorthy players
Trout ended the Majors' longest scoreless streak with his 13th home run of the season and his fifth in his last six games. His teammate, pitcher Matt Shoemaker, gushed over the hit following the game.
"That was unbelievable," he said. "That's why he's so fun to watch."
Despite missing a career-high five games with a hamstring injury earlier this month, Trout ranks among the best in several offensive categories.
In 37 games, the 25-year-old is tied for third in the Majors with 13 home runs and is tied for ninth in RBIs (30). He's slashing a remarkable .341/.451/.742.
Outfielder Cameron Maybin said he couldn't recall a time when Trout hadn't performed well.
"It's just what he does," said Maybin. "He's the best player in the game for a reason. I haven't seen him really have a bad stretch yet, so I'm just thinking that's what he does."
At 22-21 and beginning a 10-game road on Friday, the Angels will certainly hope that Trout can continue to play at this level.
Kaelen Jones is a reporter for MLB.com based in Los Angeles. This story was not subject to the approval of Major League Baseball or its clubs.