Pujols-less Angels struggle to deliver big hit
Halos don't make most of opportunities as hammy keeps slugger on shelf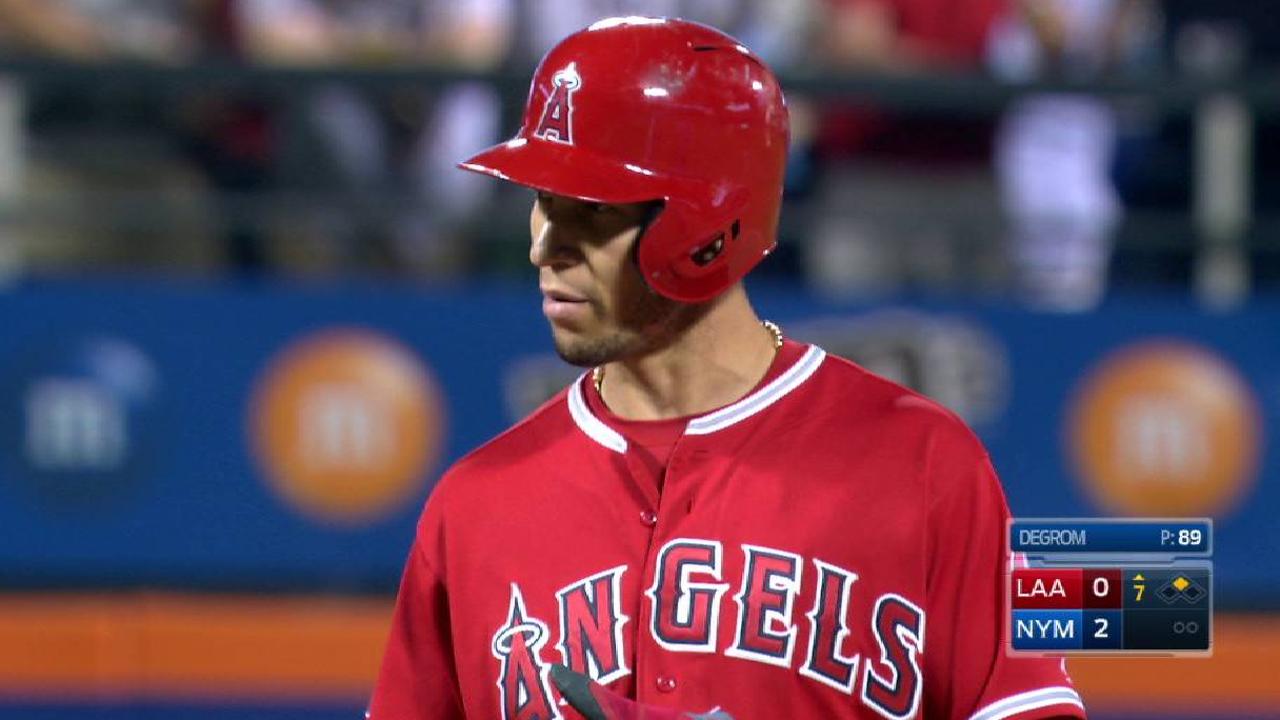 NEW YORK -- With Albert Pujols, their premier run producer, out of the lineup, the Angels struggled to capitalize on multiple scoring opportunities and were shut out by the Mets, 3-0, in Friday night's series opener at Citi Field.
The Halos' offense, which had averaged 6.3 runs per game over the club's previous six contests, was stymied by Mets right-hander Jacob deGrom, who tossed seven sharp innings and allowed just four hits while walking three and striking out nine. The Angels finished 0-for-5 with runners in scoring position and left nine men on base, snapping their four-game win streak.
"He's one of the best pitchers in the league," said center fielder Mike Trout, who reached base three times Friday. "He kept us off balance. He throws, obviously, hard. He can hit his spots whenever he wants. And we had our chance in the seventh inning and just couldn't get that big hit. But we had opportunities."
The Angels generated their most dangerous scoring threat while trailing, 2-0, in the seventh, when they loaded the bases with no outs against deGrom after Andrelton Simmons doubled, C.J. Cron walked and Martin Maldonado was hit by a pitch. deGrom recorded the first out of the inning by striking out Danny Espinosa looking, and manager Mike Scioscia then decided to have Ben Revere pinch-hit for right-hander Ricky Nolasco. Scioscia said afterward that Pujols, who did not start due to a sore right hamstring, was not available off the bench -- a significant loss for the Angels, considering he leads the team with 32 RBIs.
Revere, who entered Friday 1-for-12 against deGrom, lined a ball to shallow center that nearly fell for a run-scoring hit, but shortstop Jose Reyes made an acrobatic grab, snagging his own bobble to prevent at least one run from scoring.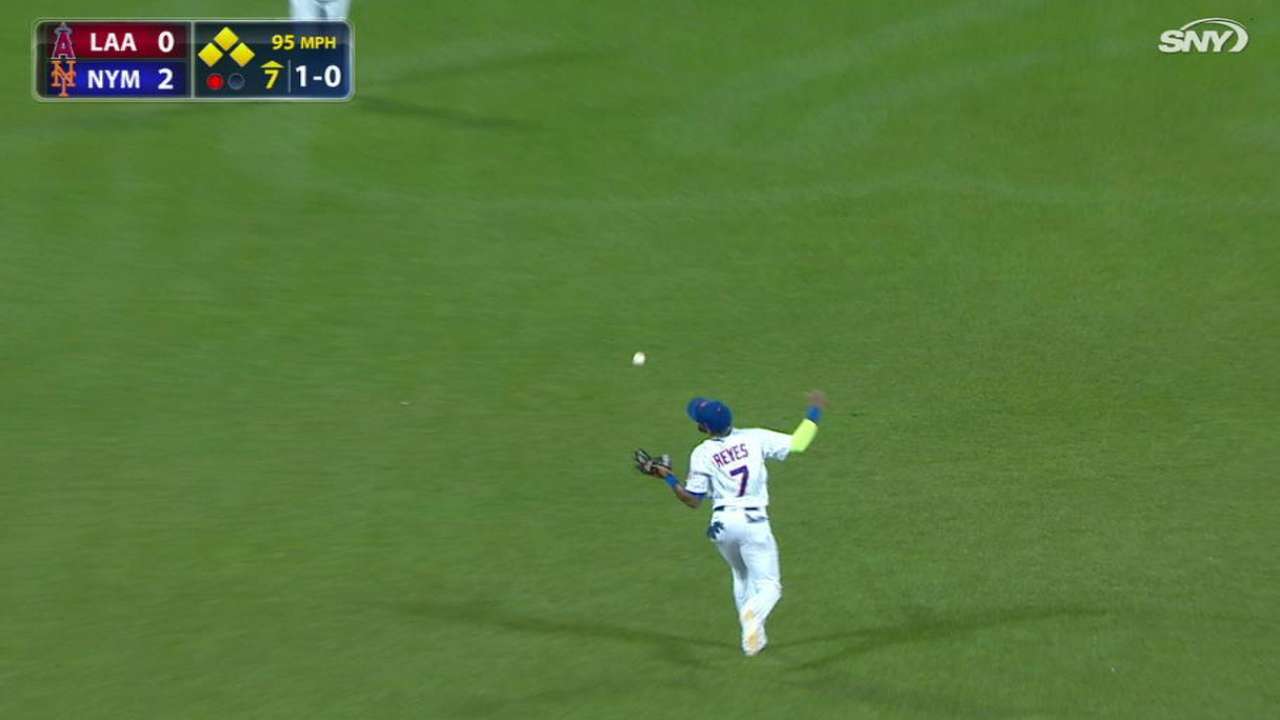 "I got a good jump to the ball," Reyes said. "I know Revere, he's got very good speed. I was playing a little bit in because we were trying to make a double play there. When I saw he hit the ball, I just tried to run as fast as I could. When the ball hit my glove, I said, 'Oh man, I'm going to catch this ball.' And then the second time, I got it."
deGrom then escaped the jam unscathed by coaxing a fly ball to right field from Cameron Maybin, ending the Angels' best hopes for a rally.
"He made some good pitches to get out of that," Scioscia said. "We had them loaded up, and you have to tip your cap to him. All night, we didn't get too many good looks at him. He pitched a good game for those guys."
Maria Guardado covers the Angels for MLB.com. This story was not subject to the approval of Major League Baseball or its clubs.