Inbox: Are Angels potential Deadline buyers?
Beat reporter Maria Guardado answers questions from fans
With the Angels only [1 1/2] games out of an American League Wild Card spot, will they look to add pitching depth/another bat before the non-waiver Trade Deadline? Who on the roster has trade value?
-- @mcjunkind via Twitter
I think it's possible that the Angels could look for external help if they're still in the AL Wild Card hunt at the Deadline, but their lack of high-end prospect capital makes it unlikely that they'll be able to add any significant pieces via trade. That said, I think the Angels will receive an internal boost to their rotation when left-hander Tyler Skaggs returns from the disabled list. Skaggs, who has been out since May 1 with an oblique strain, is currently on track to rejoin the Angels before the All-Star break and had logged a 1.42 ERA in his last three starts before getting hurt. The Halos also expect right-hander Garrett Richards to pitch again this season, though he still has not received clearance to resume throwing due to an irritated nerve in his right biceps.
• Submit a question to the Angels Inbox
The Angels have managed to hover around .500 even with those hits to their rotation, but they'll need better results from their starters to keep pace with teams like the Red Sox, Orioles, Rays, Rangers, Twins and Blue Jays in the crowded AL Wild Card race. If the Angels fall out of contention, I think it would make sense for the Halos to try to unload some of their players with expiring contracts. Cameron Maybin, Bud Norris and Yunel Escobar fit that bill and are enjoying fine seasons, so they could become potential trade chips down the line.
The Angels called [first-round Draft pick Jo] Adell "a guy we can build around." Was that a peek at the post-[Mike] Trout future?
-- @PleezDontFollow via Twitter
I think it could be interpreted that way. Trout's contract runs through 2020, and Adell, who is also a center fielder, will likely need at least four years in the Minors before he's ready to ascend to the big leagues. If Trout decides to become a free agent and Adell develops into the top prospect the Angels believe he can be, Adell could certainly be a frontrunner to succeed the two-time AL MVP Award winner in center field.
There's always the possibility that Trout and the Angels agree to another contract extension, but I think it's prudent for the front office to start laying out potential contingency plans in case that doesn't happen.
Can Eric Young Jr. play first or third?
-- @offtohavasu via Twitter
Young has never made an appearance at first or third in a Major League game, so no. He does have 50 career starts at second base, but he hasn't played there regularly since 2010, and manager Mike Scioscia said the prospect of using him at that position would be "sketchy, at best." Young is best suited for the outfield at this point in his career, which could make it difficult for the Angels to keep him in the lineup when Trout returns from the disabled list.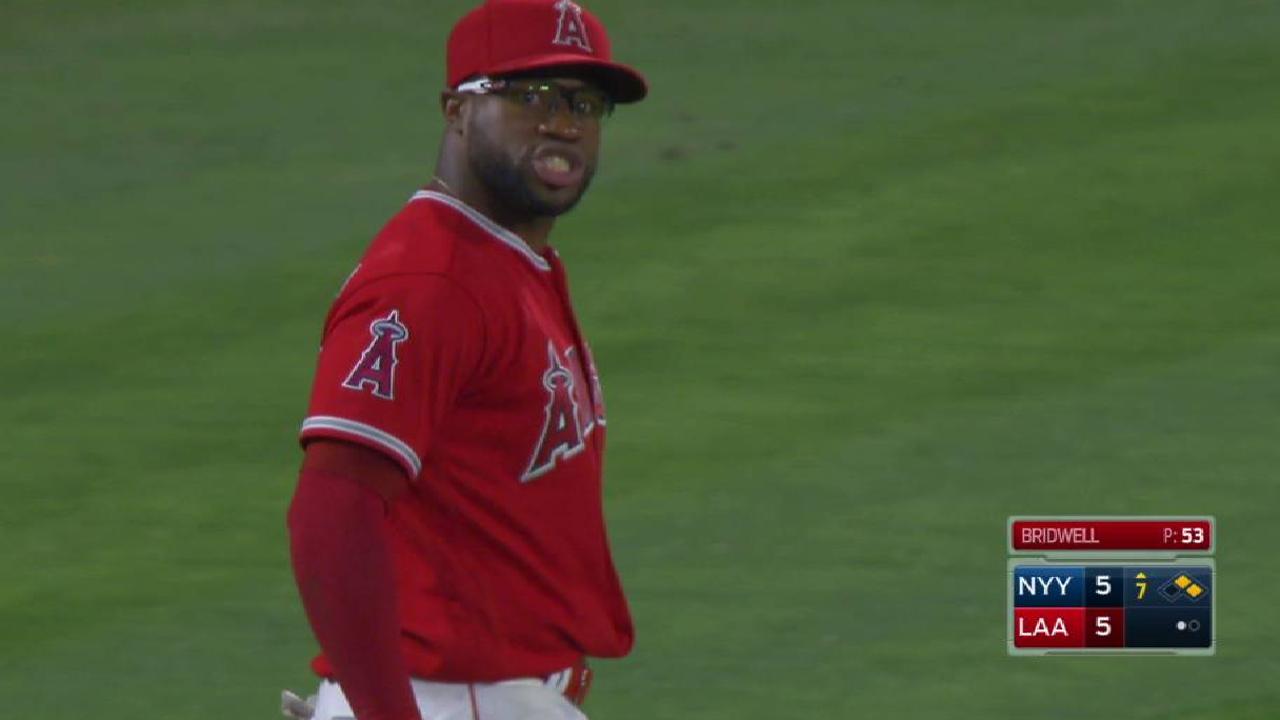 What is up with Nate Smith?
-- @jdick67 via Twitter
Smith, ranked the Angels' No. 4 prospect by MLBPipeline.com, is still rehabbing from a shoulder injury, but he has begun throwing bullpen sessions. The 25-year-old left-hander, who also dealt with a forearm strain earlier this year, has made only one start at Triple-A Salt Lake this season, tossing 5 2/3 scoreless innings.
Any chance we see Troy Scribner this season?
-- @akallday22 via Twitter
I think Doug Fister, Daniel Wright and Parker Bridwell are ahead of him on the Triple-A depth chart right now, but I could see Scribner being in the mix for a September callup later this year. Acquired from the Astros last season, the 25-year-old right-hander has gone 7-2 with a 4.87 ERA, 63 strikeouts and 27 walks over 64 2/3 innings for Salt Lake in 2017.
Maria Guardado covers the Angels for MLB.com. This story was not subject to the approval of Major League Baseball or its clubs.