Carew makes return trip to Twin Cities
Hall of Famer back for first time since transplants in December
MINNEAPOLIS -- Hall of Famer Rod Carew took an important step in his recovery from heart and kidney transplants, as he flew for the first time since the operation in mid-December. Carew returned to Minnesota, where he played with the Twins from 1967-78.
Carew, along with his wife, Rhonda, met with both of his former organizations -- the Twins and Angels -- at Angel Stadium in Anaheim on June 1. But this time, he made it to Target Field for the first time since last summer, when he was still on the transplant waitlist. The Angels, who he played for from 1979-85, were in Minneapolis on Monday.
"It's great to come back. This is my first trip flying, so I was really looking forward to it," Carew said. "Every time I come back to the Twin Cities, I feel like I'm coming back home. I was a kid when I started playing here. A lot of people saw me grow up and do a lot of good things with this organization, so it's good to come home."
Carew, who suffered a massive heart attack while golfing near his home in Southern California on Sept. 20, 2015, said he continues to rehab after the surgeries with the help of Rhonda, and is getting stronger by the day. But his main message, in conjunction with the Heart of 29 Campaign, is for people to get their hearts checked, because he thought he was healthy before suffering the nearly fatal heart attack.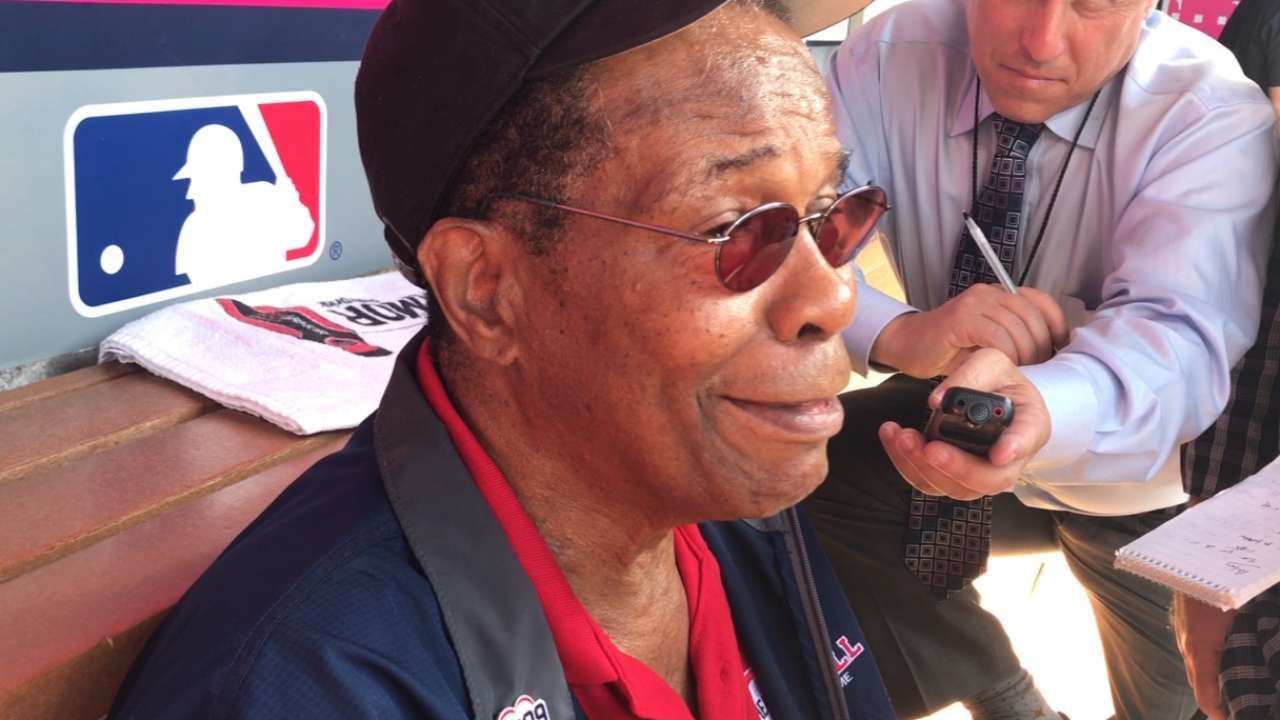 "I've been doing some cardio rehab, and things are coming along good," Carew said. "It's been something that I don't want to go through again. I don't want any of my friends or anyone that I know to go through, because it was something else. I'm so grateful my partner [Rhonda] was there with me throughout the whole trip."
Carew, an 18-time All-Star and seven-time batting champion, was honored before the game with a ceremony looking back at his 1977 season in which he won the American League MVP Award, and nearly hit .400. He finished at .388, but said he'll never forget going over the .400 mark on June 26 of that year with a 4-for-5 performance.
"I've won quite a few awards throughout the 19 years that I played in the big leagues, but the one thing that I always tell people, it's not the seven silver bats that I won, or the MVP Award, or the Rookie of the Year," Carew said. "It's one day playing out a the old Met Stadium against the White Sox, and getting six standing ovations during the course of the ballgame."
Carew, who threw out the first pitch, met with his old friend, and Twins legend, Tony Oliva -- the two were roommates on the road -- and also caught up with Twins manager Paul Molitor and Angels skipper Mike Scioscia. Both clubs wore Heart of 29 patches during the game.
"We were fortunate to catch up in Anaheim, and he spoke to our club out there, giving a powerful message about taking advantage of every day," Molitor said. "For him to travel for the first time since the procedure and be here, it just brings tremendous awareness to his cause. And the fact that we're acknowledging one of the best players in the history of the game."
Rhett Bollinger has covered the Twins for MLB.com since 2011. Follow him on Twitter @RhettBollinger and listen to his podcast. This story was not subject to the approval of Major League Baseball or its clubs.