Troublesome balk hurts Meyer early in loss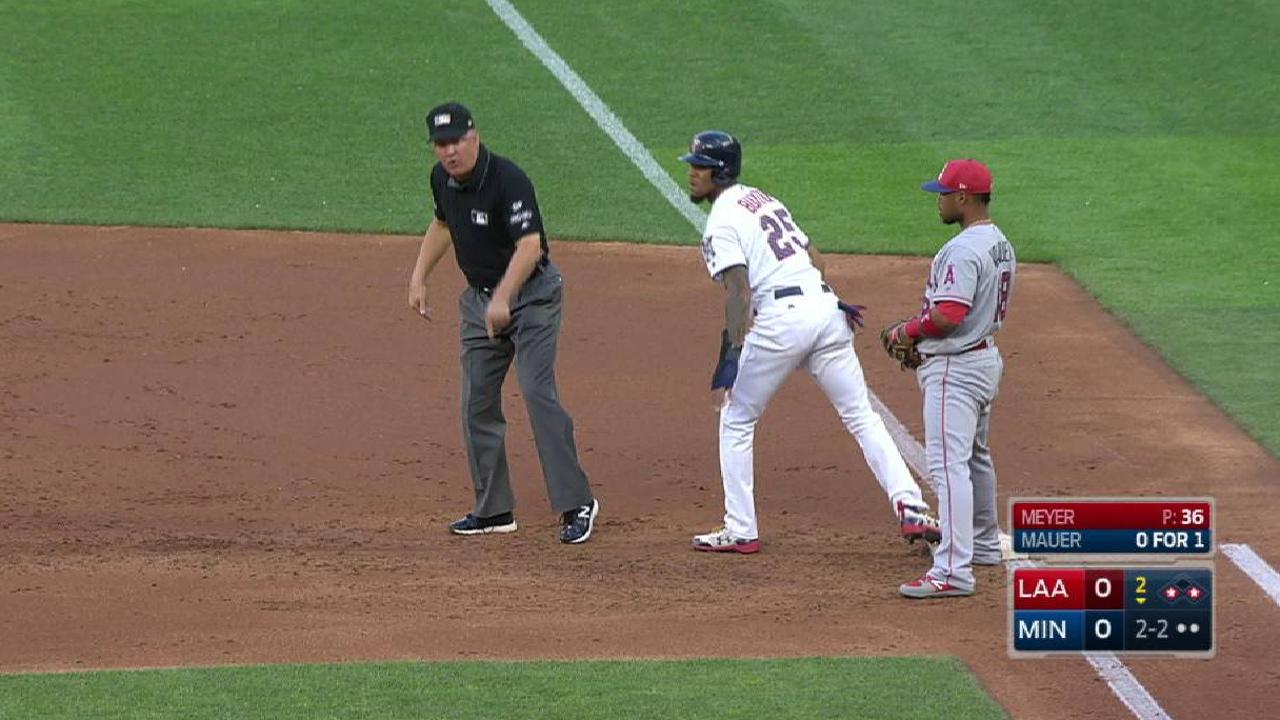 MINNEAPOLIS -- Angels right-hander Alex Meyer could only shake his head in disbelief.
Meyer was called for a balk during the second inning of a 9-5 loss to the Twins on Monday night at Target Field, a pivotal early play as the Angels lost for the eighth time in their last 11 games against Minnesota.
"That's just part of it, you have to be better at handling it than I was," Meyer said. "I was just confused. I honestly didn't know what I did. The umpire told me I was moving my leg, and I didn't think I was. It's obviously something I will have to look at and make an adjustment."
After working around a pair of one-out singles in the first, Meyer was close to working out of another jam in the second. With runners at the corners and two outs, Meyer quickly got ahead against Twins first baseman Joe Mauer.
Meyer missed low with a 1-2 curveball. As he settled in on the rubber for the next pitch, Meyer fired the ball over to first, attempting to pick off Jason Castro.
However, first-base umpire Jeff Nelson immediately signaled for Meyer's first career balk. Nelson emphatically motioned to his leg, indicating that Meyer had buckled his knee when attempting to move to first.
Angels manager Mike Scioscia ran onto the field to plead his case, but to no avail. Jorge Polanco scored the game's first run from third base, and the Twins never trailed.
Mauer hit a two-run homer on the next pitch, crushing a fastball to center field that traveled an estimated 413 feet with an exit velocity of 105.9 mph, according to Statcast™.
"I don't think we've patrolled the right-handed balk very well, especially when you buckle that right leg," Minnesota manager Paul Molitor said. "A lot of teams are teaching it now because it's so quick, it's hard to detect unless you slow it down. The one he got called on, to me, it's a no-brainer."
Meyer labored through five innings, struggling with his command against his former club. He walked four and struck out six, while giving up five runs. It marks the seventh time in 12 starts that Meyer has had four walks.
Meyer is averaging 6.12 walks per nine innings, and has a walk percentage of 15.2 percent.
"There is no doubt that rate is not going to be sustainable if you are going to give up one hit an inning also. You are going to be in trouble," Scioscia said. "You are hoping he's going to continue to take those steps forward."
Shane Jackson is a reporter for MLB.com based in Minneapolis and covered the Angels on Monday. This story was not subject to the approval of Major League Baseball or its clubs.