Despite injuries, Halos within reach of WC berth
Team sits just three games back of second Wild Card spot with Trout set to return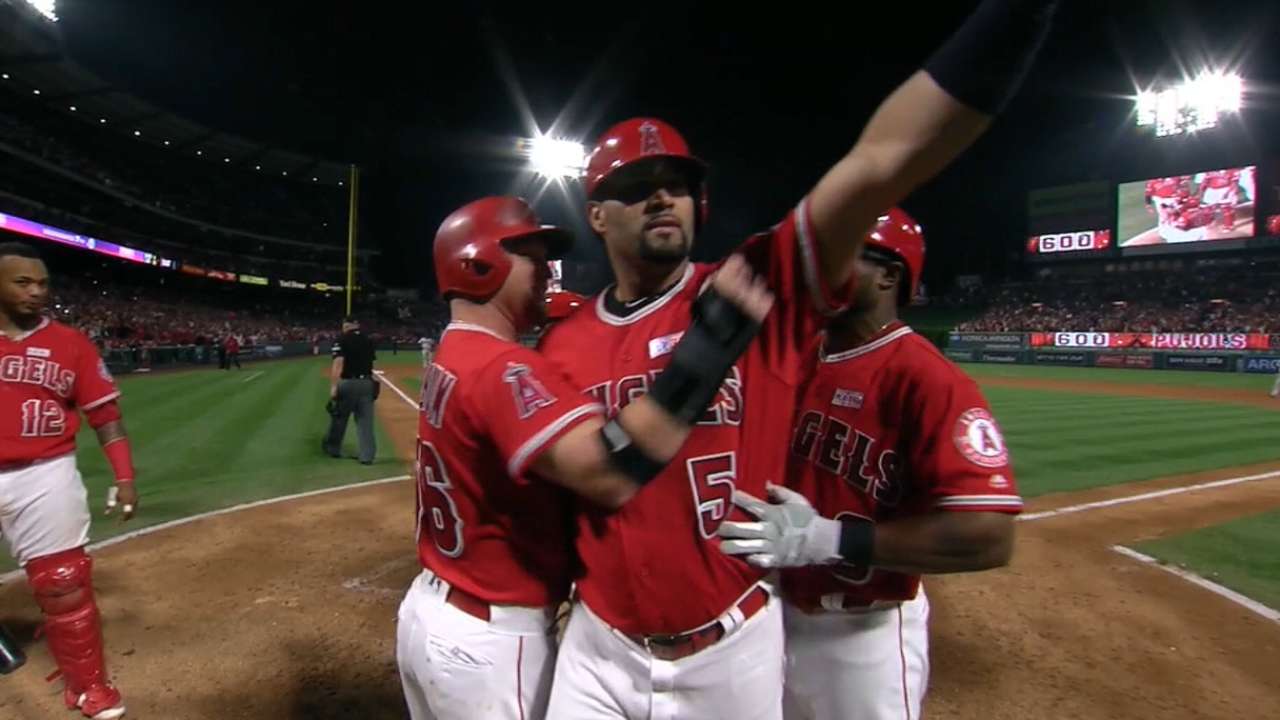 ANAHEIM -- A year ago, the Angels entered the All-Star break with a 37-52 mark, felled in large part by a starting rotation that was decimated by injuries. A similar script unfolded this season, but with an added kick, as the Halos saw three starters and their superstar, Mike Trout, land on the disabled list for extended periods of time.
But unlike last year, the Angels managed to stay afloat amid waves of adversity, going 45-47 in the first half. The Halos trail the first-place Astros by 16 1/2 games in the American League West, but they're only three games behind the Rays for the second AL Wild Card spot. Plus, they are expecting to get Trout back in their lineup when they open the second half on Friday.
While the Angels aren't satisfied with floating around .500, it's still an impressive feat given the circumstances. Here's a look back at how the first half played out for the Halos.
What went right
The Angels' biggest strength in the first half was their bullpen, which exceeded expectations despite sustaining several injuries early this season. The Halos have been without a set closer for most of the year, as manager Mike Scioscia has preferred to deploy his best relievers in the most critical situations, regardless of the inning. Bud Norris, Yusmeiro Petit and Blake Parker all won relief jobs as non-roster invitees out of Spring Training, and they became key pieces by helping preserve leads in versatile roles. David Hernandez, acquired from the Braves in April, and Keynan Middleton, a hard-throwing rookie, didn't open the season on the Angels' roster, but they worked their way into the back-end mix after joining the club. Cam Bedrosian and Huston Street have spent time on the disabled list, but they've also pitched well when healthy. The eclectic group has allowed only 23 percent of inherited runners to score this season, the best mark in the AL.
What went wrong
The Angels were hit by a blizzard of injuries, with 12 regulars landing on the disabled list in the first half. No loss was greater than that of reigning AL MVP Award winner Trout, who has missed six weeks with a torn ligament in his left thumb. The Angels' offense struggled to find its stride even when Trout was in the lineup, and it continued to be inconsistent in his absence. Garrett Richards, Tyler Skaggs and Matt Shoemaker -- three-fifths of the Halos' Opening Day rotation -- are also on the shelf, which exposed the Angels' lack of quality starting pitching depth. Of their three qualified starters, JC Ramirez, a converted reliever, logged the club's best ERA at 4.46.
What we learned
The Halos are a resilient bunch, as they've managed to hover around .500 all season and went 19-20 without Trout. They also finished the first half with seven walk-off wins, tied with the Nationals for the most in the Majors. Much of their success has been due to strong defense, speed on the basepaths and an effective bullpen, but their starting pitching and offense have both been plagued by inconsistency.
First half top everyday player
Shortstop Andrelton Simmons has always been known for his Gold Glove-caliber defense, but he's only enhanced his value for the Angels this year by putting together the best offensive season of his career. Simmons is batting .290 with a .779 OPS -- both career highs -- and has clobbered nine home runs, his highest total since he hit 17 for the Braves in 2013.
First half top pitcher
Parker, a 32-year-old journeyman, has emerged as one of the Halos' most reliable relievers this season, recording a 2.58 ERA with 54 strikeouts and 10 walks over 38 1/3 innings. Due to his high strikeout rate (12.7 K/9), Parker has often been summoned to pitch with runners on base and has not been charged with a run in 31 of his past 35 appearances.
First half top rookie
Middleton earned his first callup to the big leagues in May and has been a part of the Angels' bullpen ever since. Wielding an upper-90s fastball that has touched triple digits, the 23-year-old right-hander has posted a 4.00 ERA with 27 strikeouts and 12 walks across 27 innings this season.
Maria Guardado covers the Angels for MLB.com. This story was not subject to the approval of Major League Baseball or its clubs.