Trout at 26: Superstar has few historical peers
To celebrate birthday, we break down his most impressive stats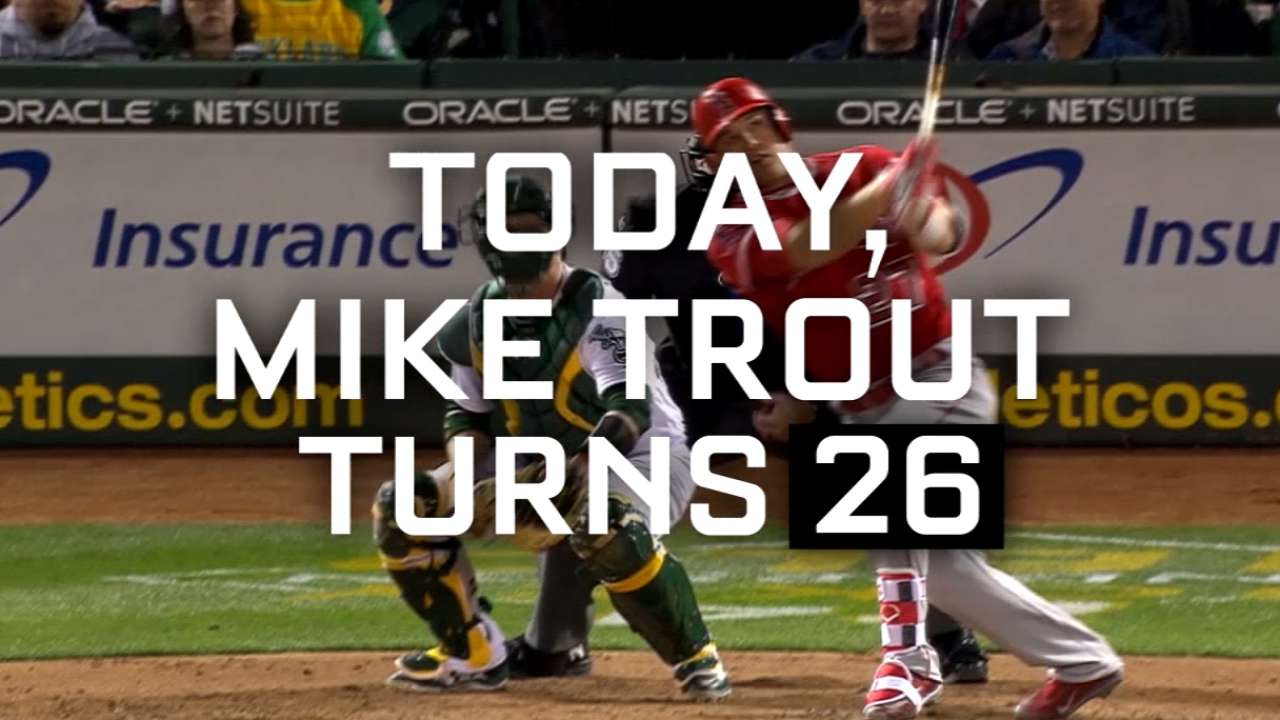 Mike Trout turned 26 years old on Monday, which more than likely means he's going to homer. For a player whose youth came to define him as much as his skill, the two have been particularly linked on days meant to mark the age of the best player in baseball. Trout has played on five previous birthdays, and he homered on three of them.
But more than anything else, August 7 offers us another round benchmark opportunity every year to look back and contextualize the accomplishments of Trout. Now in his seventh season, the six-time All-Star and two-time American League Most Valuable Player Award winner continues to rack up stats that rank him among the game's all-time best, relative of age. Had he not missed six weeks to a left thumb injury this year, he'd be in the middle of another AL MVP Award discussion instead of ambushing one like he is.
The numbers continue to astound --Trout is on pace to set career highs in all three slash categories. That's not easy to do the year after winning a unanimous MVP Award. Whether Trout steals the award back this season -- and he very well could -- or not, he's already one of just six players to win multiple MVPs before his age-26 season was completed. The other five are in the Hall of Fame. That's the kind of company the Angels' center fielder continues to keep, as the following numbers show.
Birthday Gift from the boys !! #Angels pic.twitter.com/fRUlEsn07I

— Mike Trout (@MikeTrout) August 7, 2017
How great is Trout today, at age 26? And where exactly does his rapidly-budding Cooperstown resume stand up among the game's all-time greats? We have the numbers to say so.
Career accomplishments, entering Monday: 878 games, .309/.410/.568 slash line, 651 runs, 999 hits, 190 home runs, 548 RBIs, 156 stolen bases in 185 attempts (84 percent), 529 walks, .978 OPS, career 53.1 WAR*, AL Rookie of the Year Award winner, two-time AL MVP Award winner (and three-time runner-up), six-time All-Star, five-time AL Silver Slugger Award winner.
• There are five players to have gotten to their 26th birthdays with at least 190 homers and at least 500 walks: Hall of Famers Jimmie Foxx, Mel Ott, Mickey Mantle and Eddie Mathews … and Trout.
• One player has reached his 26th birthday with at least 190 homers and at least 150 steals: Trout.
• On his 26th birthday, Mantle had a 174 OPS+ and 52.2 WAR. On his 26th birthday, Trout has a 173 OPS+ and 53.1 WAR*. OPS+ is based on a scale, contextualized for park and era factors, where 100 represents league average. So Trout's 173 OPS+ means he's been 73 percent better than his average peers in terms of on-base and slugging percentage.
• Among all the players to have hit at least 190 homers by their 26th birthday, only four scored more runs than Trout: Ott, Foxx, Mantle and Alex Rodriguez
• Trout has hit 190 homers and has reached base via a hit or walk 1,528 times. The only players with more homers and more hits plus walks by their 26th birthday: Ott, Foxx and Mantle.
• In baseball history, only Foxx and Ott reached their 26th birthday with better numbers than Trout in all of these (fairly important) categories: home runs, hits, extra-base hits, total bases, walks and runs scored.
• Trout is one of nine players to have hit at least 190 homers by his 26th birthday. Aside from one additional active player (teammate Albert Pujols) and two retired players (Andruw Jones and Rodriguez) who have not yet appeared on a Hall of Fame ballot, the others are all enshrined in Cooperstown: Foxx, Mathews, Ott, Mantle and Frank Robinson.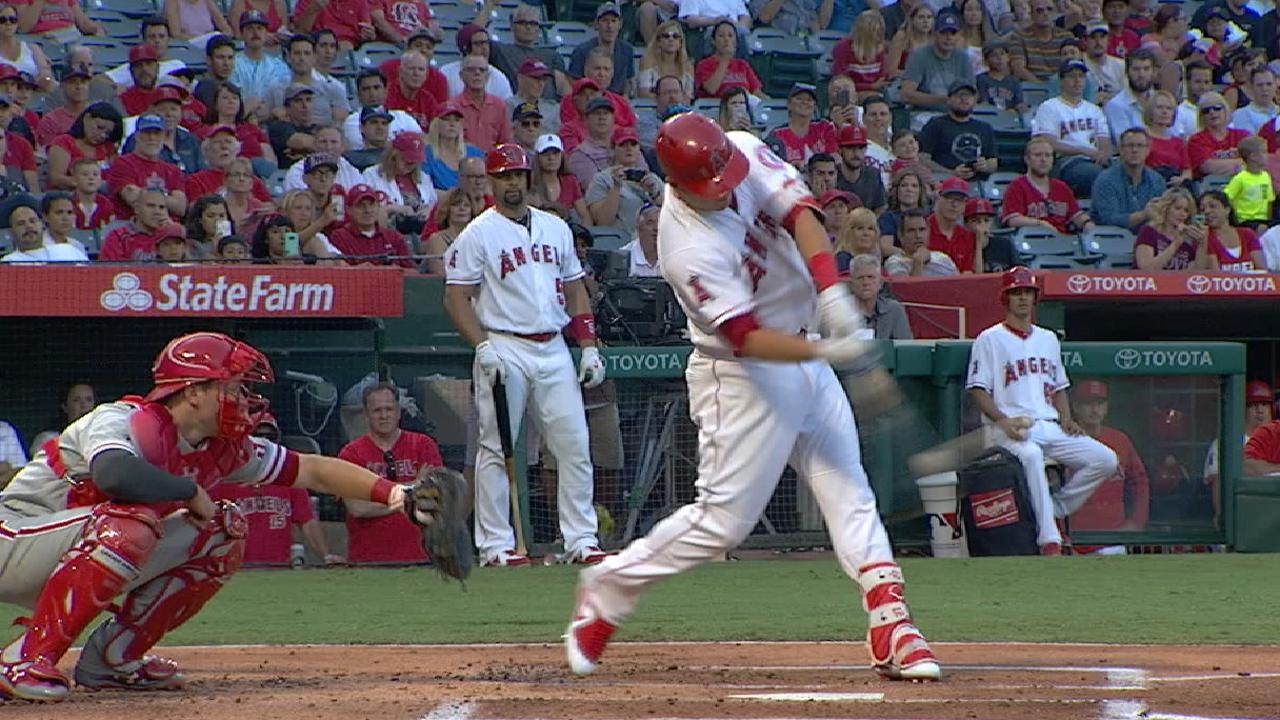 • There are nine players in the 600-home run club. Among them, only Rodriguez and Pujols had more homers at their 26th birthdays than Trout.
• For all position players through their age-25 seasons, Trout owns the second-highest career WAR*, with his value behind only Cobb's and directly ahead of Mantle's.
• Hank Aaron ranks second all-time in career home runs and fourth all-time in runs, and he's first all-time in extra-base hits. Looking at Aaron by his 26th birthday and Trout at his, Trout is ahead of Aaron in homers and runs, and he's just 10 extra-base hits behind Aaron.
• Trout is in position to become the eighth player to end his age-25 season with at least 3,000 plate appearances and a .300/.400/.500 line. The seven he's set to join: Joe Kelley, Cobb, Ott, Foxx, Joe DiMaggio, Mantle and Pujols. Trout is hitting .343/.463/.703 this season.
• For all players at the end of their age-25 seasons (with a minimum of 3,000 plate appearances), Trout's 173 OPS+ ranks as the third best, behind Cobb's 180 and Mantle's 174. In other words, it stands as the highest for any right-handed hitter, as Cobb hit from the left side and Mantle was a switch-hitter.
• Trout is one of just four players to record six seasons of at least 160 OPS+ before their age 26 season, joining Cobb, Foxx and Ruth.
• The most eight-WAR* seasons for center fielders through age-25 campaigns: 4 (Trout), 3 (Cobb, Mantle), 2 (Tris Speaker, DiMaggio, Mays).
* According to baseball-reference.com's measure for WAR
Joe Trezza is a reporter for MLB.com based in New York. Follow him on Twitter at @joetrezz. MLB.com's Roger Schlueter contributed research to this report. This story was not subject to the approval of Major League Baseball or its clubs.