Upton's clutch 2B powers Angels past Mariners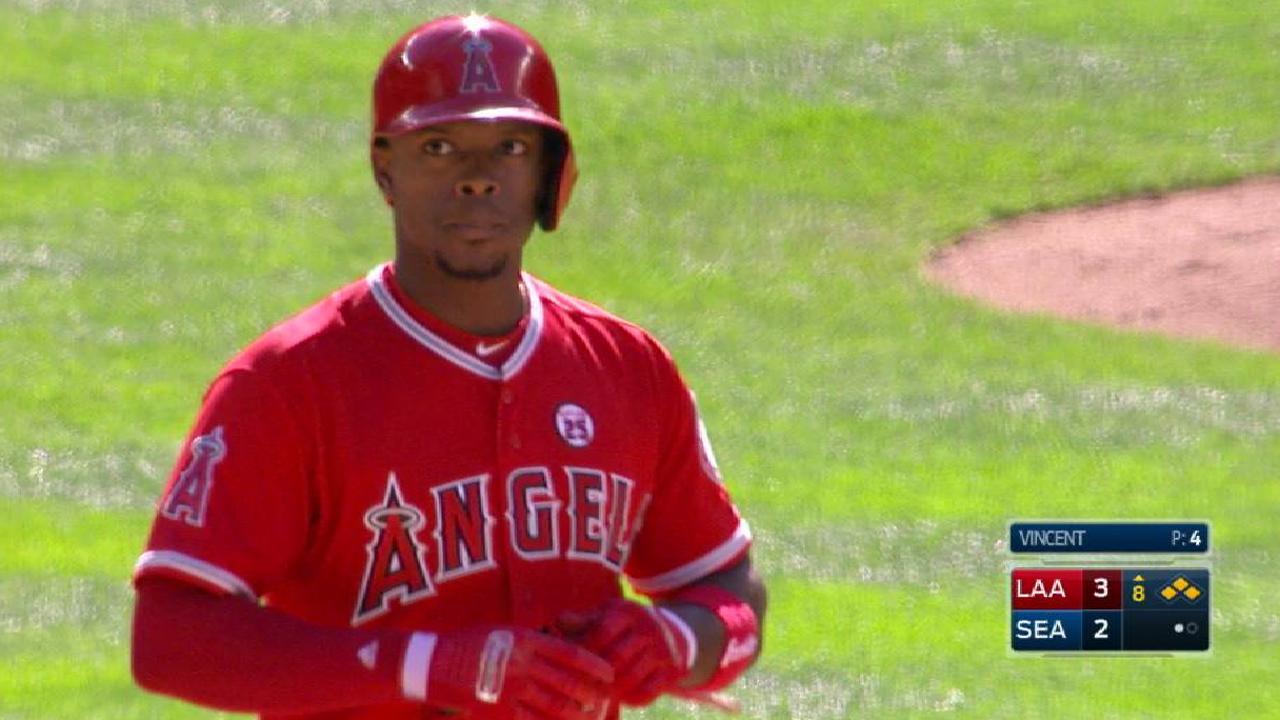 SEATTLE -- Justin Upton ripped a two-run, tiebreaking double off Mariners reliever Nick Vincent in the eighth to boost the Angels to a 5-3 win over the Mariners at Safeco Field on Sunday and avoid a series sweep.
The Angels picked up a game on the Twins, who lost to the Royals, 11-3, for the second American League Wild Card spot with the win and now sit one game back of Minnesota. The Mariners remain three games back with the loss, but allowed Kansas City to leapfrog them in the standings.
• American League Wild Card standings
Upton's double to the right-center-field gap came on a first-pitch offering from Vincent to plate Ben Revere and Mike Trout. Revere reached on a leadoff single, Phillips moved him over to second with a sacrifice bunt and the Mariners intentionally walked Trout to set the stage for Upton.
• Angels push all the right buttons in win
"Those situations are fun," said Upton, who scored the team's final run on a wild pitch later in the inning. "Tie ballgame and you've got a chance to put your team ahead. You don't always come through, but when you do it's fun."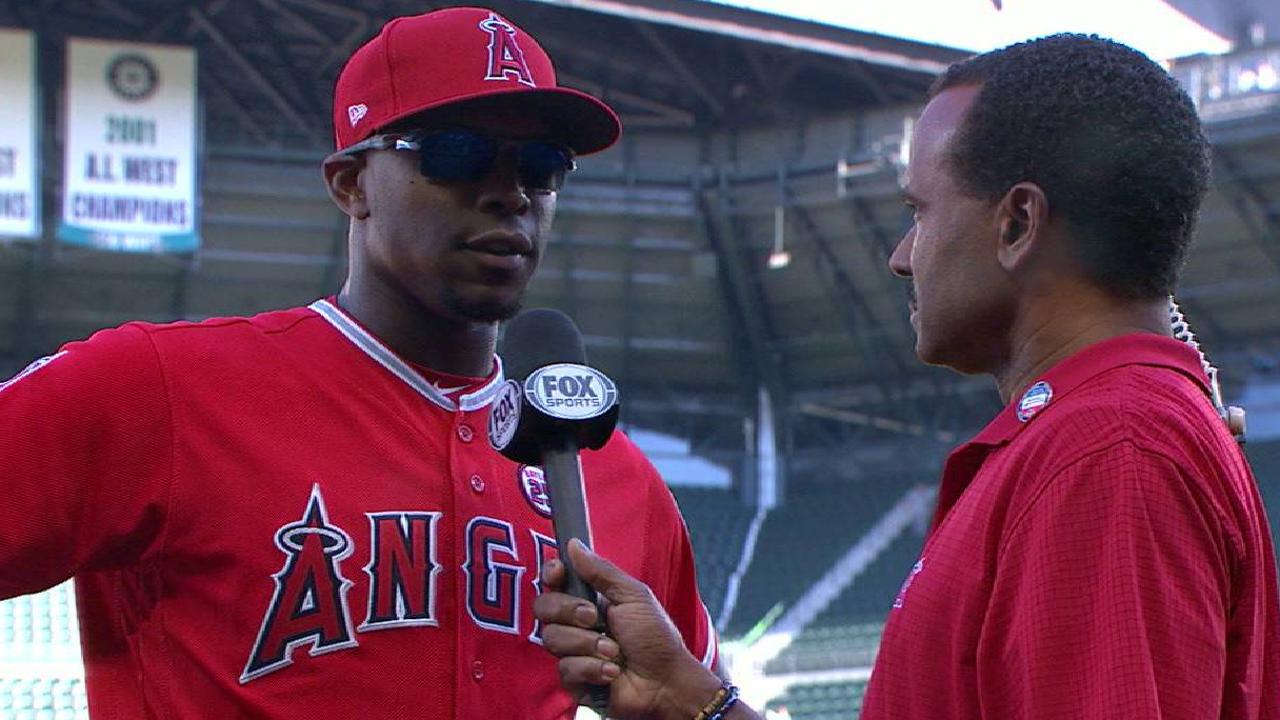 Angels starter Parker Bridwell was handed a no-decision after allowing two runs on seven hits over six innings. Yusmeiro Petit earned his third save of the season with a clean ninth inning. Petit, Cam Bedrosian and Blake Parker combined to allow only one hit in three relief frames, the hit being a home run from Jean Segura off Parker to lead off the eighth.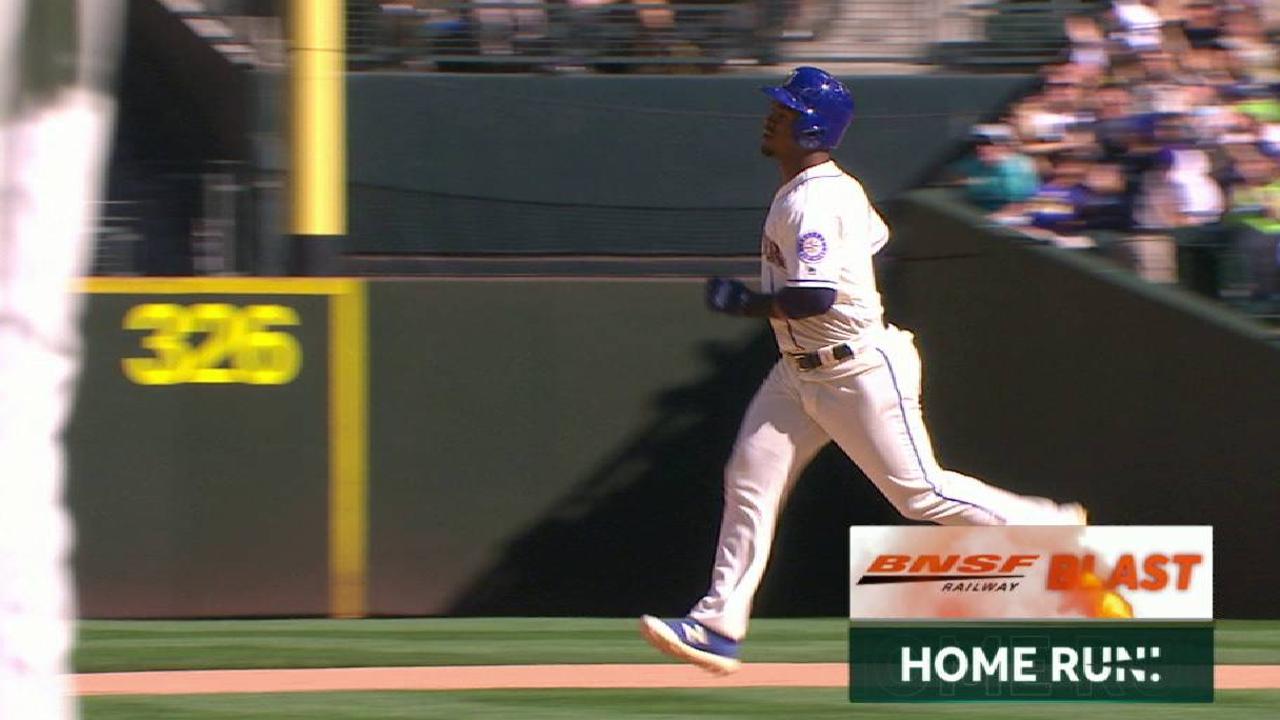 "From the outset, you saw a better tempo in his delivery," Angels manager Mike Scioscia said of Bridwell. "I think he got back into his rhythm, found his release point, and really pitched well. They got some runs, but I don't think a lot of balls were hit very hard."
Vincent continued his struggles against the Angels, having been tagged for all three of Los Angeles' runs in the eighth. He owns a 12.60 ERA in six appearances against the Angels this season.
"He's our eighth-inning guy, seventh or eighth, wherever their big part of their lineup is coming up. I thought that was a good spot to have him in there, but they were on him," Mariners manager Scott Servais said. "Soft hit, then Upton jumped on a first-pitch cutter that didn't cut that much. It happens."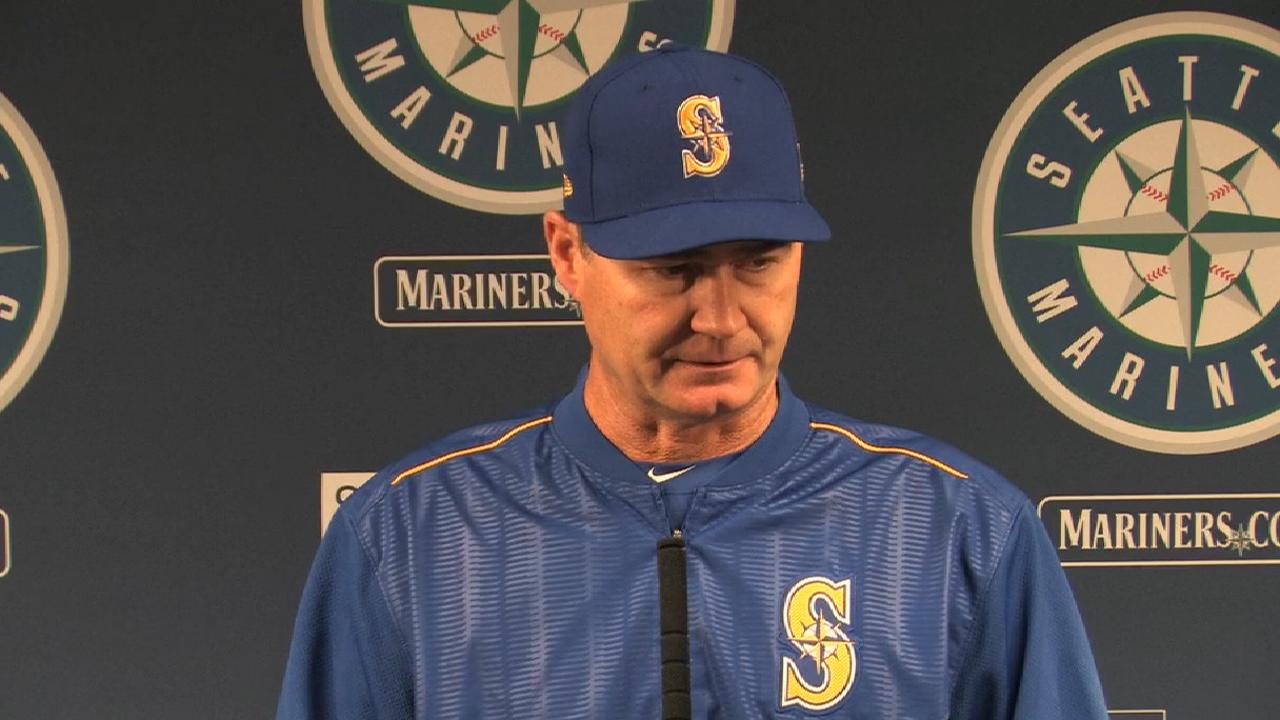 Mariners starter Erasmo Ramirez posted his sixth consecutive quality start and the Mariners' eighth quality start in September, as the right-hander allowed two runs on seven hits while striking out a season-high seven and walking none over six-plus innings.
• Erasmo keeps Mariners rotation rolling
"I thought Erasmo Ramirez was awesome today," Servais said. "I thought his sinker was outstanding, it's right on the edges. I thought he and [catcher Mike Zunino] worked really well together. He just got too much of the plate there against Valbuena, but he gave us everything he had."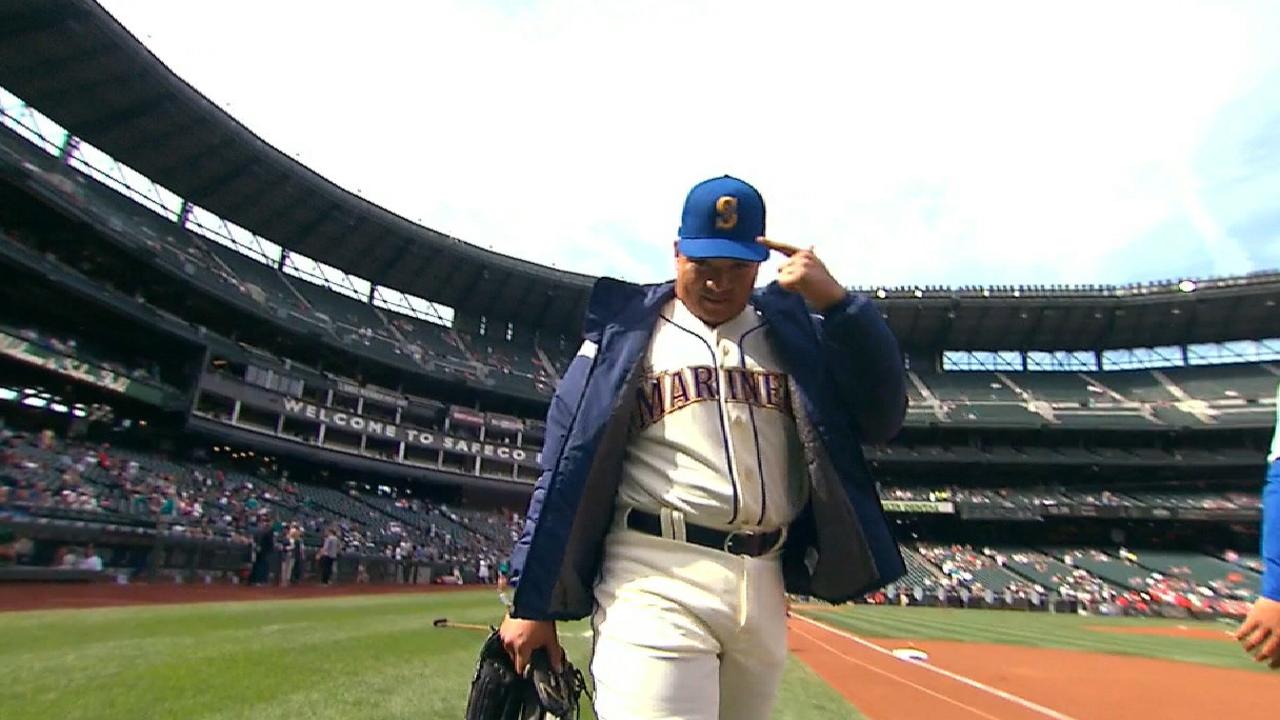 MOMENTS THAT MATTERED
Valbuena ties it up: Luis Valbuena ripped a line drive home run to right-center field off Ramirez in the sixth to tie the game at two. The homer knocked Ramirez out of the game on a sour note, as he retired 18 of his last 20 batters between his two home runs allowed.
"I tried to keep it close to the strike zone, it looks like it was too close," Ramirez said. "Just a mistake. He made me pay. Keep it too close to the strike zone, he put a good swing and tied the game."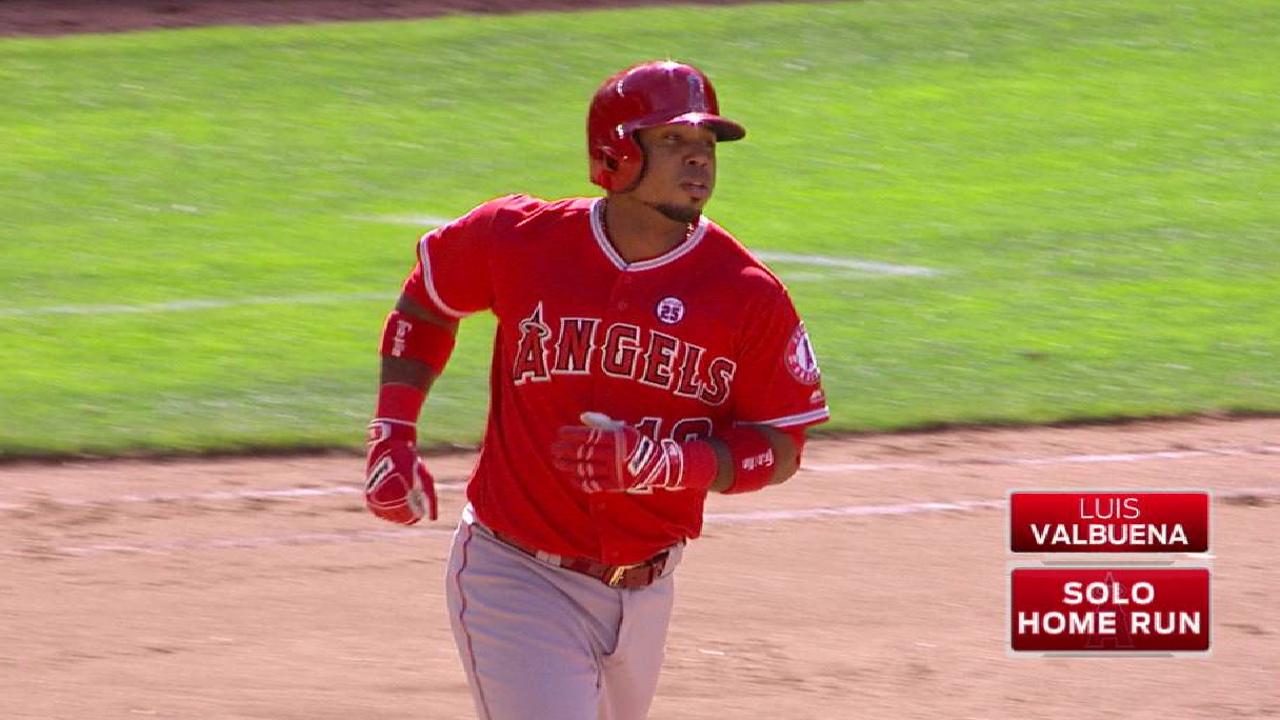 Lack of communication costly: Upton and Trout failed to communicate on a high fly ball off the bat of Ben Gamel to the left-center field gap and the fell to the grass, allowing Gamel to glide into third with a triple with two outs. That plated Kyle Seager from third and extended the inning, allowing Seattle to tack on another run on Zunino's RBI bloop single to right field.
"I was under it," Upton said. "I just heard -- and I'm not going to say where it's from -- but I heard somebody else calling it and Mike said he didn't call it, so …"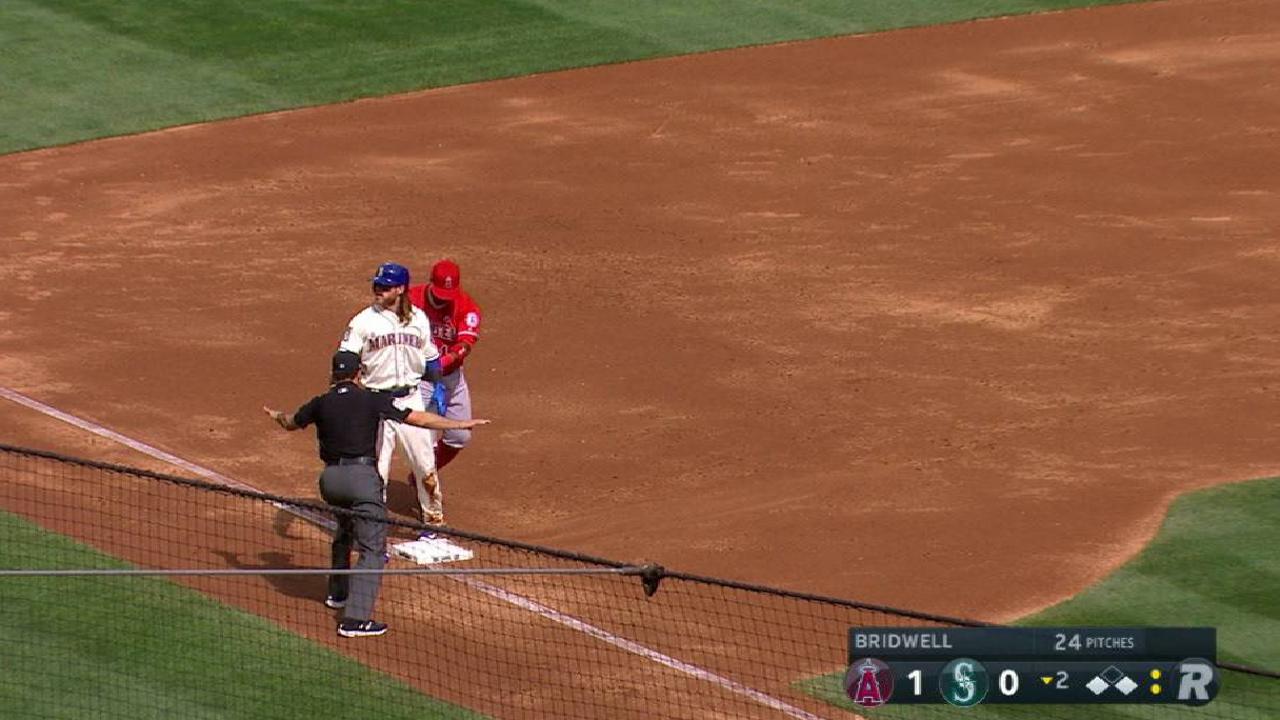 QUOTABLE
"Upton's having an outstanding offensively season, but you're going to matchups or trusting our guys are going to get it done, and the number dictating that we should have gone after him based on what [Vincent] had done in the past. But we're certainly going to put Mike Trout on base. He's earned that and everyone in the league would do that with him." -- Servais, on intentionally walking Trout in the eighth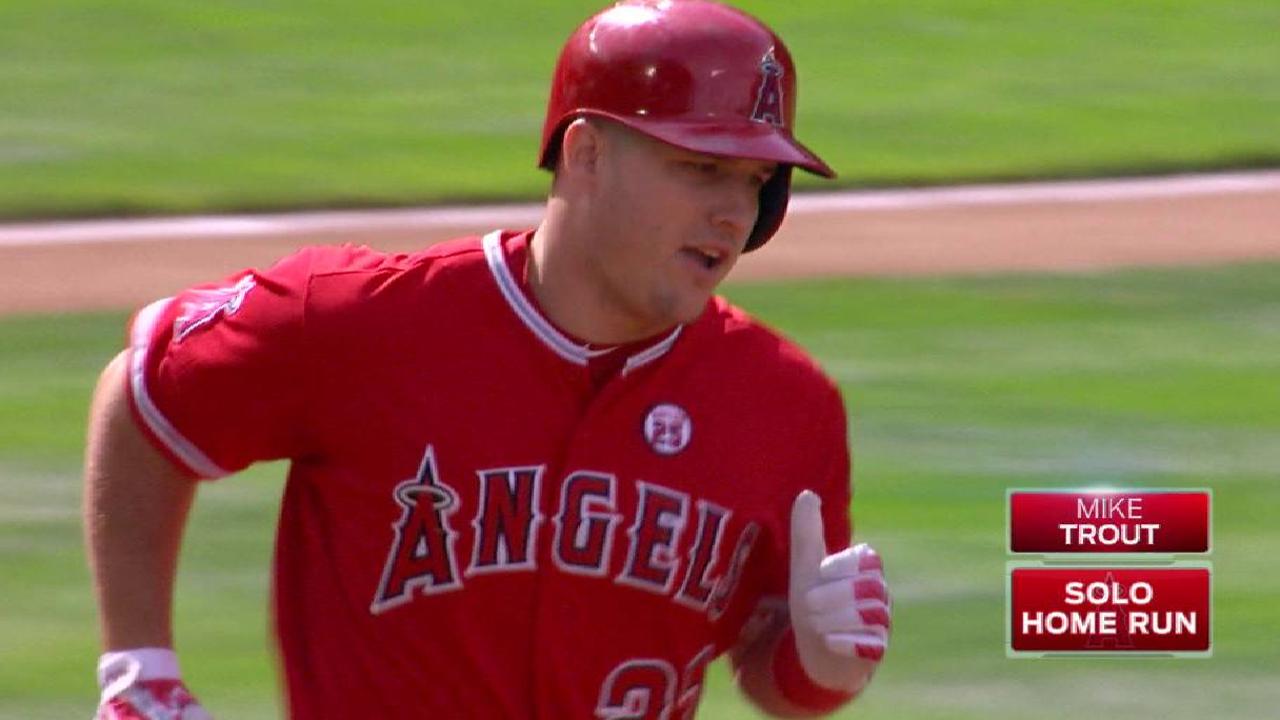 WHAT'S NEXT
Angels: The Angels get a day off on Monday and will travel back to Anaheim to get ready for a three-game series against the Astros that begins Tuesday at 7:07 p.m. PT. In that game, right-hander Garrett Richards (0-0, 1.13) will get the ball opposite Houston right-hander Justin Verlander.
Mariners: The Mariners head out on a seven-game road trip that begins on Monday at 5:05 p.m. PT with a four-game set against the Rangers in Arlington. Ariel Miranda (8-6, 4.72 ERA) toes the rubber following a six-inning, no-hit outing with six walks against the Astros.
Watch every out-of-market regular-season game live on MLB.TV.
Notes: Bullpen will create a Google doc for each game First version should generally consist of lede and moments that mattered. If game is decided late, ok to do lede first, then go back for the moments
Josh Horton is a reporter for MLB.com based in Seattle who covered the Mariners on Sunday.

Doug Miller is a reporter for MLB.com. Follow him on Twitter @DougMillerMLB.

This story was not subject to the approval of Major League Baseball or its clubs.