Halos foresee better days ahead for Cron
Scioscia would like to see better plate discipline, consistency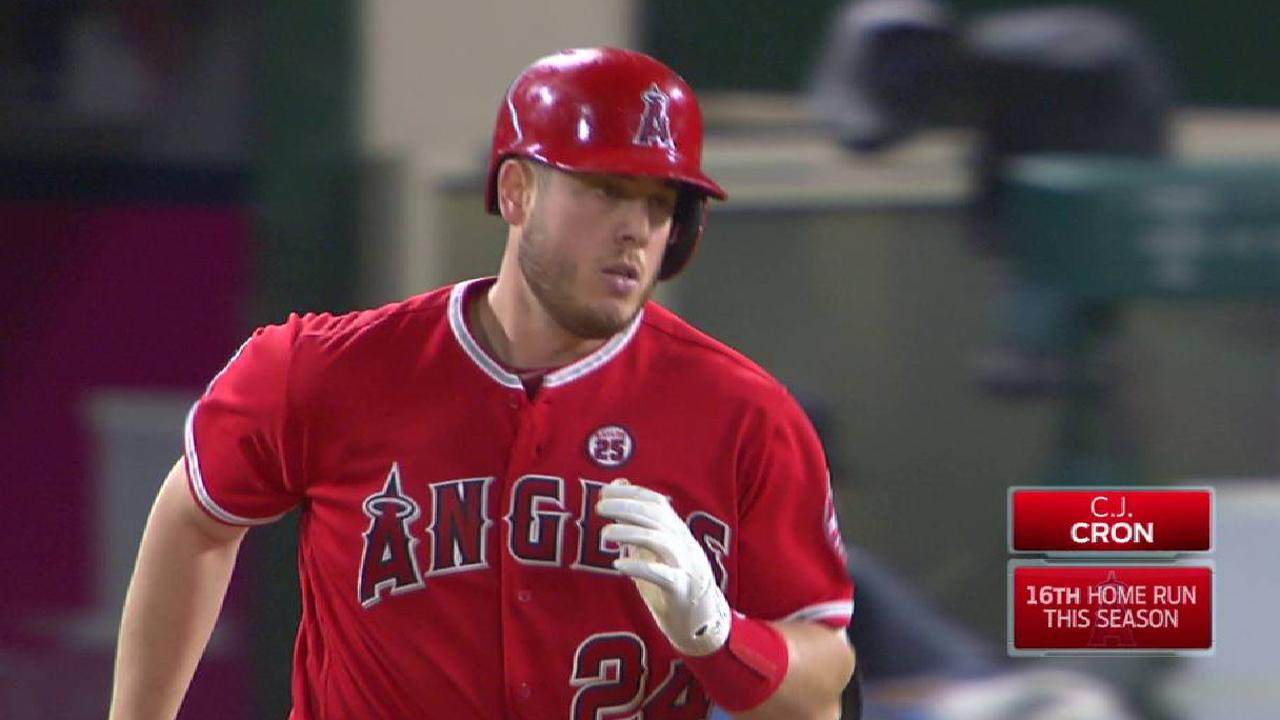 CHICAGO -- Angels first baseman C.J. Cron's season has been defined by peaks and valleys.
Over his first 32 games of the year, Cron batted .212 with a .562 OPS, two home runs and 14 RBIs in a part-time role with the Angels and was twice demoted to Triple-A Salt Lake. When he returned to the Majors on July 7, Cron received the opportunity to play first base on a regular basis, and he responded with a resurgence at the plate, hitting .302 with a .980 OPS, 12 home runs and 36 RBIs over his next 45 games.
The Angels have long seen Cron's potential as an impact power bat, but he has yet to prove that he can deliver that type of production on a consistent basis. Over the last few weeks, Cron has slumped again, hitting just .145 with a .502 OPS, two homers and 19 strikeouts in his last 17 games going into Thursday's finale against the White Sox.
"He can no doubt drive the ball and showed he can drive in runs, but he's working hard, obviously, on the consistency, like any young player," manager Mike Scioscia said Thursday. "Sometimes they need to be patient."
Scioscia said he believes Cron's issue over his cold streak has been plate discipline.
"I think there's no doubt about the pitches he's swinging at," Scioscia said. "I don't know if it's a little frustration or trying to do too much. He's expanded the zone to the point where it's started to affect a lot of the counts he was in. No matter how good you are, you'd rather hit with 2-1 counts than a 1-2 count. A lot of times, he was in poor counts."
Worth noting
• Third baseman Yunel Escobar (oblique strain) has not made enough progress in his rehab to rejoin the Angels before the end of the season, Scioscia said Thursday. Escobar, who has been sidelined since Aug. 8, has likely played his final game for the Angels, as he will be a free agent this winter and is unlikely to return in 2018.
Luis Valbuena, who is signed through next season, will be one option to fill the Angels' vacancy at third next year. Valbuena had been projected to split time at first base with Cron, but he ended up playing a lot more third after the injury to Escobar. Scioscia said the Angels have been satisfied with Valbuena's defense at the hot corner.
"We thought that he'd be able to make the plays he needed to down there," Scioscia said. "We saw that. Like any player, there's going to be some plays that kind of slip away from you. His arm is very accurate. His hands are good. His range at third base is adequate. I think he showed well for a guy that really was projected to play more first base than third base."
• The Angels could have had left-hander Andrew Heaney (shoulder impingement) pitch on Thursday against the White Sox, but they decided against it after they were eliminated from playoff contention on Wednesday. While Heaney is now healthy, Scioscia said the Angels didn't "see any need to push something that's really not going to serve any purpose." Reliever Bud Norris started Thursday's finale at Guaranteed Rate Field in Heaney's place.
• The Angels will not make any changes to their rotation plans for their final series of the season against the Mariners. Tyler Skaggs, Ricky Nolasco and Parker Bridwell are all slated to pitch against Seattle this weekend at Angel Stadium.
Maria Guardado covers the Angels for MLB.com. This story was not subject to the approval of Major League Baseball or its clubs.