Scioscia believes Pujols will bounce back in '18
Angels slugger set to avoid surgery this offseason and report healthy in spring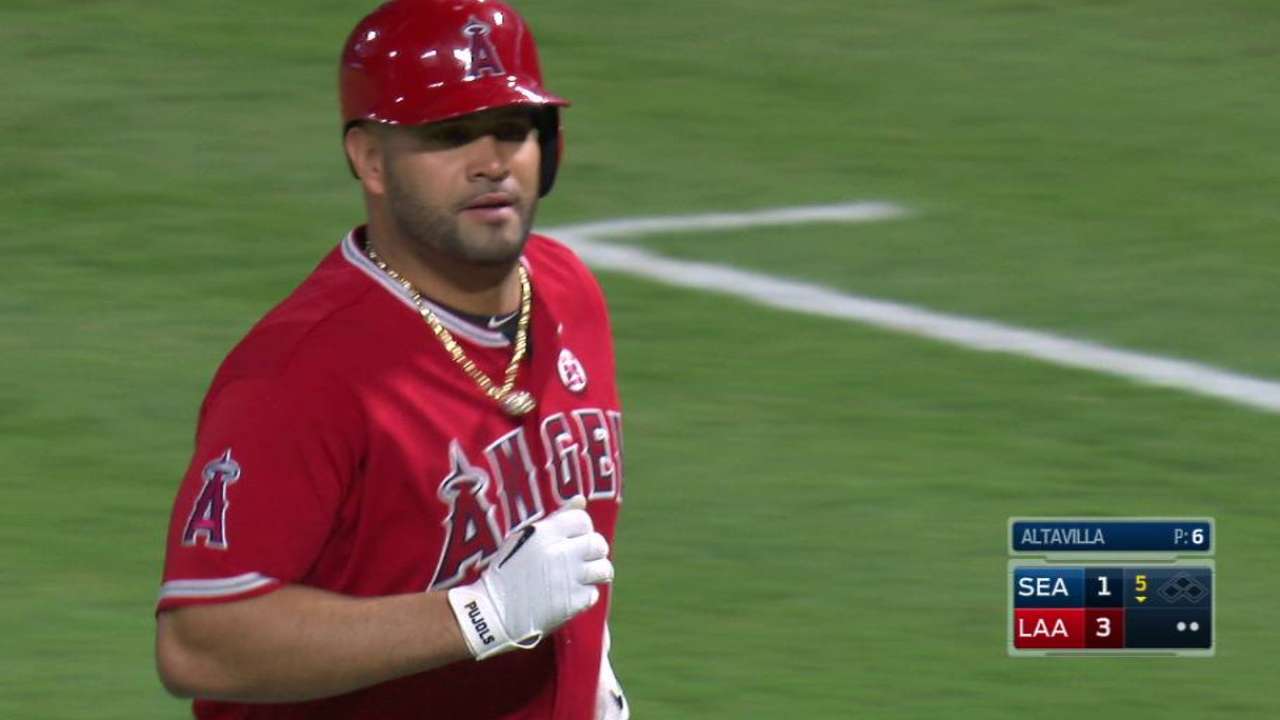 ANAHEIM -- It's been a difficult season for Albert Pujols, but the Angels have reason to believe that the 37-year-old slugger will rebound in 2018 with the help of a normal winter.
Pujols is poised to enter the offseason without the need for surgery, which the Angels hope will allow him to pursue an uninterrupted training regimen and improve his conditioning before Spring Training. Pujols has had three surgeries in five winters since joining the Angels, including last year, when he underwent an operation to release the plantar fascia in his right foot in December.
Though Pujols managed to recover in time for Opening Day, the injury prevented him from beginning the season at his optimum level of fitness.
"I think that although he was 'healthy,' when he got through Spring Training to start the season, I don't know if he was at the level that I think we'll see him at with a full [offseason] of conditioning and a full [offseason] to be able to work on some things," manager Mike Scioscia said Sunday before the Angels' regular-season finale against the Mariners. "He's going to come back with a vengeance. He's going to be ready to play."
Despite homering 23 times this season, Pujols entered Sunday batting .242 with a .287 on-base percentage and .387 slugging percentage, all of which are career lows. Pujols did prove to be the Angels' most prolific run producer, driving in 101 runs and joining Alex Rodriguez as the only players in Major League history to log 14 100-RBI campaigns. With runners in scoring position this season, Pujols entered Sunday slashing .264/.323/.448.
"Albert is a guy that knows what to do in the batter's box, especially when guys are on base," Scioscia said. "He drove in some big runs for us. I don't think you drive in over 100 runs without understanding what's going on and knowing what's happening in situations."
While Pujols currently ranks last in the Majors among qualified batters with a -1.9 WAR, according to FanGraphs, his standing in the metric is a bit skewed because he's been largely limited to the designated hitter role, preventing him from accruing defensive value, and because he no longer runs well.
"I don't think he's going to get credit for a lot of good things he did this year," Scioscia said. "Some numbers are not really what you've grown to know from Albert, but I think that a lot of it is tangible. A lot of is explainable. I think that he's going to have a full offseason to get where he wants to be, and I do think that some of those numbers will step up."
Maria Guardado covers the Angels for MLB.com. This story was not subject to the approval of Major League Baseball or its clubs.