Bedrosian remains key member of bullpen
Angels remain confident despite reliever's second-half struggles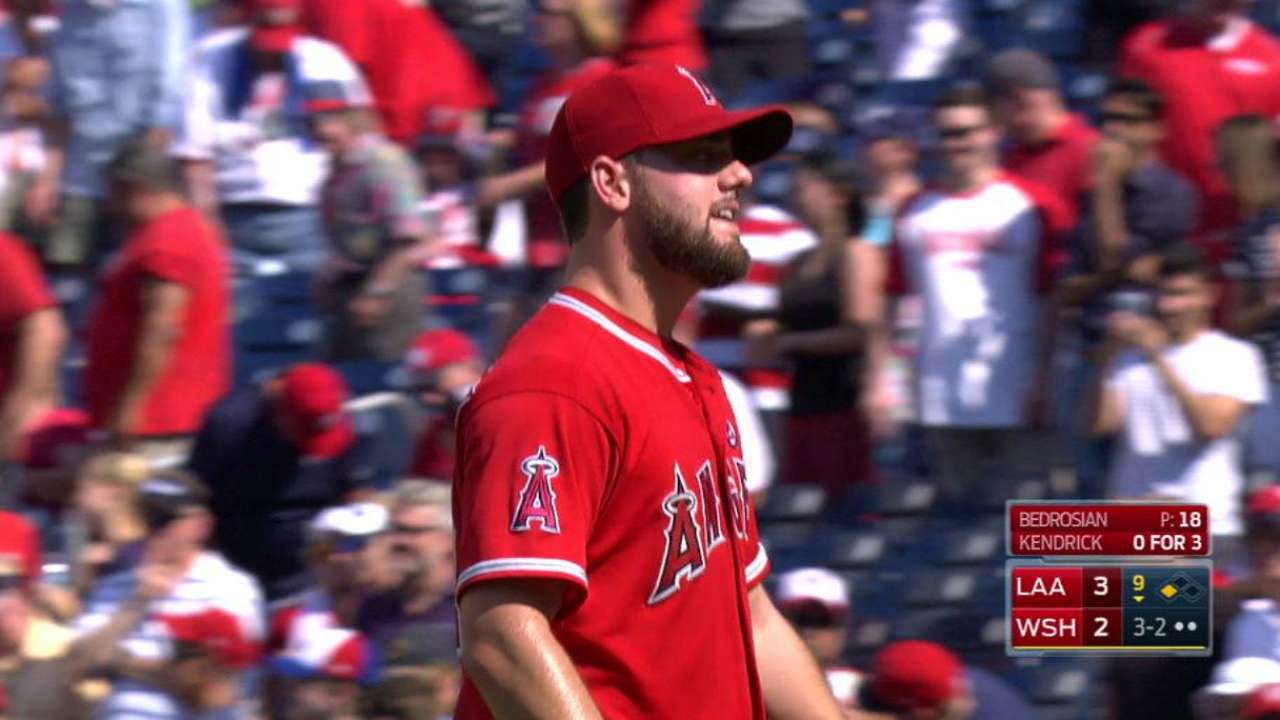 One year ago, Cam Bedrosian appeared to be the Angels' closer of the future, but he struggled to build off his breakout campaign this season. After logging a 1.12 ERA in 2016, Bedrosian finished this year with a 4.43 ERA and endured his worst outing on the penultimate day of the regular season, when he surrendered five runs without recording an out.
How do the Angels view Bedrosian now?
"Same way we did 12 months ago," manager Mike Scioscia said during an end-of-season review at Angel Stadium earlier this month. "I think he's got that back-end bullpen not only stuff, but I think he's got the back-end bullpen makeup that can help him to be part of that group that's going to get the last outs of games, or whatever it's going to be."
• Multi-inning relievers a priority for Angels
The Angels had expected Bedrosian, 26, to compete with veterans Huston Street and Andrew Bailey for the club's closing job during Spring Training, but injuries played a role in derailing that plan. When the regular season opened, Scioscia refrained from naming a closer altogether, despite appearing to have a worthy candidate in Bedrosian, who cruised through Spring Training without allowing a run.
Even without the official title, Bedrosian converted three saves for the Angels in April and tossed 6 2/3 scoreless innings in his first six appearances of the season before landing on the disabled list with a right groin strain. The nagging injury sidelined Bedrosian for nearly two months, and when he returned, Bud Norris had taken over ninth-inning duties for the Angels.
In the second half, Bedrosian had trouble recapturing his form from earlier in the season and recorded a 5.97 ERA over 28 2/3 innings. Bedrosian acknowledged last month that he didn't feel like he got back to 100 percent following the groin strain, though he stopped short of blaming injury for his spottiness over the final months of the season.
"Hopefully I'll have a full offseason to get right, and really get in the weight room and train good," Bedrosian said. "Come into the spring and be a lot fresher."
Despite Bedrosian's regression, the Angels' bullpen still proved to be a strength this season thanks to the success of low-cost pickups like Norris, Yusmeiro Petit and Blake Parker. With Norris and Petit set to become free agents, the Angels are currently projected to rely on internal arms such as Bedrosian, Parker, Keynan Middleton and Blake Wood to fill the gaps at the back-end of their bullpen in 2018.
It remains to be seen if the Angels will have more defined roles for their relievers next season, or if they'll stick with the more fluid approach they adopted in 2017. Asked if he'd like to have a set closer next year, general manager Billy Eppler said, "If it's in the cards, sure. If it's not, it's OK, too."
Maria Guardado covers the Angels for MLB.com. This story was not subject to the approval of Major League Baseball or its clubs.