Prospects Cowart, Grichuk invited to spring camp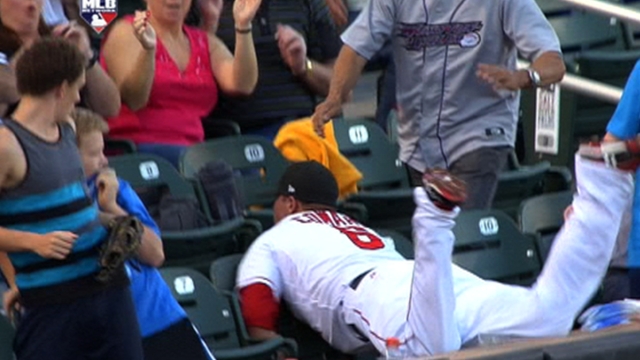 ANAHEIM -- Third baseman Kaleb Cowart, MLB.com's top-ranked player in the Angels' system, will get his first taste of big league camp this spring.
The Angels are inviting the 20-year-old switch-hitter to Spring Training on the heels of a breakout season in the Minors, which saw Cowart post a .276/.358/.452 slash line with 16 homers and 103 RBIs for both Class A affiliates.
Cowart, also ranked 46th among MLB.com's top 100 prospects, will likely be promoted to Double-A in 2013 and could become the Angels' starting third baseman by 2014 if he has a big year.
"I have to prove that I can hit in Double-A this year whenever I get there," Cowart said earlier this offseason. "I'm excited to see what happens. I'd love to be there in 2014, maybe get a shot this year if I perform well and my numbers are right. This is going to be a huge year."
Randal Grichuk, the 21-year-old outfielder known by many for being drafted a spot ahead of Mike Trout in 2009, also got his first Spring Training invite. Grichuk, ranked 12th in the Angels' system by MLB.com, is also coming off his best Minor League season, posting a .298/.335/.488 slash line for Class A Inland Empire, then being chosen to play in the Arizona Fall League.
Invited to Big League camp for Spring Training! Makes me even more hungry and ready for the season.#Blessed #ST2013 #Angels

— Randal Grichuk (@RGrich15) January 10, 2013
The Angels are expected to release their full list of Spring Training invitees early next week.