Hall's MRI reveals strained calf muscle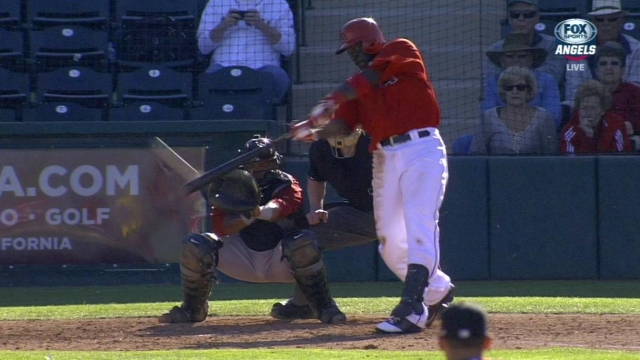 TEMPE, Ariz. -- Time keeps slipping away for roster hopeful Bill Hall.
Hall, obtained on a Minor League contract -- and at one time looking like a favorite for a reserve spot -- had been out since Feb. 27 because of tightness in his right quad. Then, during infield drills on Wednesday morning, as the 33-year-old was inching closer to a return to game action, his left calf tightened, causing what a Thursday MRI revealed to be a strained muscle.
Hall will visit with the team orthopedist, Dr. Lewis Yocum, for a followup on Friday and will stay away from baseball activities for the time being. It's unclear how much longer he'll be out.
"It's a little frustrating," Hall, 3-for-9 this spring, said just before leaving for the MRI. "I want to get out there. I had been playing well, and I did a lot of work this offseason to prevent this. But I guess there's another plan. Hopefully, it's not as bad as it could be and I could get back out there as soon as possible."
Hall didn't undergo an MRI when he sustained the quad injury, but manager Mike Scioscia said they opted to get an image this time because Hall had been bothered by the calf in the past. Hall ran the bases and got some at-bats during Tuesday's off-day, and before the setback was looking forward to getting in games at some point this week.
"It's unfortunate for him to go down at this time," Scioscia said. "The first course of action is for him to get healthy, and then we'll see what the dynamics are."
Hall is an XX(b) free agent, meaning the Angels basically have to make a decision whether or not to put him on the 25-man roster five days before Opening Day -- in this case March 26. They would owe him a $100,000 bonus to keep him in the organization, but not on the active roster, past that point.
Hall is among the most versatile players in camp, with the ability to play third base, second base, the outfield corners and, to a lesser extent, shortstop and first base. And he's definitely the most accomplished non-roster invitee, with a 35-homer season and more than 1,000 Major League games under his belt.
But he needs more opportunities to prove himself this spring.
"Hopefully I'm not out as long as it may seem, and hopefully I can come back quick and still have plenty of time," Hall said. "I have enough stress in my life. I try not to worry about if I've got enough time and putting more pressure on myself if I do get to come back. So whatever happens, I'm just trying to get healthy, and once I get healthy, I'm just going to play baseball like I was playing before."
Alden Gonzalez is a reporter for MLB.com. Read his blog, Gonzo and "The Show", and follow him on Twitter @Alden_Gonzalez. This story was not subject to the approval of Major League Baseball or its clubs.