Following injury, Hall's status remains uncertain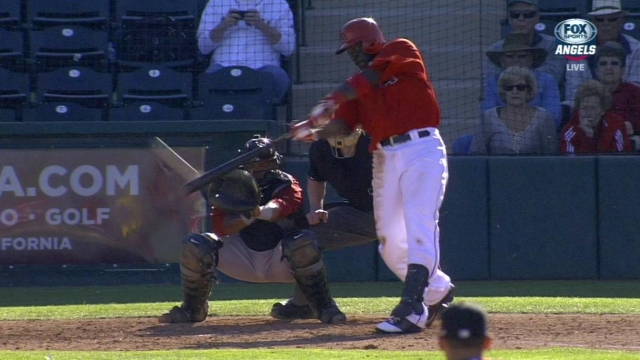 TEMPE, Ariz. -- Next to the black baseball bag in front of Bill Hall's locker sat a large blue and white envelope with the letters "MRI" across the front.
Contained inside were the results of his MRI for a strained left calf. But the more pressing question of, "What now?" couldn't be determined by those results alone.
Hall and team orthopedist Dr. Lewis Yocum were scheduled to discuss just that on Friday morning, and Hall tried to remain optimistic beforehand.
"It always could be worse," Hall said. "Obviously, it's not torn so there won't be any surgery needed. But strained, I don't know how long it's going to take."
The Angels have until March 26 to make a decision on whether to put Hall on the big league roster or pay him a $100,000 bonus to keep him within the organization at a Minor League level.
Those dates prompted Hall to do some quick math.
"Today's the 15th, so I've got 11 days?" he said. "I better heal quick."
Hall signed a Minor League deal with the club in January, marking the seventh team he has played for in the last five seasons.
AJ Cassavell is a reporter for MLB.com Follow him on Twitter @ajcassavell. This story was not subject to the approval of Major League Baseball or its clubs.