Frieri working on changeup, will play key bullpen role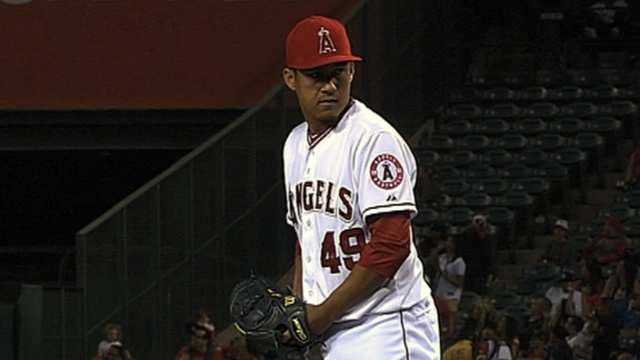 TEMPE, Ariz. -- Ernesto Frieri has always been a one-pitch pitcher. As a reliever who rarely -- if ever -- works all the way through the lineup, that has suited him just fine in three solid big league seasons.
But the question around the Angels right-hander has always been: Just how good could he be if he developed a changeup to complement one of the game's better fastballs?
We'll find out soon enough. Frieri is working on a changeup this spring that he feels is just about ready, and he's been working on a cutter, too.
"It's not done -- it's getting there," Frieri said of the changeup after tossing a perfect fifth inning Friday against Seattle. "But I feel comfortable enough to use it in any situation now."
The biggest problem with Frieri's changeup in the past was that he didn't disguise it well enough. He says that issue has been resolved this spring with the help of pitching coach Mike Butcher.
As for the cutter, it's not quite game-ready. With a mid-90s fastball, Frieri says his cutter would have to hover around 90 mph to deceive hitters. He says it's currently clocking at 86.
Frieri is the best bet to start the season as the Angels' de facto closer, even if manager Mike Scioscia doesn't want to label any of his relievers as such. When Ryan Madson returns from injury, Frieri will likely play a pivotal set-up role.
"I'm ready for any situation, like I always say," Fireri said. "I wish that Madson can get ready as soon as possible because that will help us a lot."
Frieri came to the Angels on May 3 last season in a trade with San Diego and didn't allow a run until July 15. He finished the year with a 2.32 ERA and just 35 hits in 66 innings pitched.
"He had a terrific year last year with really just attacking the zone with his fastball and mixing a couple breaking balls," Scioscia said. "If he can create a little bit more depth in his pitches with a little more off-speed, it's going to bring him up to a higher level."
AJ Cassavell is a reporter for MLB.com Follow him on Twitter @ajcassavell. This story was not subject to the approval of Major League Baseball or its clubs.