Weaver chalks up rough start to 'dead arm' phase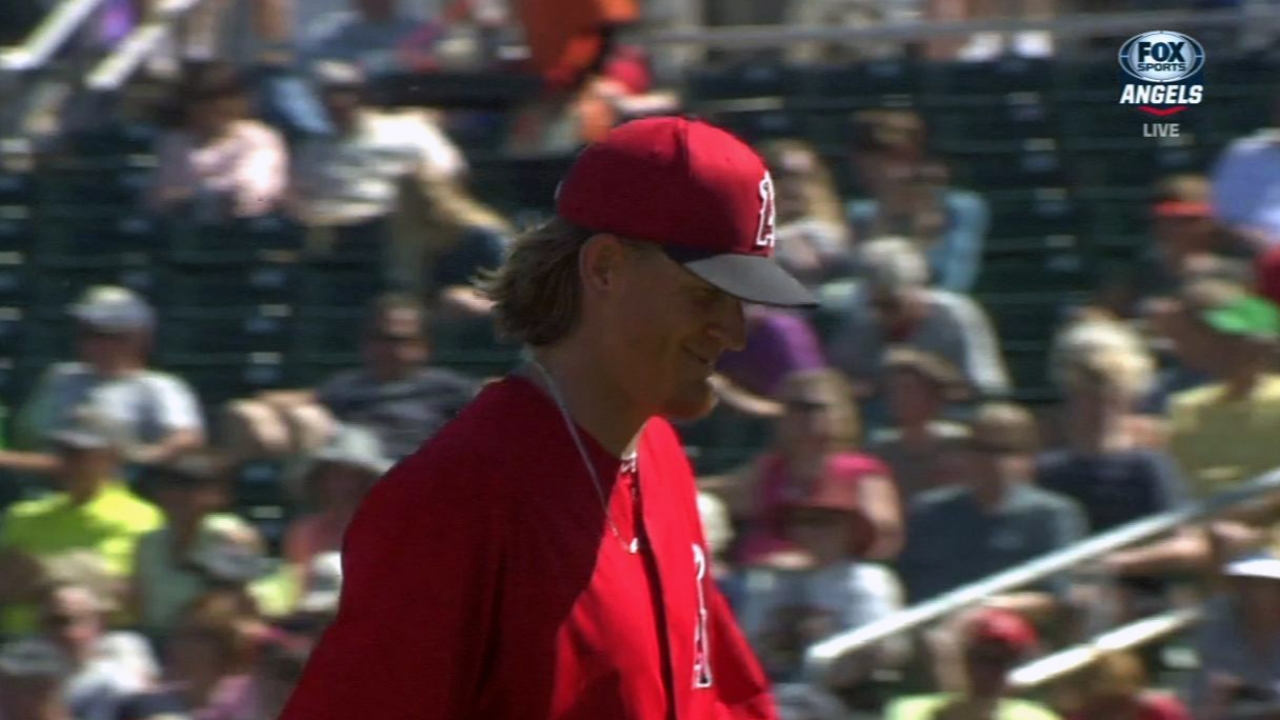 PHOENIX -- For most starting pitchers, that mysterious "dead arm" phase usually rears its ugly head at some point in spring. And for Angels ace Jered Weaver, it basically happens every March.
"But I think this is a little bit more than I'm used to," Weaver said, after giving up eight runs in two innings against a division-rival A's team he flat-out dominated last year.
"It's weird because you never know if you're going through [dead arm] or not, because like I said, everything feels healthy. But you hear stories about guys having no control and having no feel for what's going on out there, and that's definitely what it was today. It's nice to mix one of those in in spring and get them out of the way before the season starts."
From the get-go, it was clear Weaver simply wasn't right.
Weaver walked the first batter on four pitches, gave up three home runs -- to Josh Reddick, Luke Montz and Yoenis Cespedes -- needed 29 pitches to get out of the second inning and even fell victim to the newly barred third-to-first pickoff move, leading to a balk that brought in another run.
Weaver, who had given up two runs in nine spring innings heading in, left after two frames, got 20 more pitches under his belt in the bullpen and came out happy that none of this really counts. His manager, Mike Scioscia, said his ace is healthy and his stuff is fine, but was searching for his release point.
Weaver's next turn was previously slated to come in a controlled Minor League environment on Thursday, rather than in a Cactus League game against the Rangers at Surprise, Ariz., and Scioscia believes that will do him some good.
After that, he'll have one more start to get ready for Opening Day.
"The only thing that's concerning is when a guy is supposed to be at five [innings] and 75 pitches and he's at two innings and has to go down there to finish his workout," Scioscia said. "Next outing, [pitching coach Mike Butcher] and Jered are going to have to see how he feels and where he can get to, but needless to say this is a guy we're targeting for Opening Day and we need him to have a certain amount of stamina before he gets there."
Weaver is usually good for a rough spring outing or two, en route to his typical Cy Young Award-caliber regular season. He posted a 5.71 ERA in Cactus League play in 2009 and '10, then a 4.08 mark in '11 and a 5.40 ERA in 18 1/3 innings last spring.
His latest dud came against a team that scored one run in 30 2/3 innings against him last year.
"I'm not too worried about it," Weaver said. "Everything will line up accordingly. I'll get my work in and hopefully just wash this one out."
Alden Gonzalez is a reporter for MLB.com. Read his blog, Gonzo and "The Show", and follow him on Twitter @Alden_Gonzalez. This story was not subject to the approval of Major League Baseball or its clubs.