Pujols happy for countrymen in Classic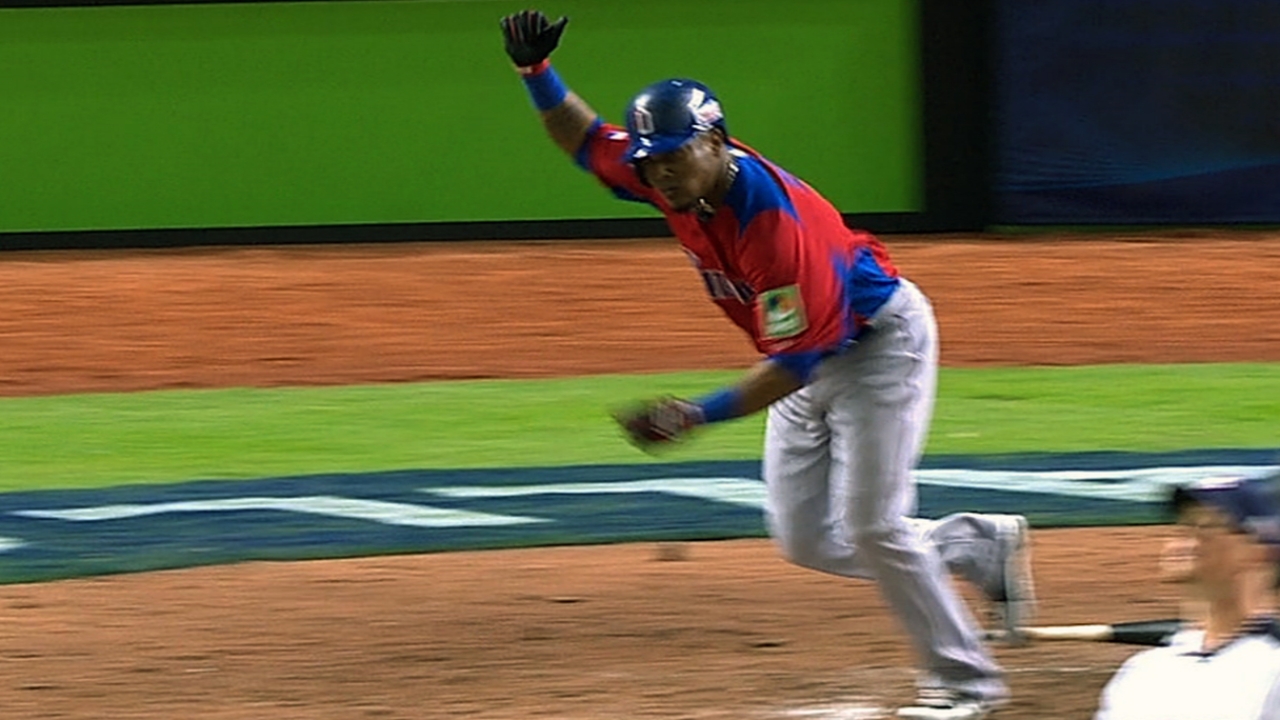 TEMPE, Ariz. -- In an ideal world, Albert Pujols would've played for the Dominican Republic in the World Baseball Classic this spring. But clearly, he needed to be with the Angels to recover from offseason surgery on his right knee. And even if he wanted to take part, Classic officials wouldn't have secured his contract anyway.
"Of course," Pujols said in Spanish when asked if he would've liked to play. "But I don't have any control over that. It's part of the rules; they didn't want to insure me. Besides, they don't need me. They have a great team."
Any team could use Pujols in the No. 3 spot, but the Dominicans have nonetheless advanced to the semifinal round with a 6-0 record. They'll play the Kingdom of the Netherlands on Monday at 6 p.m. PT on MLB Network and ESPN Deportes.
Pujols hasn't been able to watch many games because they've mostly coincided with his schedule at Angels camp, but he was able to take in the Dominican Republic's thrilling win over Team USA, when good friend and teammate Erick Aybar notched the game-winning hit in the ninth.
"He's really happy," said Pujols, who spoke with Aybar on Saturday.
"They have a good team. They're really excited, they're hungry. It's good to see."
Games will start at a more convenient time now that the series has moved to San Francisco, and Pujols intends to watch the Dominicans play the surprising Dutch team.
The Angels' slugger played in 2006, when his native country lost to Cuba in the semis, but recovery from offseason elbow surgery in '09 and knee surgery in '13 has kept him from participating in the last two events.
"The last time [in 09], they didn't play like they wanted to and they lost in the first round," Pujols said. "This year, you see they have more emotion and they want to show they have a great team. They're playing good defense, hitting well, but the best part is their bullpen."
The Dominicans, led by Yankees bench coach Tony Pena, have stars all over the field. But they're stacked in the bullpen, with the likes of Fernando Rodney, Santiago Casilla, Kelvin Herrera and Pedro Strop.
In Pujols' mind, that's the biggest key.
"I remember that was the difference in 2006," he said. "We had good starting pitching, but the bullpen wasn't as good as what they have now. Now it's different. The bullpen is better than their starting pitching - not that their starting pitching is bad, but in the first two rounds, that's the key because you have a pitch count and can't throw more than [65 pitches in the first round and 80 in the second]."
Alden Gonzalez is a reporter for MLB.com. Read his blog, Gonzo and "The Show", and follow him on Twitter @Alden_Gonzalez. This story was not subject to the approval of Major League Baseball or its clubs.