Griffin, Aybar reflect on brotherhood in Classic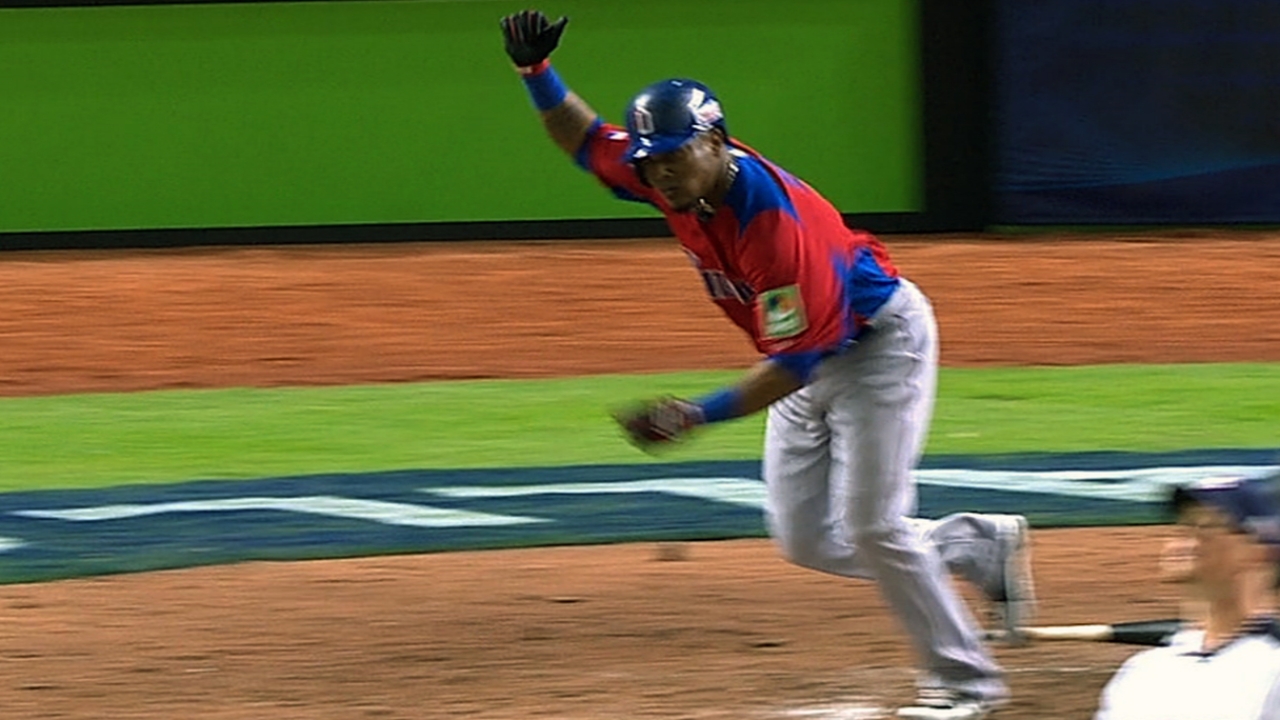 TEMPE, Ariz. -- Maybe it was because they were humiliated in the first round last time, or because they all come from the same place, or a combination of both. Whatever the reason, Angels shortstop Erick Aybar and first-base coach Alfredo Griffin experienced an uncommon, team-wide unity while suiting up for the Dominican Republic during its championship run in the World Baseball Classic.
"It was everybody, united, since we got to the first game in Florida [for exhibitions]," said Aybar, who finished his first Classic 7-for-21 with one very big hit. "It was everybody together, talking, hanging out together. There were no cliques. It was just one big group that got along very well."
On the very first flight, from the exhibition games in Tampa, Fla., to San Juan, Puerto Rico, home of first-round play in Pool C, the Dominicans were as one. On that charter, Giants reliever Santiago Casilla huddled up the entire team in the back of the plane to read scripture, starting a trend that had him doing that for all 24 other players throughout the tournament and perhaps indirectly setting the tone for an eventual 8-0 run.
"That's the first time I've ever seen that happen, that all the guys accept one player to lead them in prayer the entire time," Griffin, who has served as a coach in all three Classic events, said in Spanish.
"Twenty-five players became one. Amazing."
That was most evident, at least publicly, during the boisterous celebration the Dominicans staged in the later stages of their 3-1 victory over Team USA at Marlins Park on March 14. The jubilance was sparked mainly by Aybar, who notched the pinch-hit, game-winning single in the top of the ninth against Craig Kimbrel.
"[Manager] Tony Pena told me, 'Get ready, because you could get a good opportunity here,'" Aybar said in Spanish. "And it came."
The magnitude of what the Dominicans were doing didn't hit them until they were deep in a champagne-soaked celebration in their clubhouse at AT&T Park, moments after beating Puerto Rico in the final, when the television came on. It was a live shot at Estadio Quisqueya, filled to the brim with locals celebrating after watching the game on the big screen.
"Nobody slept that day," Griffin said. "Since the first Classic, the fans have always been there supporting the Dominican Republic and really hungry for us to win. This year, the dedication of these players to take the crown to the Dominican Republic, the fans received that game, for me, is the biggest thing that's happened in the Dominican in recent memory. Nobody slept that day."
Alden Gonzalez is a reporter for MLB.com. Read his blog, Gonzo and "The Show", and follow him on Twitter @Alden_Gonzalez. This story was not subject to the approval of Major League Baseball or its clubs.