Wells' departure complicates roster decisions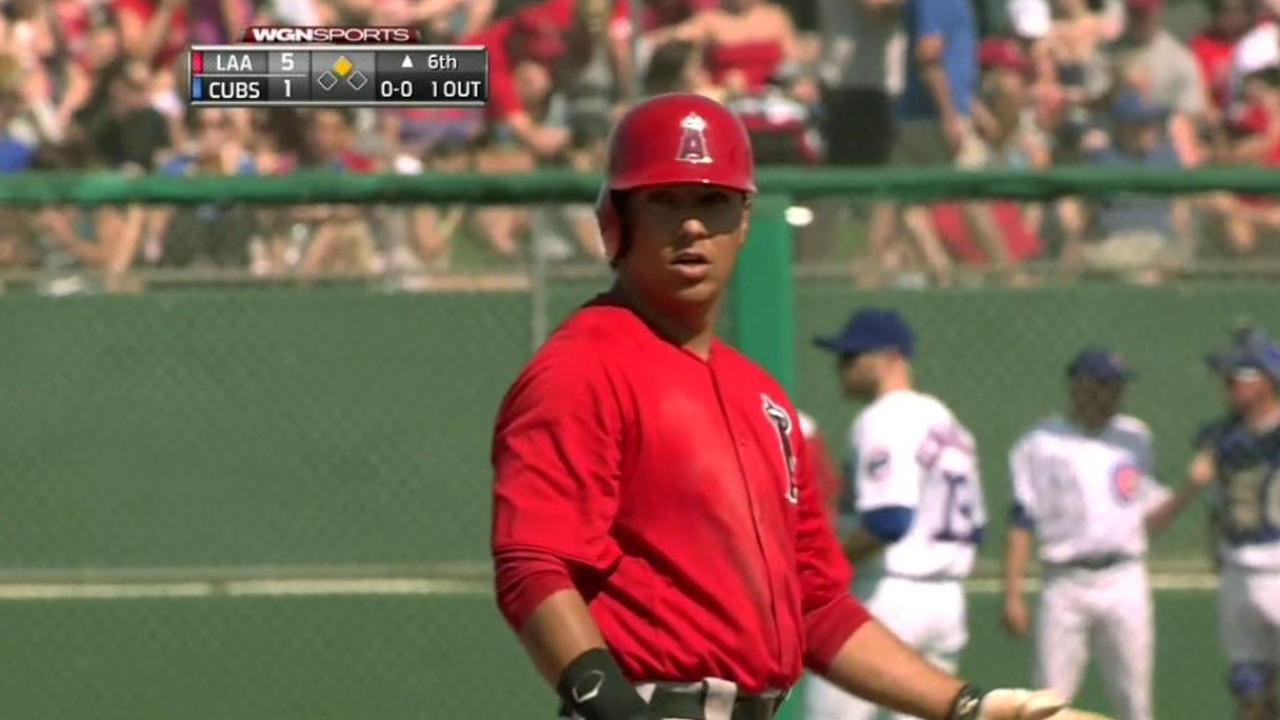 SCOTTSDALE, Ariz. -- Vernon Wells' departure has given the Angels some much-desired payroll flexibility, but it has also clouded their bench situation.
With Wells joining the Yankees, the Angels no longer have that everyday-type player in reserve -- a luxury most American League clubs are not afforded -- and manager Mike Scioscia may go down to the wire with his final roster decisions.
But Scioscia doesn't believe the Angels' bench necessarily took a step back with Wells no longer an option.
"For an everyday player on the bench, usually it's a tougher task when you are not used to that role," he said. "Last year, we saw that with Vernon. I think Vernon is a guy that needs to get out there and get his at bats and learn from some things that aren't working. He needs that playing time."
In addition to their starting nine, the Angels have 10 position players left in camp. All have at least an outside chance to make the roster, and most of them started against the D-backs on Tuesday night.
Here's where they each stand with six days left before Opening Day ...
Backup catcher: Chris Snyder, Hank Conger and John Hester remain. Making Snyder the backup catcher would be the Angels' best chance of preserving their depth at the position. Snyder, acquired on March 18, can opt out of his contract if not on the Opening Day roster. Conger, who has been inconsistent with his throwing all spring, has options left. But Conger is the most talented of the trio.
Backup infielder: Andrew Romine -- already on the 40-man roster and home-grown -- came into camp looking like the heavy favorite and hasn't done anything to dispel that. Brendan Harris, Luis Jimenez, Efren Navarro and Luis Rodriguez are the others, and now that Wells is gone, they still have a chance.
Backup outfielder: Only Kole Calhoun and J.B. Shuck, both of whom play all three outfield spots and bat left-handed, remain. Calhoun is home-grown and on the 40-man. But he's 8-for-40 this spring. Shuck is 15-for-42.
Fourth bench spot: This is where it gets tricky. With the other three spots, the Angels will have a catcher, a versatile infielder and a left-handed-hitting outfielder. The fourth spot will depend on Scioscia's preference.
If it's a defensive first baseman, since either Albert Pujols or Mark Trumbo figure to be the designated hitter most nights, then Navarro could win a spot. If it's a right-handed-hitter, then Jimenez has an upper-hand. If it's an extra infielder, giving Scioscia the freedom to use Romine as a pinch-runner, Rodriguez and Harris could get extended looks.
The Angels currently have four spots open on the 40-man roster and general manager Jerry Dipoto said the team will fill out its bench in-house.
But Scioscia isn't tipping his hand.
"There are two ways to look at it, micro and macro," Scioscia said. "You are looking at moves within the game and you are looking at at-bats within a season you are going to need. There are a lot of things to look at. It gives you different lineups. We're going to look at it very closely as we get down to the wire."
Alden Gonzalez is a reporter for MLB.com. Read his blog, Gonzo and "The Show", and follow him on Twitter @Alden_Gonzalez. This story was not subject to the approval of Major League Baseball or its clubs.