Bourjos back in his familiar role vs. Rangers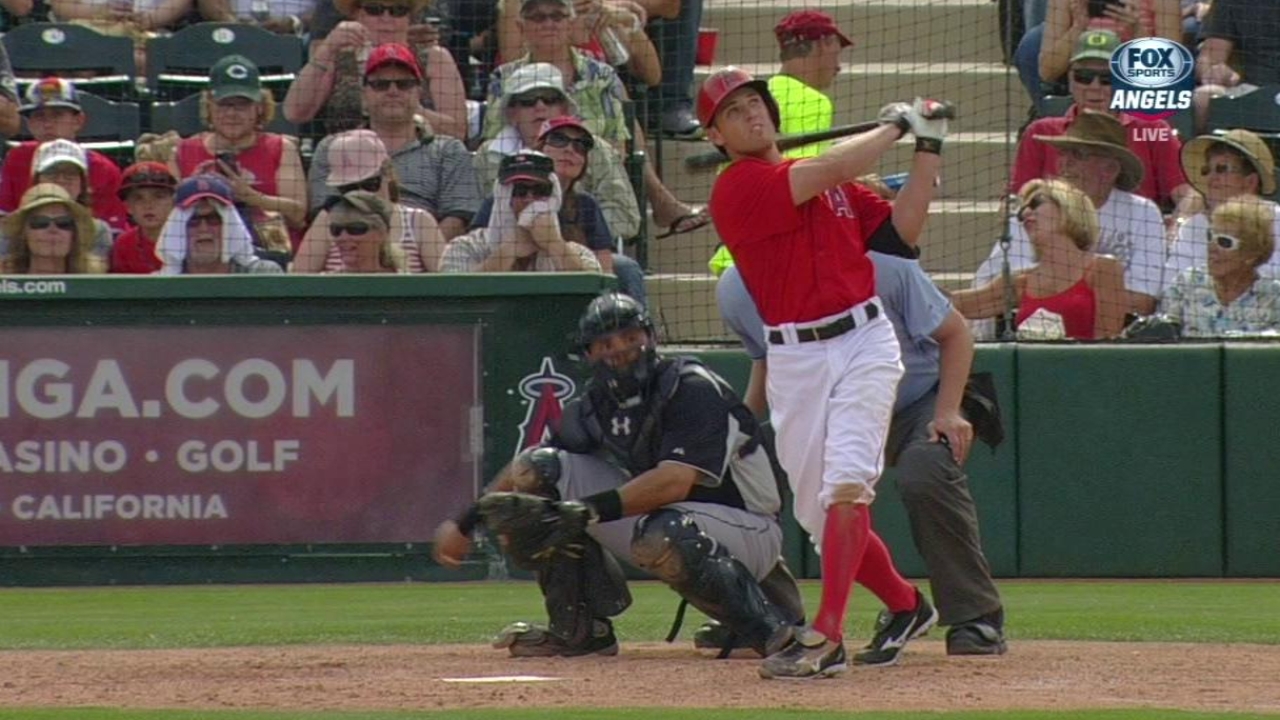 ARLINGTON, Texas -- For the first time this season, the Angels will have their regular outfield intact as they open a big weekend series with their American League West rivals, the Rangers. Peter Bourjos, forced to the bench in the opening series in Cincinnati by the absence of a designated hitter, will be in center field, with Mike Trout moving to left and Josh Hamilton -- the central focus of the series -- in right against his former teammates.
Bourjos thought it was odd to start the season on the bench.
"I looked at the schedule when it came out and thought, 'Oh, shoot, I'm going to have to wait three days to play.'" Bourjos said
Bourjos' good buddy, Mark Trumbo, was in left field against the Reds. The slugger is in the DH role, hitting fifth, against Rangers lefty Derek Holland. Bourjos, who had an excellent spring, hits ninth, giving the Angels the effect of dual leadoff men with Trout.
Bourjos' 2012 season was a disappointment, coming on the heels of a productive 2011, and he was reduced primarily to backup duties with Trout's emergence in center. One of the game's fastest players and premier defenders, Bourjos is confident he can return to his 2011 level -- .271 average. 26 doubles, 11 triples, 12 homers. 22 steals -- and surpass it with steady playing time.
As a late-game replacement, he tripled in his first at-bat in Cincinnati, and went 1-for-2 in the series.
"I'm excited, more just about being able to play more," Bourjos said. "The more playing time, the better my numbers will be, and I'll have a chance to help the team win. Last year my role, coming in late for defense, was important, but it was limited. This is a bigger role, and I want to take advantage of it."
Bourjos has made more than his share of highlight-reel catches, including one here in April 2011 that stands out. With Jered Weaver protecting a two-run lead in the seventh inning, Bourjos was off with the crack of David Murphy's bat, leaping high and banging against the wall to take away extra bases -- and perhaps a home run. Weaver later called it "awesome, as good as it gets."
Bourjos fondly remembers it as "one of my favorites, because of the game circumstances. Off the bat, I didn't think I'd get there, and I hit the wall pretty hard with my back."
Lyle Spencer is a reporter for MLB.com. This story was not subject to the approval of Major League Baseball or its clubs.