CJ offers perspective to Hamilton's Texas return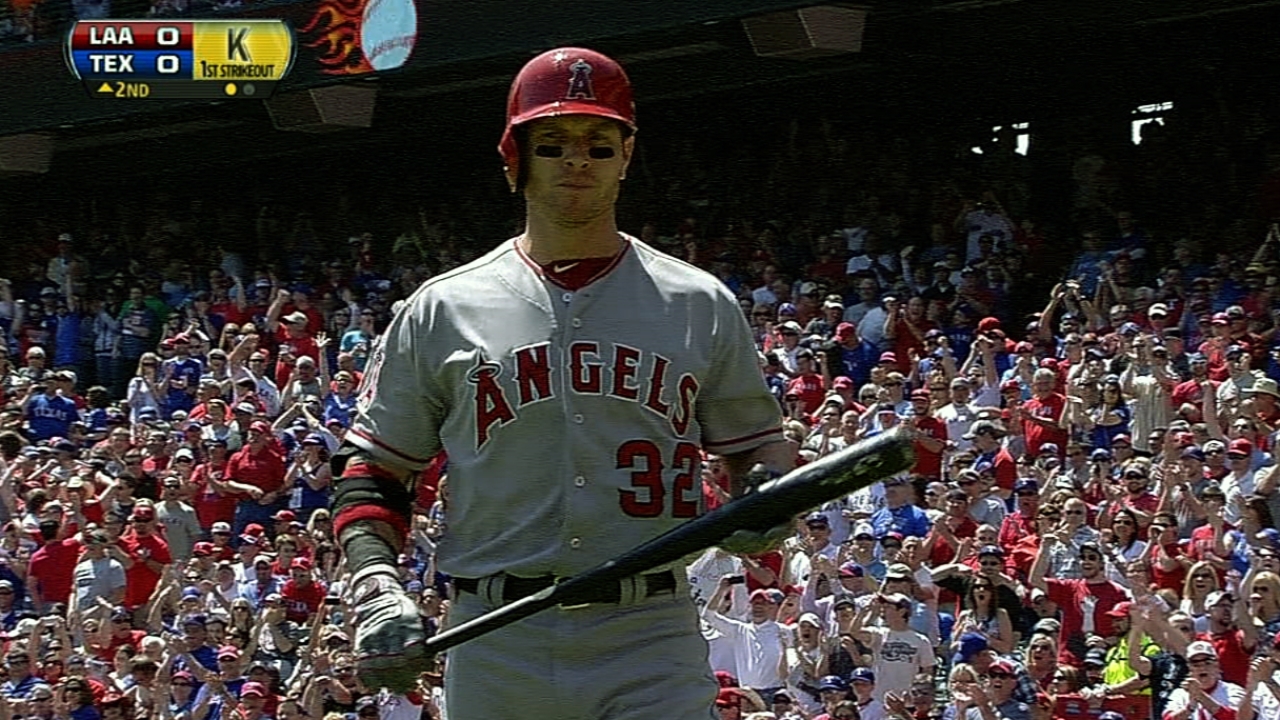 ARLINGTON -- C.J. Wilson understands why Rangers fans would not be happy seeing Josh Hamilton come back to his former home in the uniform of the their team's American League West rivals, the Angels. It's a simple case of fans being fans, for better or worse.
"We're all baseball players," said Wilson, who experienced the same sensation last season coming back to Texas as an Angels starting pitcher after serving the Rangers in multiple roles, from starting to closing. "It's not real life. Sports gives you something to cheer for or boo about. It's your choice. They're not going to cheer for him, obviously."
That leaves two options, basically. Boo, hiss and unleash unkind chants, or stay silent as a rock. Most Rangers fans have not been rocks this weekend.
"Moving on is hard for people in life, and this is no different," Wilson said. "I like to say that the team you're playing for is your girlfriend. It's not a marriage. You're going to go home when it's over. It's always going to be temporary.
"Nolan Ryan pitched for the Angels, the Astros, the Rangers. All those teams he had to go back and face. There are emotions you go through any time that happens. You always want to do well, whether you're facing the Yankees, Cubs or Rangers. The same thing happened to me when I came back here, to a degree. My first game back it's a rain [delay]. I loaded the bases and all the runs scored."
That was last May, when Wilson's ERA took a beating with four earned runs charged against him while he was getting one out. When the game resumed, Wilson did not reappear. He took the loss, started the following day, giving up two earned runs in 5 2/3 innings, but did not get the decision in an Angels victory. So it goes.
Hamilton is hitless in the first two games, dropping his average to .050. The Rangers walked Albert Pujols intentionally three times in front of Hamilton on Saturday.
"Josh will realize there's nobody on the fence anymore," Wilson said, referring to the emotional tug of war of coming back to the place he considers home and getting booed lustily. "Be thankful for the time you spent with your old organization and make the best of where you are now."
Most Rangers fans eventually will carry fond memories of Hamilton's years in Texas, Wilson believes. They were five great years, with two World Series trips and coming as close to a championship -- one more out in Game 6 in St. Louis -- as possible to winning it all in 2011. Hamilton was a huge part of that team.
"The guy put up the best numbers on his team in the non-steroid era -- .310, 28 [homers], 100 RBIs," Wilson said, referencing Hamilton's statistical norm for Texas. "He gave these fans a lot to cheer about."
Lyle Spencer is a reporter for MLB.com. This story was not subject to the approval of Major League Baseball or its clubs.