X-rays negative but Aybar rests achy heel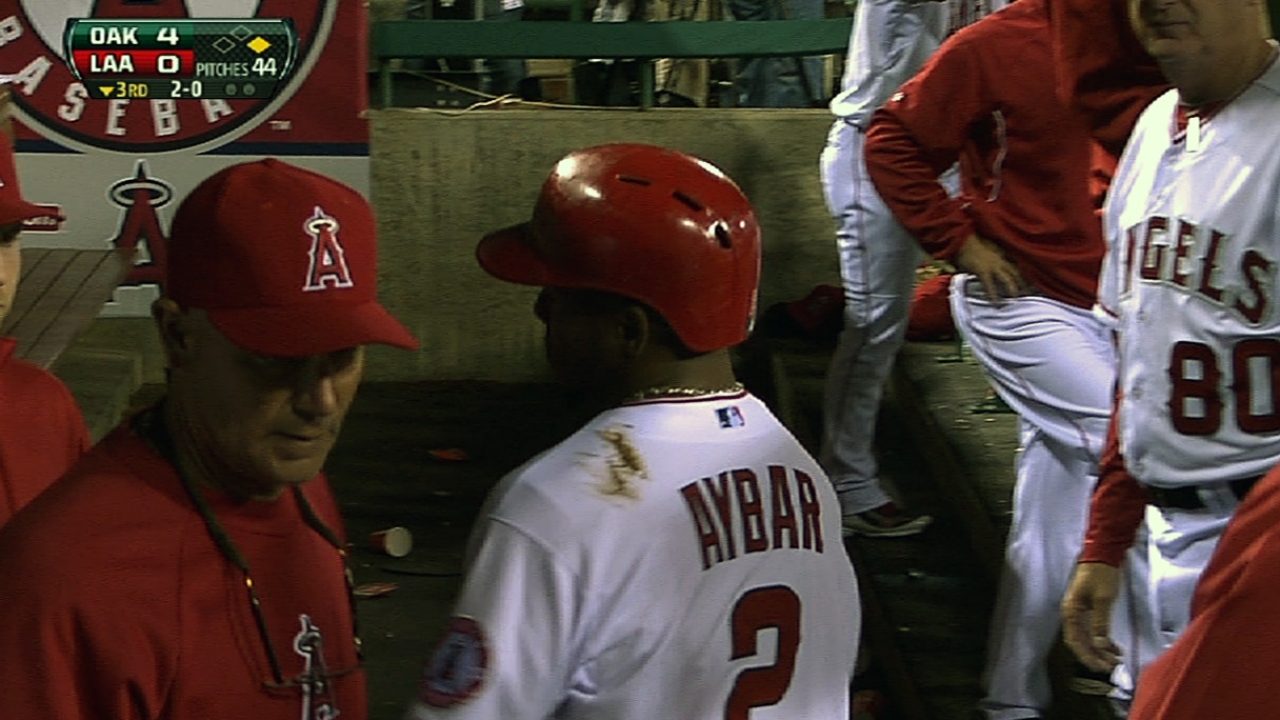 ANAHEIM -- Erick Aybar's left heel was feeling very sore prior to Wednesday's game, with Angels manager Mike Scioscia proclaiming that he wouldn't have been able to play if it was the seventh game of the World Series and Aybar himself admitting that he was worried it could be a prolonged injury.
Postgame, though, X-rays came back negative and Scioscia said his switch-hitting shortstop is "walking much better."
Aybar won't play on Thursday and is still day to day, with a trip to the disabled list still a real possibility, but it was positive news nonetheless.
The Angels' No. 2 hitter hurt himself while lunging at first base to beat out an infield single to lead off the third inning Tuesday night, when his left heel landed awkwardly on the front part of the bag and prompted him to exit the game in pain. He was initially diagnosed with a contusion and had the area heavily taped the following day.
Right-handed-hitting Brendan Harris -- and not lefty-hitting Andrew Romine -- got the start at shortstop against A's southpaw Tommy Milone, and Alberto Callaspo took Aybar's place in the No. 2 spot.
"Erick's a tough kid, and when he's hurting and comes out of a game, you know it's significant," Angels manager Mike Scioscia said prior to the Angels' 11-5 loss. "We're just hopeful it's something that'll calm down here in the next couple days and we can get a read on it, but right now it's very sore."
Asked pregame if this can become a long-term injury, Scioscia said: "We'd just be guessing right now. We are going to have to take a couple days and see how it sets up. If it's not making significant progress, obviously then we will look at the DL."
Aybar, batting .321 to start the season, iced the area and used some anti-inflammatory cream, but it hasn't helped him much. He's walking cautiously on his own power, but may ask for crutches soon to take some pressure off his left foot.
"I want to play," said Aybar, who missed a couple of weeks in late July last year with a hairline fracture on his right big toe. "I want to help my team win. I don't like to leave the game. I like to be there the entire game with the guys."
Alden Gonzalez is a reporter for MLB.com. Read his blog, Gonzo and "The Show", and follow him on Twitter @Alden_Gonzalez. This story was not subject to the approval of Major League Baseball or its clubs.