To spark offense, Trout batting second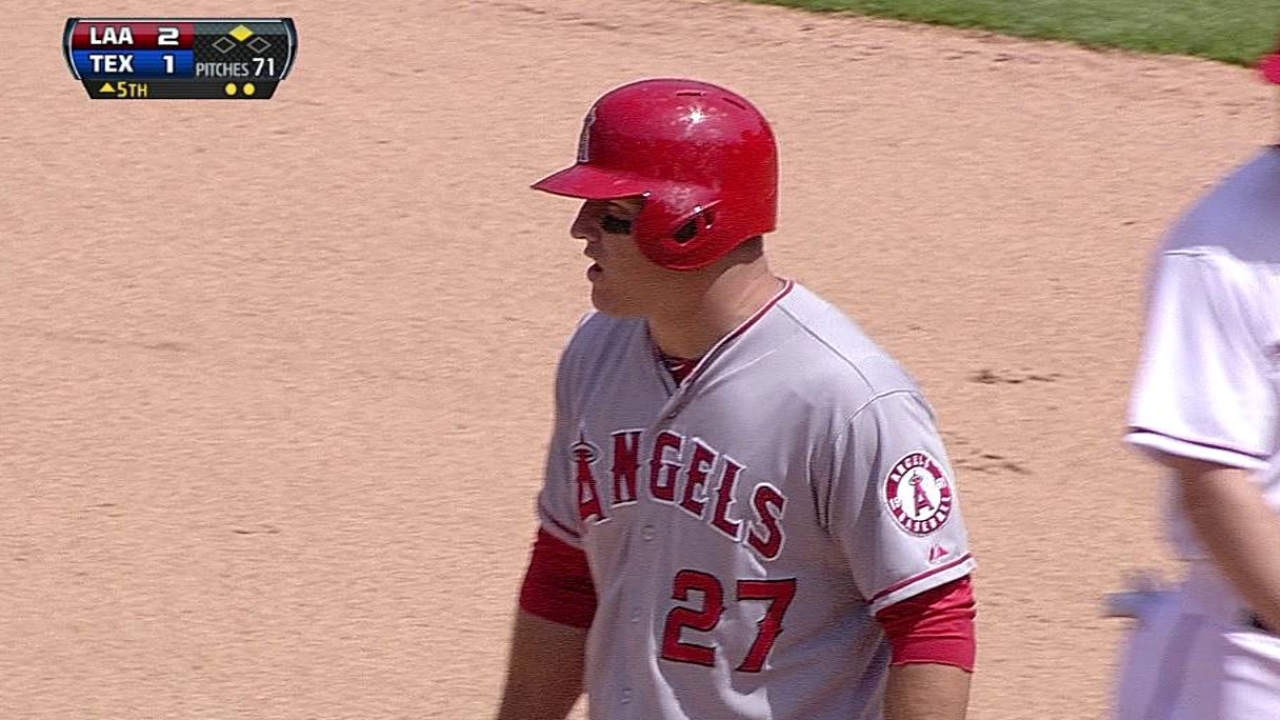 ANAHEIM -- It was only a matter of time, Angels manager Mike Scioscia has often said, before Mike Trout's impact bat would move closer to the middle of the order so he can have more opportunities to drive in runs.
That time, apparently, is eight games into the 2013 season.
Prior to Thursday's series finale against the A's -- with his team losing six of its first eight games and sporting a Major League-worst .120 batting average with runners in scoring position -- Scioscia moved Trout down to the No. 2 spot, directly connecting him with Albert Pujols and Josh Hamilton while making Alberto Callaspo the new leadoff hitter.
It doesn't appear to be a temporary move, either.
"I think these three guys second, third and fourth is something we hopefully ride out for a long time," Scioscia said. "It condenses some things and fills some holes. Everybody should be able to get their pitches. Everybody will protect the guy in front of him."
When shortstop Erick Aybar returns from his left heel contusion -- and he's made progress recently -- he'll probably be the new leadoff hitter. But the most important thing, to Scioscia, is to have his three biggest bats connected in the lineup, calling it "a common-sense move" because Trout is "a guy you really need to set the table for."
Trout hit solely leadoff during his historic rookie season last year, posting a .326/.399/.564 slash line, and continued to bat first in Spring Training. In 32 starts in 2011, he spent 30 games taking up the last three spots in the batting order, plus one at leadoff and one in the No. 2 spot (going 2-for-6 in the latter).
"I'm going to keep the same approach," said Trout, who's batting .278 with 10 strikeouts in 36 at-bats this year. "I'm not going to change anything."
Callaspo doesn't have the speed of your prototypical leadoff hitter, with only 22 stolen bases in 741 career games. But, as Scioscia added, "he's only leading off one time." What's more important is that he has a .349 on-base percentage the past couple of years and can take his walks.
"It's not the first time I hit first," said Callaspo, who posted a .148/.179/.204 slash line in 56 plate appearances leading off in 2010. "I'm going to do what I've been doing. Let's see how it goes."
Of course, a lot of the Angels' early issues on offense are solved if Hamilton is right from the cleanup spot. So far, though, he has struck out 13 times in 32 at-bats, with five hits and no home runs. Some believe batting Hamilton second, between Trout and Pujols, could get the lefty slugger more pitches to hit. But Scioscia doesn't believe it'll have that much of an impact and said keeping Hamilton fourth is "critical to us right now."
As for why he didn't move Trout down sooner?
"Because we wanted to see if [the leadoff spot] was such a comfort zone for Mike and the team that maybe that hole of [former No. 2 hitter] Torii [Hunter] leaving could just be rolled over," Scioscia explained. "But I think there's just a lot of pluses to having Mike connected to Albert and Josh that we definitely want to see. I think it's better sooner than to do it a month from now. And it was something we were probably moving towards eventually."
Alden Gonzalez is a reporter for MLB.com. Read his blog, Gonzo and "The Show", and follow him on Twitter @Alden_Gonzalez. William Boor is an associate reporter for MLB.com. This story was not subject to the approval of Major League Baseball or its clubs.