De La Rosa at home with Halos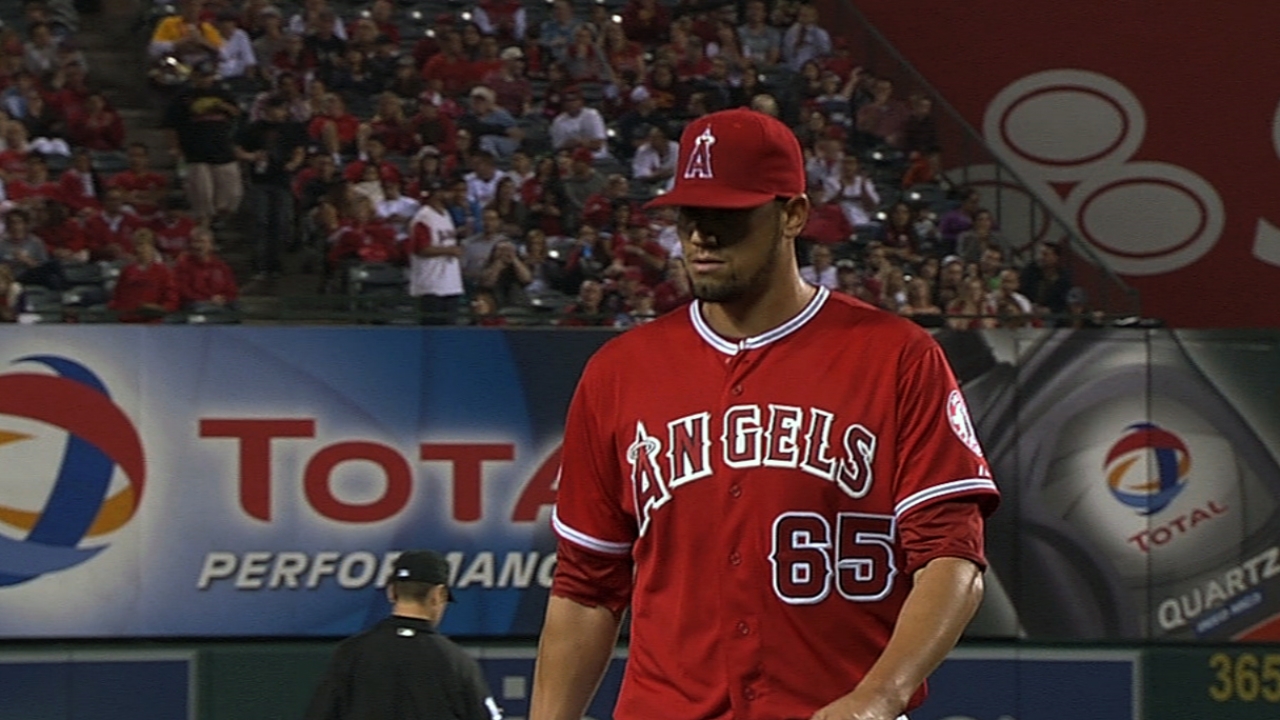 ANAHEIM -- When the Angels placed Jered Weaved on the 15-day disabled list and called Dane De La Rosa up from Triple-A Salt Lake, the right-handed reliever got the chance to fulfill a bit of a childhood dream.
No, De La Rosa was not making his Major League debut, but as a Southern California native, this opportunity felt more authentic than his true debut, which took place with the Rays in 2011.
"It's just cool being able to play on the West Coast, actually showing my family and friends that I do play baseball," De La Rosa said. "I don't think they believed me for the past few years, just because I've been so far away. It's just nice to be around family and I've had a lot of friends come out."
De La Rosa grew up in Torrance, Calif., approximately 30 miles from Angel Stadium and has fond memories of attending games as a kid, but the journey from Riverside Community College to the Angel Stadium bullpen was a lot more complicated than the 45-minute drive he used to make.
De La Rosa, acquired by the Angels on March 27 in a trade that sent Steve Geltz to Tampa Bay, was drafted by the Yankees in the 24th round of the 2002 Draft, released after the 2004 season, played independent baseball in 2005 and sat out '06.
Except for a brief stint with the Brewers' organization, De La Rosa spent 2007-'09 back in independent baseball before signing with Tampa Bay in '10.
In 7 1/3 innings with the Rays in '11, De La Rosa posted a 9.82 ERA. Last season, De La Rosa appeared in five games and posted a 12.60 ERA.
"Trying to explain to someone you play in Double-A or Triple-A for this team [is confusing,]" De La Rosa said. "They ask if you really play for the team or what the deal is, so it was nice [to finally get that call]."
The road was neither easy nor conventional, but De La Rosa's desire to reach the Majors kept him focused despite the lengthy journey.
"Just knowing this is what I want to do with my life [kept me going]," De La Rosa said. "This is the career I've chosen. I [knew] I could compete at the highest level if I was given the right direction."
De La Rosa, who considers himself an aggressive pitcher with a fastball, slider, slurve and changeup, has made two appearances for the Angels, allowing one earned run in 3 2/3 innings.
William Boor is an associate reporter for MLB.com. This story was not subject to the approval of Major League Baseball or its clubs.