Jimenez carving a niche in brief stint with Halos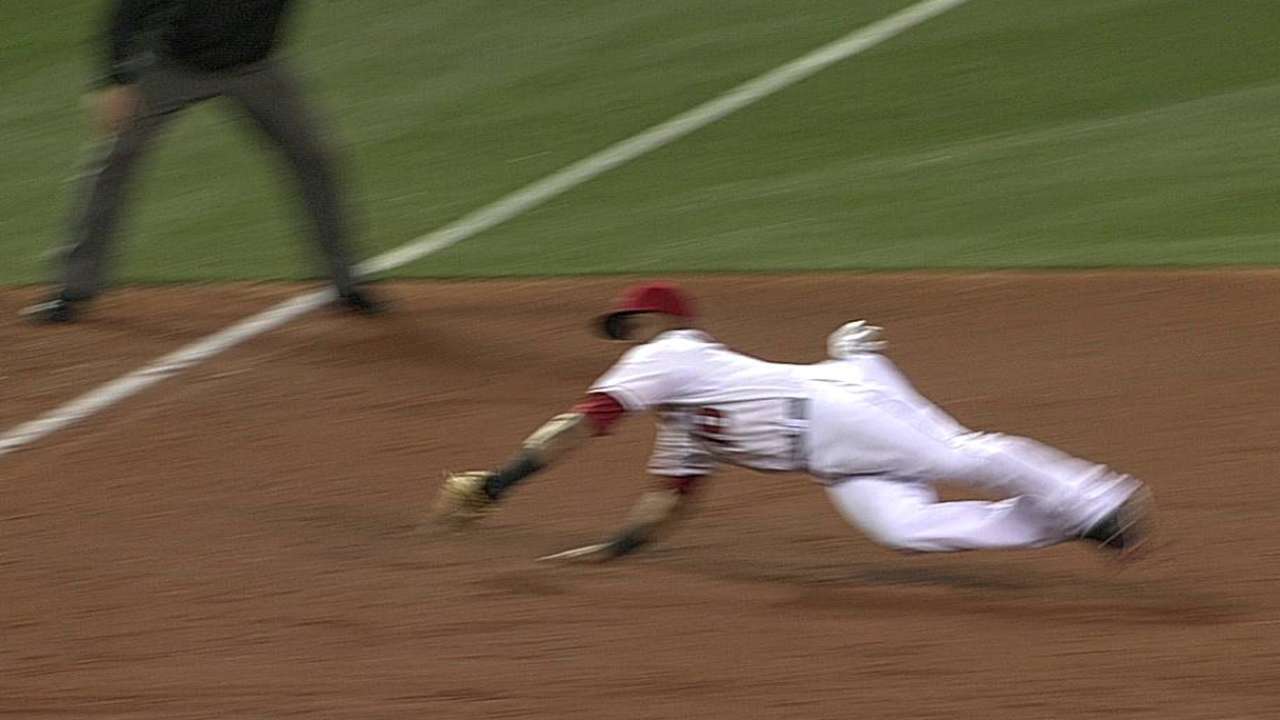 ANAHEIM -- When Alberto Callaspo had to be taken out of a game on April 11 against the A's with stiffness in his right calf, Luis Jimenez was presented with the opportunity he had been waiting for.
Jimenez did not make the Angels' 25-man roster out of Spring Training, but never lost faith in his abilities and simply waited for his time to come. Just a few games into the 2013 season, it came.
"I didn't know if I would have had [this much] success, but I knew if I had the chance, I could do good," Jimenez said. "I was just waiting for my chance."
Jimenez has made the most of it so far. In seven games, he is batting .435 with an on-base percentage of .480, after going 1-for-4 in Saturday's 10-0 win over the Tigers.
"He's feeling very, very comfortable at the plate, playing good defensive third base and that's very important to us," manager Mike Scioscia said before Saturday's contest. "He's looked good out there."
While it is certainly impressive to begin a career on such a torrid pace at the plate, Jimenez has always been able to hit.
Since being signed by the Angels as an amateur free agent in 2005, Jimenez has never hit below .284 and that was in 2006, his first season in the Minor Leagues.
"There's no doubt he's a good hitter," Scioscia said. "It's not a fluke he's hitting the ball hard."
In addition to his bat, Jimenez has also impressed with his glove. Although he is capable of playing both corner infield spots, Jimenez has only played third for the Angels thus far.
"Baseball is not only hitting or running," Jimenez said. "If you don't play defense, you are not going to win."
During Spring Training, Halos first-base coach Alfredo Griffin worked with Jimenez on his defense, suggesting the third baseman use a bigger glove, which Jimenez is apparently pretty comfortable with.
Jimenez's defensive prowess was on full display during Friday night's 8-1 win over the the Tigers. Not only did Jimenez start a 5-4 double play to end a rally, but he also made a diving stop on a Miguel Cabrera ground ball, preventing the Tigers from striking first.
"In that game it was 0-0 and I stopped that run," Jimenez said. "They had a man on third, if I would have let it go, they would have taken the lead."
Although Jimenez has been impressive, his future role, once Callaspo comes off of the disabled list, is not clear.
"We going to look forward to getting Alberto Callaspo in the fold, there's no doubt about that, but anytime a player plays well [he's] always carving out a role for himself," Scioscia said. "We'll evaluate things over the next couple weeks and see how our roster takes shape."
William Boor is an associate reporter for MLB.com. This story was not subject to the approval of Major League Baseball or its clubs.