Hamilton dropped to fifth in lineup against lefty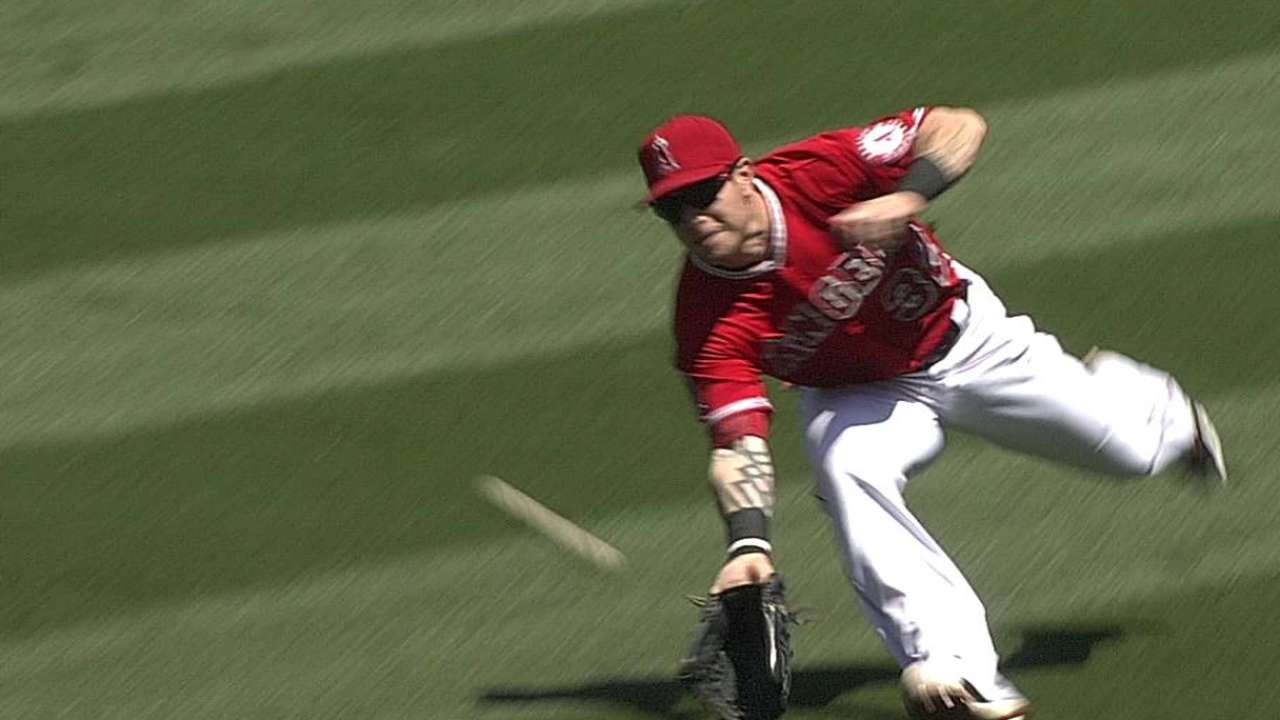 ANAHEIM -- Josh Hamilton's early-season struggles have dropped him in the Angels' lineup, even if for only a day. With lefty Derek Holland taking the ball in the series opener against the Rangers, and Hamilton posting a .176/.247/.324 slash line, Angels manager Mike Scioscia put his right fielder in the No. 5 spot and made the hot-hitting Mark Trumbo his cleanup hitter behind Albert Pujols.
"If I was hitting ninth, I'd be OK with it," Hamilton said. "I'll be happy not getting a hit ever again as long as we keep winning. I'm that guy."
But Hamilton continues to feel like the hits will come soon. His swing, he said, is just fine. His recent cage work was "great." And he's seeing 4.05 pitches per plate appearance, which is well above his career high of 3.75.
That hasn't stopped Hamilton from striking out 23 times in 68 at-bats, however.
"Things are moving in the right direction," Hamilton said Monday. "Obviously, at this level, it's about consistency. It'll come. Everybody wants it to be sooner than later. Obviously I do, too, but I can't get frustrated and go backwards in the process. I'm just going to keep diving for balls in the outfield, do whatever I can -- cheer for my teammates, that sort of stuff."
The switch from cleanup to fifth comes a day after Tigers manager Jim Leyland intentionally walked Pujols twice to bring up Hamilton, who hit two hard lineouts to the outfield but also struck out twice with the winning run on base. Against the Rangers on April 6, Pujols was walked three times in front of Hamilton.
Scioscia indicated that Hamilton's spot in the lineup could be a platoon situation, where he's batting fifth against lefties -- he's 1-for-19 against southpaws this season -- and fourth against righties. After Monday, the Angels will see at least six consecutive right-handed starters, with Alexi Ogando and Yu Darvish starting the next two games of this series.
Scioscia didn't give much thought to giving Hamilton a day off.
"Josh wants to work through things, and the only way, really, to find your stroke is to be out there, seeing the ball and hitting," he said. "I don't think we're at a dead end yet with Josh, as far as him trying to get going. Definitely the alternative to give somebody a day off is there, but right now, Josh feels good physically, and I do think his at-bats have improved."
Hamilton, at the very least, is keeping his spirits up in the midst of a slump that may date back as far as last season's second half (he's batting .242 with 109 strikeouts in 331 at-bats since then). Trumbo, who hit a walk-off homer Sunday and has a hit in 15 of 17 games, said Hamilton's attitude has been "exceptional."
"A lot of guys might let some of the anger spill over, but he's been extremely even-keeled and comes with a great attitude every day," Trumbo added. "You really wouldn't have any idea what his numbers are at this point."
Alden Gonzalez is a reporter for MLB.com. Read his blog, Gonzo and "The Show", and follow him on Twitter @Alden_Gonzalez. William Boor is an associate reporter for MLB.com. This story was not subject to the approval of Major League Baseball or its clubs.