Angels' rotation is shaking off slow start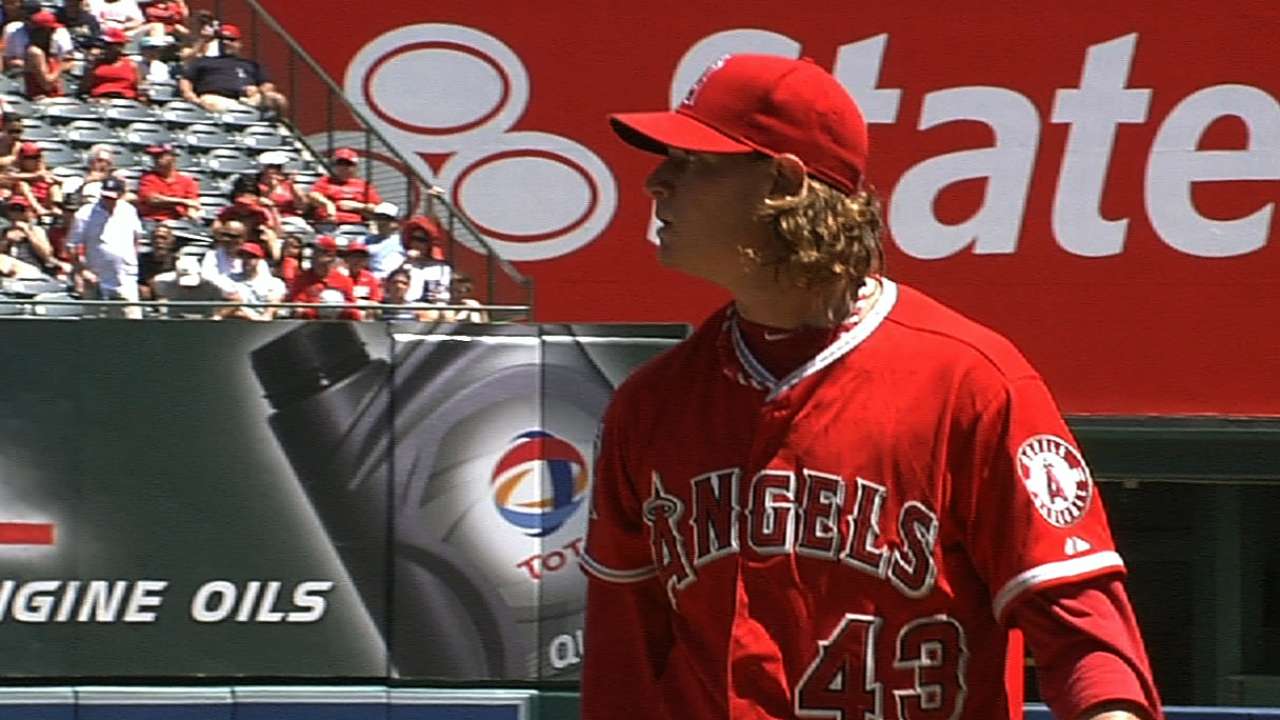 ANAHEIM -- With Mike Trout, Albert Pujols and Josh Hamilton in the mix, there were not a lot of questions about the Angels' offense prior to the 2013 season.
However, the starting rotation, and the entire pitching staff, was a different story.
Ervin Santana, Dan Haren and Zack Greinke had departed and Joe Blanton, Jason Vargas and Tommy Hanson joined a rotation returning C.J. Wilson and Jered Weaver, a 20-game winner in 2012..
The new-look rotation did not get off to the start general manager Jerry Dipoto and manager Mike Scioscia were hoping for, recording only four quality starts in the first 14 games of the season.
And one of those starts was from Weaver, who found himself on the disabled list with a broken left elbow sustained in just his second start of the season.
The Angels did not have a starter pitch into the seventh inning until April 13, when Garrett Richards -- filling in for Weaver -- pitched 6 1/3 innings.
Despite the rough start, Scioscia feels the Angels just need to pitch to their potential and the results will start to take care of themselves. It appears that is starting to take place.
"Some of these guys are good pitchers who really just took a while to get into their game," Scioscia said. "Garrett's throwing the ball really well, he threw a terrific game. Joe Blanton threw better the other day. You knew Jason Vargas was going to bounce back, his track record is too strong. C.J., after a rough couple innings, threw a strong game."
The Angels had put received quality starts in four of the last five games heading into Wednesday's finale with the Rangers.
The difference? According to catcher Chris Iannetta, it's just a simple matter of execution.
"Just throwing more strikes, more quality pitches," Iannetta said. "If you can throw strikes, and quality strikes, you are going to be successful. In the beginning of the season we were falling behind in counts and that makes it a lot more difficult to pitch."
During the Angels' latest run through the rotation, the starter has left with either the lead or the game tied in each of the past five games.
As the starters continue to go deeper into games, Richards expects the pitching to get better because of the momentum the staff is starting to generate.
"We're going to feed off of one another," Richards said. "The offense isn't going to be there every night and the pitching isn't going to be there every night, but the more times we are on the same page, the more games we are going to win."
William Boor is an associate reporter for MLB.com. This story was not subject to the approval of Major League Baseball or its clubs.