AL West's new look could benefit Trumbo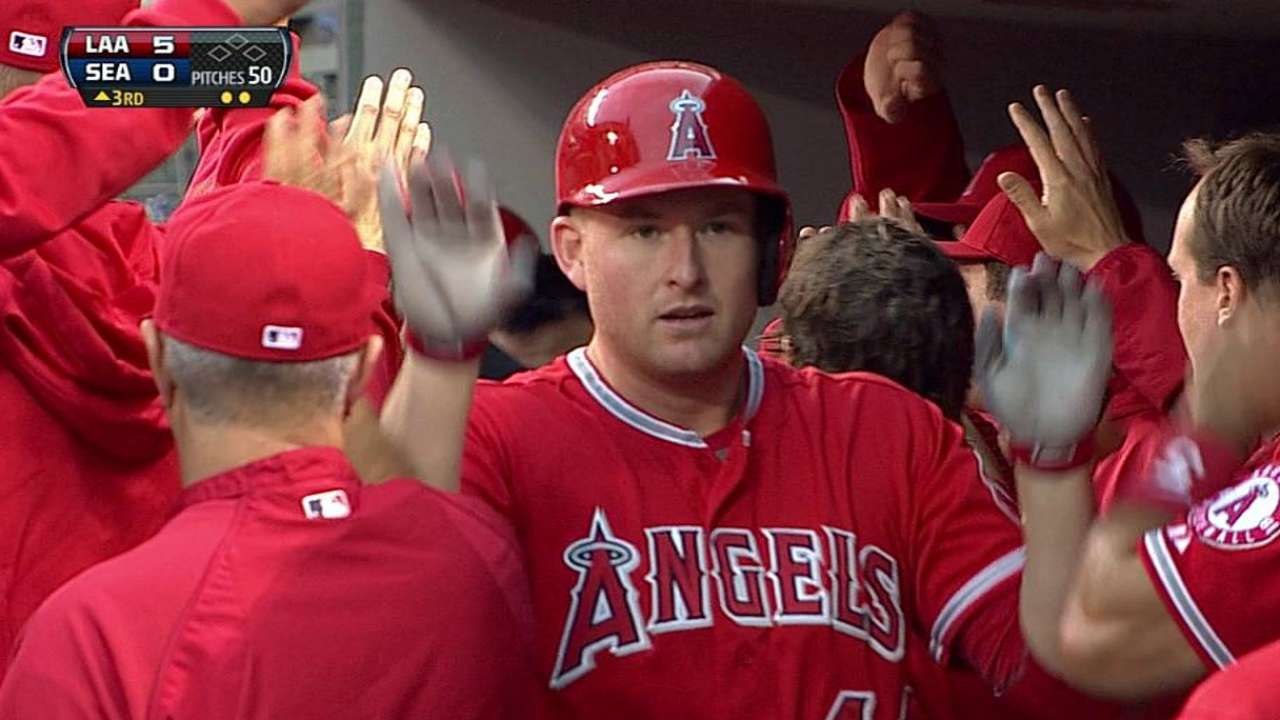 SEATTLE -- Being somebody of Mark Trumbo's ilk, a right-handed power hitter situated in the American League West, may be a little bit easier in 2013, with the rebuilding Astros now in the division and the Mariners' home ballpark, Safeco Field, sporting shorter fences this season.
Trumbo's power numbers in his first two full seasons in the big leagues -- 61 homers, .484 slugging percentage -- are even more impressive when you consider that his home ballpark, Angel Stadium, plays big at night and that two of his divisional opponents, the A's and Mariners, sport pitcher-friendly venues.
But this year, Trumbo will get nine games at Minute Maid Park, which plays relatively fair, and 10 at a renovated Safeco Field, where the left-center-field power alley has gone from 390 feet to 376.
"Any little bit can help," Trumbo said. "You never know when you might need it."
Trumbo, who hit his third homer on Friday and has hits in 19 of the Angels' 21 games this season, said he never really challenged the deepest parts of the old Safeco Field, and he isn't quite sure what kind of impact more favorable ballparks can have on his production. The more-spacious Safeco Field ranked 29th last year in home runs (0.583 per game). Oakland Coliseum, with its expansive foul territory, ranked 23rd (0.859). And marine layer-riddled Angel Stadium was 25th (0.759).
"I know I've lost some at home and Oakland in particular that I thought I really hit pretty good and they were outs," Trumbo said. "That's disappointing because you do everything right and you get a little momentary feeling of, 'Ah, there you go.' Then the guy catches it and you're like, 'Couldn't have done much better.' You understand that coming in, and one thing you try not to do is get into any kind of habits."
The frustrations of hitting a ball flush and not seeing it go out at the big ballparks, Trumbo said, are "only natural."
"But you have to understand that it's not productive," he added. "There's also going to be times where you get some that you wouldn't have thought were home runs."
Alden Gonzalez is a reporter for MLB.com. Read his blog, Gonzo and "The Show", and follow him on Twitter @Alden_Gonzalez. This story was not subject to the approval of Major League Baseball or its clubs.