Vargas returns to fond memories in Seattle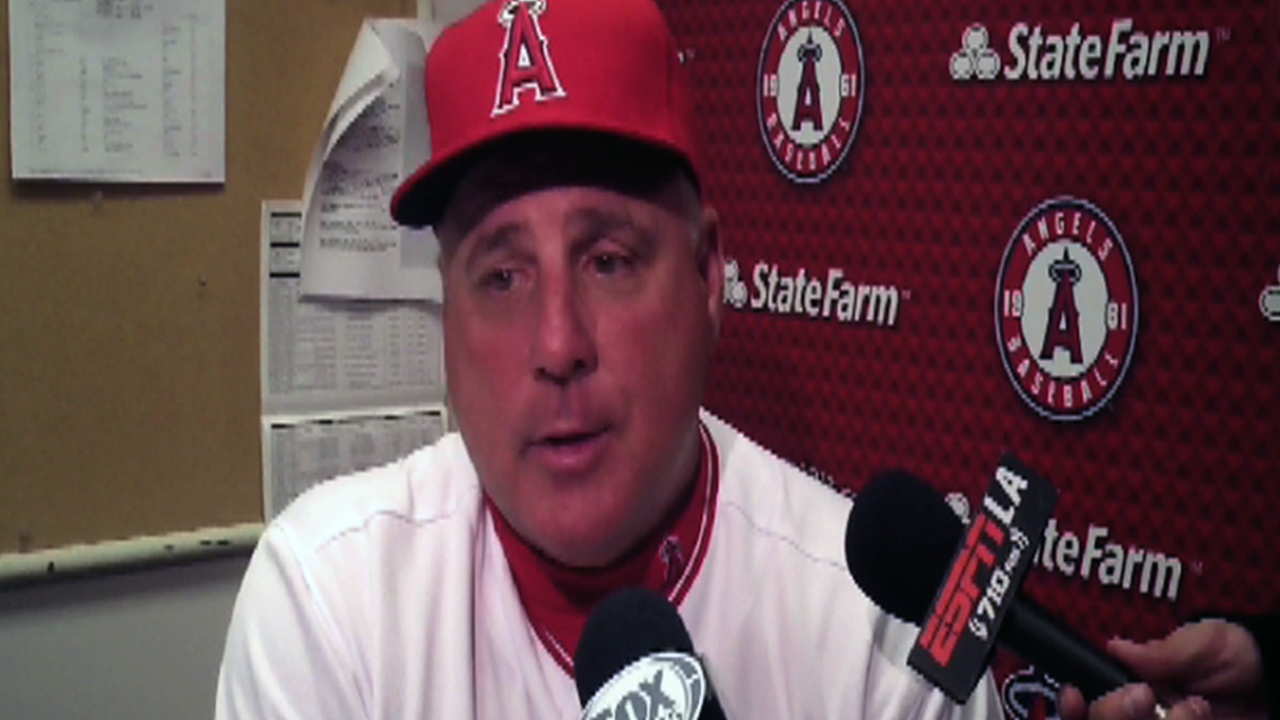 SEATTLE -- When the Mariners were still planning Safeco Field's reconfigurations last year, general manager Jack Zduriencik made sure to pick the brains of his best pitchers, to see how they felt about moving in the fences at a ballpark that had played so favorably to them.
Jason Vargas' response: "Give me a four-run lead and trust me."
"He's a guy who's very confident," Zduriencik said of the starting pitcher he traded to the Angels for designated hitter Kendrys Morales in December. "He really believes in himself. And I think when you watch the progression of how he developed into the kind of pitcher he is today -- and I knew him back when he was in Long Beach State -- confidence is a big thing for him. He really believes in what he does, he has a plan for who he is. He's smart."
A slow start to 2013 notwithstanding, Vargas has established himself as a reliable innings eater in the big leagues, coming to the Angels on the heels of a three-year span in which he racked up 611 innings, won 33 games and posted a 3.96 ERA.
On Sunday, he'll make his first start against the Mariners -- the organization that helped breed that patented confidence.
When Vargas arrived in Seattle on Dec. 11, 2008, as part of a three-team, 12-player trade, he didn't know where his career was headed. The former second-round Draft choice had been traded three times in four years, from the Marlins to the Mets to the Mariners. He had compiled a 5.81 ERA in 127 Major League innings from 2005-07, missed the entire '08 season due to hip surgery and was two months shy his 26th birthday.
"I think I was just trying to figure out if I was really going to still have a good chance at doing what I wanted to do, and that's being a successful big league pitcher," Vargas said. "Any time you get to the big leagues early, and then kind of struggle or have injuries or fade a little bit, it always questions your confidence and where you're at."
Vargas struggled a bit in '09, posting a 4.91 ERA in 23 games (14 starts), but he cracked the rotation heading into 2010 -- even though Cliff Lee had come over in a trade, Doug Fister was still on the team and Felix Hernandez was already on board.
"Making the team and being in the rotation out of the gate there really gave me a lot of confidence," said Vargas, who goes into his Sunday start with a 5.82 ERA but is coming off seven innings of three-run ball against the Rangers.
The philosophy has changed since Vargas last pitched here, even if that was only about seven months ago. An organization that once tried to win with pitching and defense now looks to outslug opponents with its shorter dimensions, which is why swapping Vargas for Morales -- two players who will be free agents this fall -- appealed to Zduriencik.
Vargas admits he was surprised by the trade.
"Especially since I didn't hear anything about that or anything leading up to that after the Trade Deadline," the 30-year-old lefty added. "I thought that I was going to be a part of it, but they had other plans. And baseball changes quick, man. To be able to be a part of this [with the Angels], you couldn't ask for a better situation. Things happen the way they happen."
Alden Gonzalez is a reporter for MLB.com. Read his blog, Gonzo and "The Show", and follow him on Twitter @Alden_Gonzalez. This story was not subject to the approval of Major League Baseball or its clubs.