Kendrick making impact on defense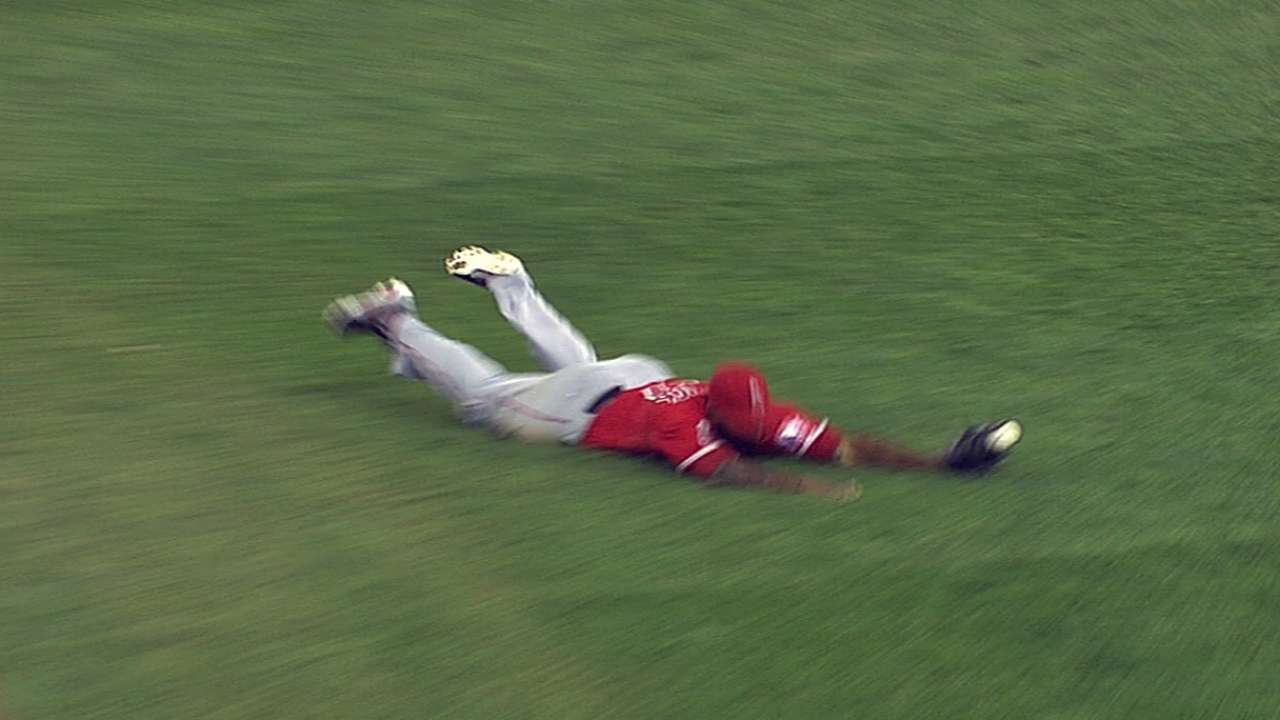 SEATTLE -- The numbers say the opposite. If you subscribe to the defensive sabermetric Ultimate Zone Rating, you'll be led to believe that Howie Kendrick's value at second base has declined this season. But Angels first-base coach Alfredo Griffin, who has worked with Kendrick throughout the 29-year-old's Major League career, will tell you he's never been this good.
"He's gotten way better," said Griffin, a Major League shortstop from 1976-93. "He's done a great job. Howie didn't know he was going to be as good as he is right now when he started. For him to be the way he is right now -- he did a lot of work. He did a lot of work, that's what he did every day. He worked hard, over and over."
Ultimate Zone Rating, or UZR, measures fielding by comparing fielders on similarly hit balls to determine where a player ranks compared to an average defender at his position. A UZR of 15 is considered Gold Glove caliber, while 0 is average.
Kendrick's best UZR came in 2011, when his 14.4 mark ranked third among big league second baseman. His score last year was 4.9. So far this year, it's minus-1.2. But those around the team notice a spike in Kendrick's abilities defensively, particularly in his ability to consistently make the backhand play.
In Friday's 6-3 win, Kendrick made two critical defensive plays. In the sixth, he sprawled at first base to gather Albert Pujols' flip on a bunt just before Brendan Ryan hit the bag. Then, nursing a three-run lead in the seventh, Kendrick dove full extension to his left to knock down Dustin Ackley's two-out single, retrieved the ball in shallow right field, spun and made a perfect one-hop throw home to nail Justin Smoak on his attempt to score from second.
"To be the ground, get up, his back was turned to home plate, spin, find home plate and throw a one-hopper right on the money, you can't ask for more," Griffin said. "For me, that's the best play he's ever made."
Alden Gonzalez is a reporter for MLB.com. Read his blog, Gonzo and "The Show", and follow him on Twitter @Alden_Gonzalez. This story was not subject to the approval of Major League Baseball or its clubs.