Angels add Brasier after injury-plagued April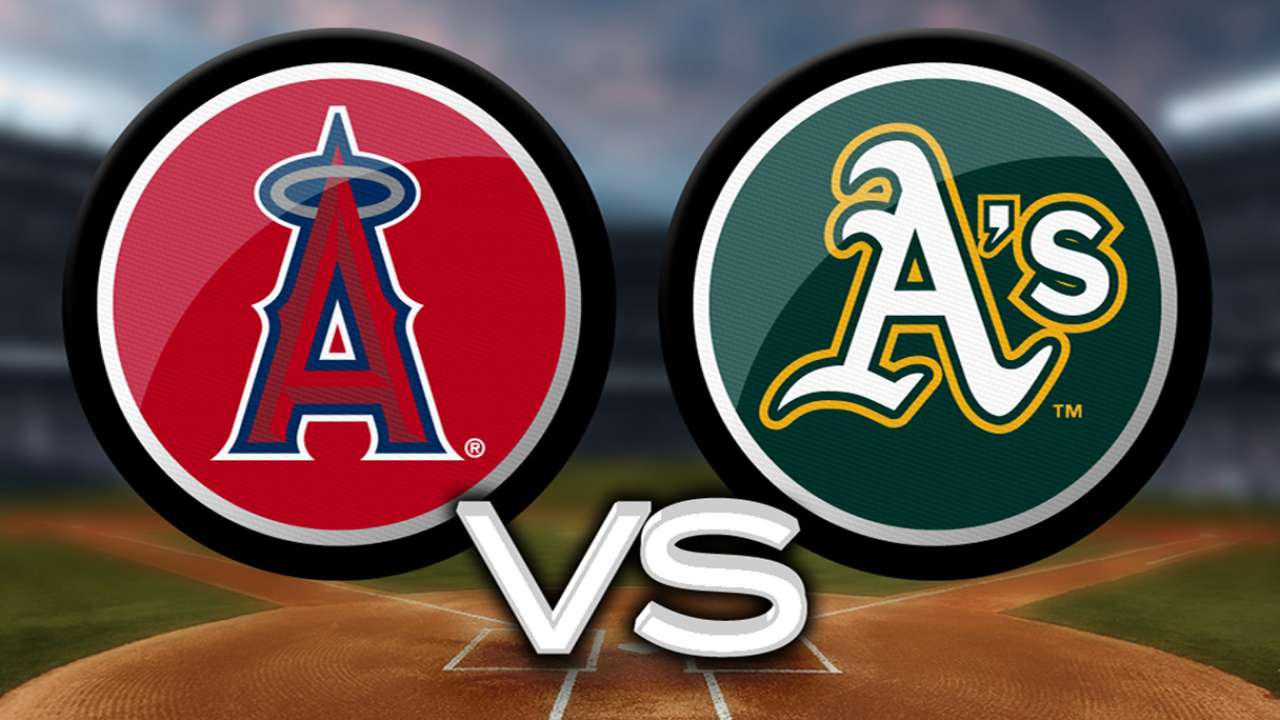 OAKLAND -- You can call Ryan Brasier by his real name, or you can simply call him by what he represents for the Angels: No. 19.
Brasier was called up from Triple-A Salt Lake on Wednesday morning, a few hours after lefty Nick Maronde was sent back to Double-A. If he takes the mound for the Angels -- and given their dire bullpen situation, it's a good bet he will -- Brasier will become the 19th pitcher used by this team since Opening Day.
In April, 18 pitchers took the mound for the Angels -- the most in any month for the franchise since August 2000.
"Is that all?" Angels manager Mike Scioscia said, with tongue firmly in cheek after calling up his seventh pitcher from the Minor Leagues since Opening Day.
It's a lot, but it's no excuse. Injuries aside, this is a team that's more talented than its 9-17 record, which is currently better than only two other teams -- the Marlins and the Astros, whose payrolls don't even add up to half of what the Angels are spending on their roster in 2013.
"Nobody's going to feel sorry for you," Scioscia added. "We certainly don't feel sorry for ourselves. This is something that organizations in Major League Baseball have to deal with. The season keeps coming, the games keep coming."
The Angels' current record is one loss worse than where they were through 26 games last year. At about this point in 2012, they surged, going a Major League-best 41-23 from April 30 to July 8 to put them 10 games above .500 heading into the All-Star break.
Three major differences stick out when comparing the two seasons, though.
1. There's no Mike Trout in the Minors to come up and provide another major boost. He's already here.
2. Can they trade for another Ernesto Frieri, who came over from the Padres in early May and shored up the bullpen? Chances are they can't find lightning in a bottle twice, especially given the relative lack of trade chips at their disposal.
3. They essentially had their roster intact through the first month of 2012. Through one month, the Angels used the disabled list seven times -- one more than they used it through the first three months of 2012. Brasier, with a 6.00 ERA in 12 innings at Triple-A, was the last healthy pitcher available on their 40-man roster.
The Angels got Erick Aybar back on Tuesday, but still have four relievers (Sean Burnett, Ryan Madson, Mark Lowe and Kevin Jepsen), one ace (Jered Weaver), a center fielder (Peter Bourjos) and a third baseman (Alberto Callaspo) on the disabled list.
"When we put a guy in, we have the confidence that he's going to do the job," Scioscia said. "It hasn't happened with the frequency that we know it can happen, but we're going to keep moving forward and keep playing hard."
Alden Gonzalez is a reporter for MLB.com. Read his blog, Gonzo and "The Show", and follow him on Twitter @Alden_Gonzalez. This story was not subject to the approval of Major League Baseball or its clubs.