Pujols goes to bat for Scioscia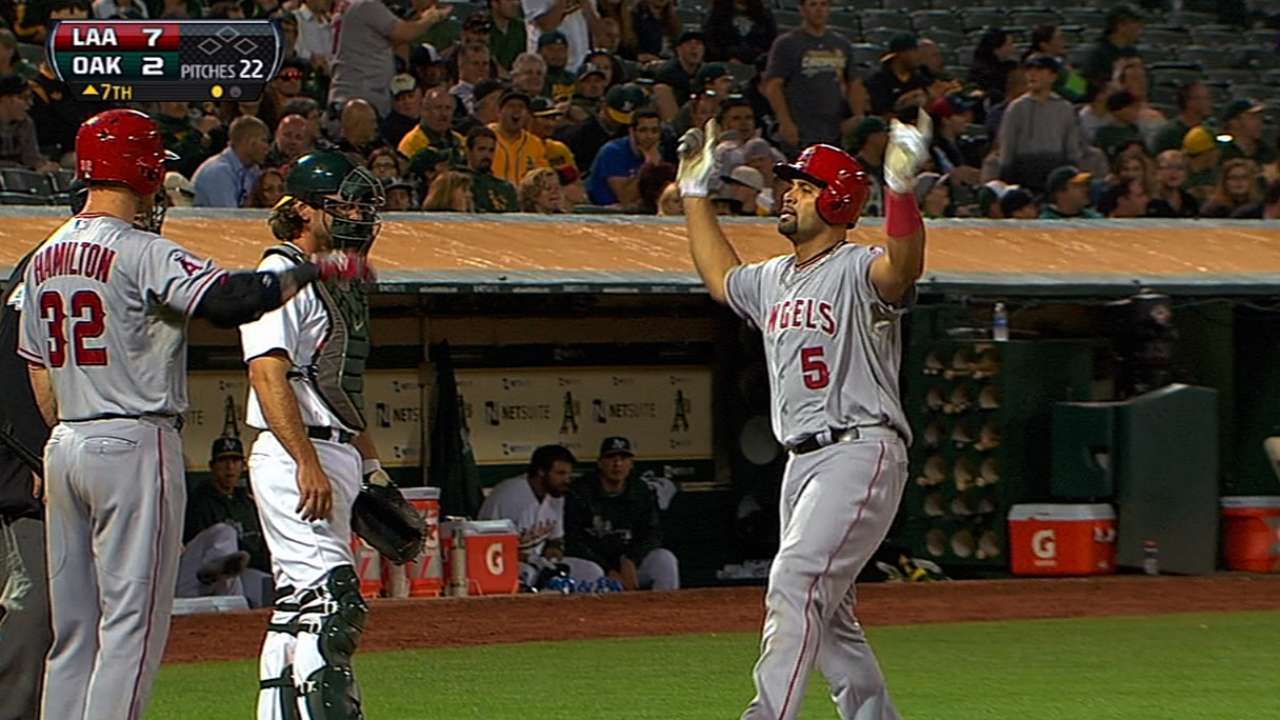 HOUSTON -- Albert Pujols knows the drill. An expensive team with World Series aspirations struggles and, like clockwork, the manager's seat gets hot. That's especially the case with these Angels, whose 11-21 record has led many outside the organization -- media and fans alike -- to speculate on the job status of 13-year skipper Mike Scioscia, whose contract runs through 2018.
The Angels' high-priced first baseman believes it's unwarranted.
"That's the reality," Pujols said. "Sosh, he's our head, and everybody goes to the head. He's taking a lot of heat that he shouldn't take. Us, the players -- including myself -- we're not doing what we need to do.
"He writes the lineup, he makes decisions in the middle of the game, but at the end, he can't pitch for us, he can't play defense for us, he can't hit for us. We need to take care of ourselves and do the things that we need to do to win."
Pujols recalls similar speculation involving former Cardinals skipper Tony La Russa, who he believes has a very similar style to Scioscia.
"He caught a lot of crap and people were saying a bunch of stuff that they shouldn't say," Pujols said of La Russa. "The reality is we are the players. We can catch some heat, too, but at the same time, you don't think we're trying? We're trying our best, too."
So far, though, that hasn't been anywhere near good enough.
More than five weeks into the season, the injury-riddled Angels continue to struggle across the board. Their defense ranks 27th in fielding percentage, the pitching staff has the third-worst ERA in baseball, Josh Hamilton (.202/.248/.287 slash line heading into Tuesday) and Pujols (batting .145 in his last 15 games) are slumping, and the entire team has a minus-33 run differential, which is better than only four other teams.
Pujols started Wednesday against the Astros at designated hitter after making nine of his last 11 starts at first base, this time because his surgically repaired right knee -- more so than the plantar fasciitis he perpetually deals with on his left foot -- is bothering him. Scioscia said "there's concern there, but right now, Albert feels he can manage it."
At this point, the Angels can ill-afford another player on the disabled list.
"Everybody is doing everything they can to try to prepare and be ready to go, including our manager," Pujols said. "I know it's frustrating because our record and the numbers show it, but you still have 130 games. A lot of things can happen. We're easily capable of winning 100 games still. You can't let 32 games determine our season, because it's a long season."
Alden Gonzalez is a reporter for MLB.com. Read his blog, Gonzo and "The Show", and follow him on Twitter @Alden_Gonzalez. This story was not subject to the approval of Major League Baseball or its clubs.