Angels' outfielders adjusting to Minute Maid Park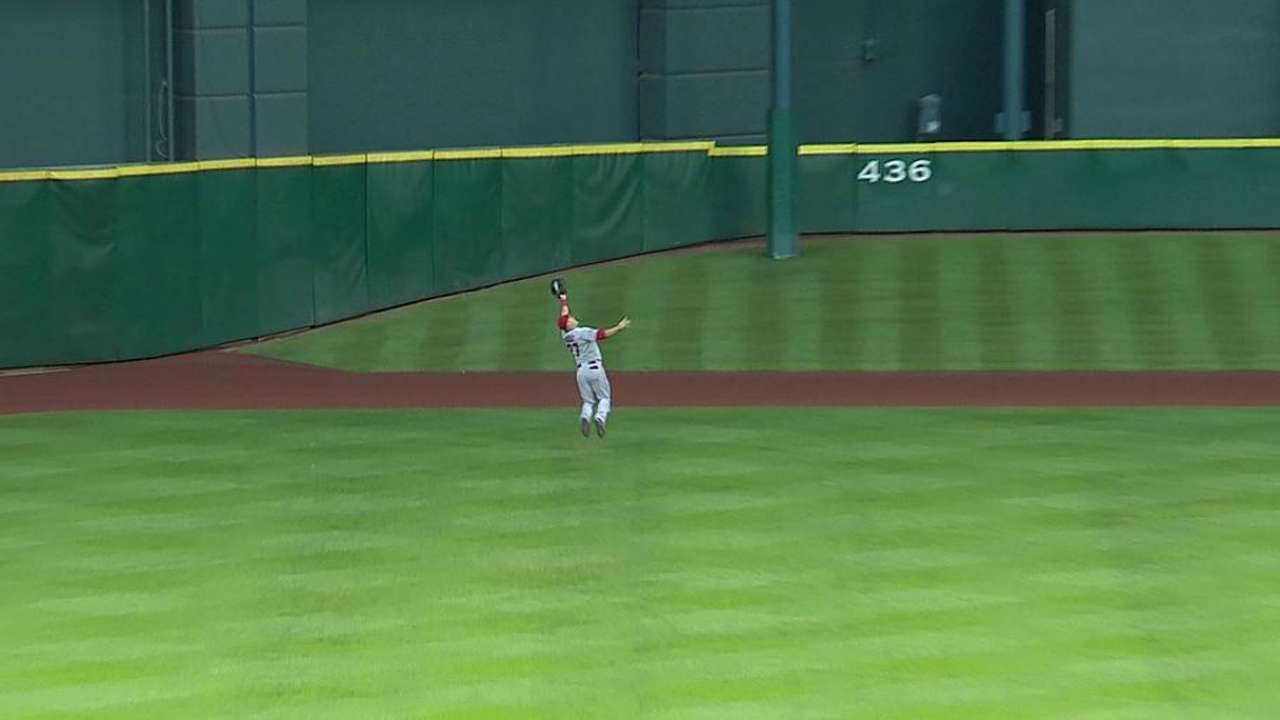 HOUSTON -- The most challenging outfield construction in baseball is now a regular part of the Angels' schedule. The Astros' move to the American League West means the Angels will play nine games at Minute Maid Park, which also means their outfielders -- especially, in this series, Mike Trout -- will have to get used to a ballpark with a mound in center field, a pole in fair play and an assortment of weird angles and hard surfaces.
"It's different," Trout said, "but it's something that we have to get used to now that they're in our division."
Just before the left-center-field gap, the Minute Maid Park wall caves out about 12 feet, leading to a bullpen area with two hard pillars and chain-linked fencing in between. But the most troubling part is what comes next: A 30-foot mound in deep center field, preceded by the warning track, and a pole on the end of it.
In anticipation for that, Angels third-base coach Dino Ebel had his outfielders out early to shag fly balls prior to Tuesday's series opener.
"I told Trout we're going to be playing in our normal spots, playing the hitters where our spray charts show," Ebel said. "You just can't worry about that. You have to track the ball down; it is there, it's live, it's padded, it's not like there's no safety out there."
Trout learned that it's easier to climb the hill while running on his toes.
As for any concern of injury trying to track down a fly ball in deep center field?
"You have to play fearless and try to catch everything, with all the obstacles out there," Trout said. "You have that pole, too. You definitely have to worry about that. You don't want to run full speed into that."
Alden Gonzalez is a reporter for MLB.com. Read his blog, Gonzo and "The Show", and follow him on Twitter @Alden_Gonzalez. This story was not subject to the approval of Major League Baseball or its clubs.