Patient Trumbo drawing more walks this season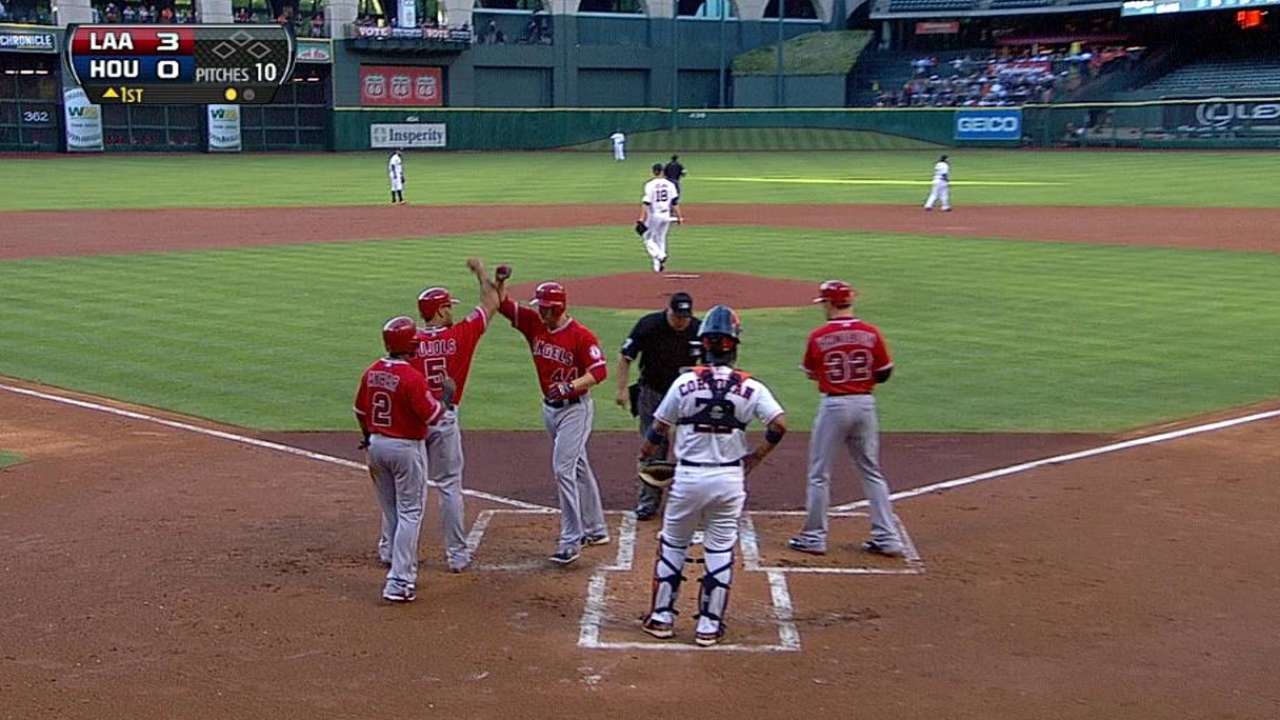 HOUSTON -- One of few bright spots amid the Angels' slow start has been, once again, Mark Trumbo, who's not only producing his usual power numbers, but he's even drawing a lot more walks.
To go along with a .291/.358/.552 slash line, nine homers and 23 RBIs through his first 33 games, Trumbo has also drawn 14 walks, which is tied for second on the team and puts him on pace for 69 this season. His first two full seasons in the big leagues, he drew a combined 61.
"It'd be awesome to be a guy who's way up there [in walks], but I think some guys are naturally more gifted at that than others, just like anything else," said Trumbo, who walked 36 times in 2012. "If it was a decision that you could easily control, anyone would only swing at strikes. But I always felt like some guys were just born with a little bit better eye, a little better plate discipline. Some guys really have to work at it, and I'm more the latter."
Compared to last year, Trumbo is seeing slightly fewer pitches in the strike zone (47.5 percent to 45.2 percent) while swinging at slightly fewer pitches outside the zone (37.6 percent to 34.4 percent). Getting into more deep counts, however, has also caused him to strike out 39 times heading into Thursday's game, which is one shy of Josh Hamilton for the team lead and tied for eighth most in the American League.
Last year, while the Angels got off to a similarly slow start, Trumbo surged, posting a .309/.361/.625 slash line in his first 81 games before going into a woeful slump for pretty much the remainder of the season.
Asked how he can avoid the rough patches, Trumbo put it simply.
"You can't," he said. "You put in the work you can, you try and keep a good frame of mind and try to avoid the peaks and valleys, try to become a consistent, productive hitter in the lineup wherever you do hit, but you also have to be realistic to know that some times are better than others. Good times don't last forever, and nor do the bad ones."
Alden Gonzalez is a reporter for MLB.com. Read his blog, Gonzo and "The Show", and follow him on Twitter @Alden_Gonzalez. This story was not subject to the approval of Major League Baseball or its clubs.