Moreno dismisses speculation regarding Scioscia's job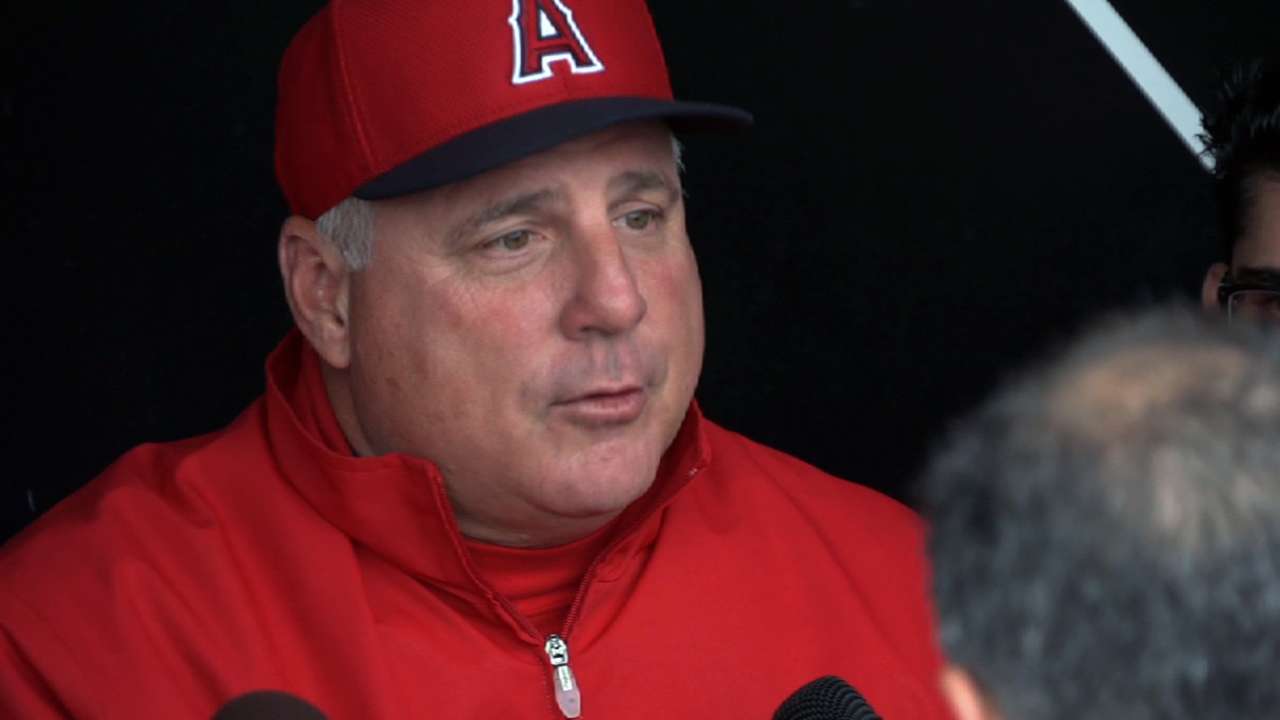 ANAHEIM -- Angels owner Arte Moreno publicly defended Mike Scioscia on Wednesday, telling FOXSports.com from the Owners Meetings in New York that there is "zero" chance he'll dismiss his 14-year manager amid a 15-24 start to a much-hyped season.
"Arte has always been very supportive," Scioscia said when asked for his reaction prior to Wednesday's game. "Arte knows how hard I take the non-performance of this team and how we need to get there. It hits me as hard as it hits Arte and it hits Jerry [Dipoto, the general manager,] and I know Arte realizes that. We're going to take this challenge and hopefully start moving forward and getting the wins that we need to get ourselves in the position we want to. That's the bottom line is winning, and we're going to work towards that."
The Angels once again came into the season with grand expectations after the offseason signing of Josh Hamilton, which came almost a year to the day since the club added Albert Pujols. But they got off to a slow start in 2013, after starting 6-14 in 2012, and now sit 10 1/2 games back of the first-place Rangers in the American League West while sporting the fourth-worst run-differential in baseball.
But Moreno, who also dismissed speculation regarding Dipoto's job status, said he has "no questions about Mike." Scioscia came on board in 2000, three years before Moreno purchased the Angels from the Walt Disney Company, but it was Moreno who signed Scioscia to the 10-year extension that runs through 2018.
"Mike has zero problems, OK?" Moreno told FOXSports.com. "This is his 14th year. Mike goes beyond what he does on the field. He's a good person. He's a good person in the community, a very good baseball guy. You don't have to ask me. You just ask other managers, other baseball people.
"I try not to live with that victim mentality that I want to blame everyone. If you're going to blame anyone, you've got to blame me. I'm the one at the end of the day that has the final call."
Scioscia has been on the proverbial "hot seat" before, going way back to the slow start of 2002 (when he eventually brought the franchise its first and only World Series title). Now, Scioscia's team is in danger of missing the playoffs for a fourth straight season despite sporting the sixth-highest payroll in baseball.
If nothing else, Moreno's comments could help quell outside speculation.
"The outside speculation is neither here nor there; the chatter is neither here nor there," Scioscia disputed. "Going on 14 years, this isn't the first time you deal with this kind of chatter. It happens; it's happened before. It certainly doesn't affect what we need to do on a day-to-day basis with our team, and that's what we're going to focus on."
Alden Gonzalez is a reporter for MLB.com. Read his blog, Gonzo and "The Show", and follow him on Twitter @Alden_Gonzalez. This story was not subject to the approval of Major League Baseball or its clubs.