Pujols not blaming balky knee, foot for dip in power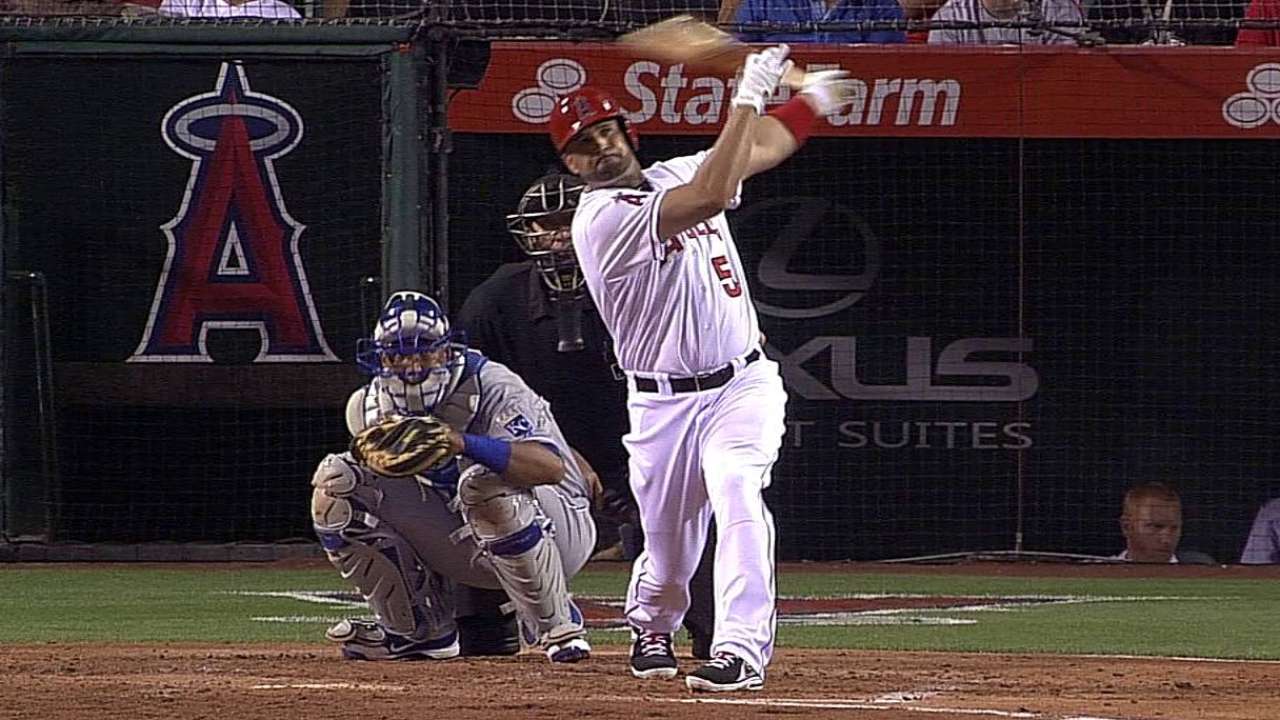 ANAHEIM -- Albert Pujols' surgically repaired right knee was feeling just fine until he played first base for 19 innings on April 29 in Oakland. Ever since, a sore right knee has joined the plantar fasciitis in his left foot as ailments that have weakened the No. 3 hitter's lower half and sapped some of his trademark power.
"Those are things you can't control," said Pujols, who started Wednesday's game at designated hitter. "There are days [the knee] bothers me, there are days it doesn't bother me. Same as the foot. Some days you'll see me running fine, and then other days I don't feel good enough to run. Now, thankfully, I'm feeling better with both, with the knee and the foot. I'm running a little bit better, I'm feeling more comfortable at the plate."
Pujols snapped a nine-game homerless drought on Tuesday, belting his sixth of the year and the 481st of his career. But he entered the series finale against the Royals sporting a .242/.320/.416 slash line, while continuing to split his days at DH and first base.
With his legs not 100 percent, it's been difficult for Pujols to drive the ball.
"It's been really hard, man, but I don't want to make excuses," said Pujols, who has started 19 of his 39 games at DH. "I'm not a guy who makes excuses. I'm not going to say it's why I'm batting .240. It's bothering me, sure, but .240 -- I'm not going to use that as an excuse. I don't want people to look at me and say, 'Oh, it's because he's injured.' I'm not that kind of person. Sure, if I were 100 percent, [the numbers] would be better. I'm not there 100 percent, but I'm giving my team all I can in the meantime."
Alden Gonzalez is a reporter for MLB.com. Read his blog, Gonzo and "The Show", and follow him on Twitter @Alden_Gonzalez. This story was not subject to the approval of Major League Baseball or its clubs.