As the weather gets warmer, Trout heating up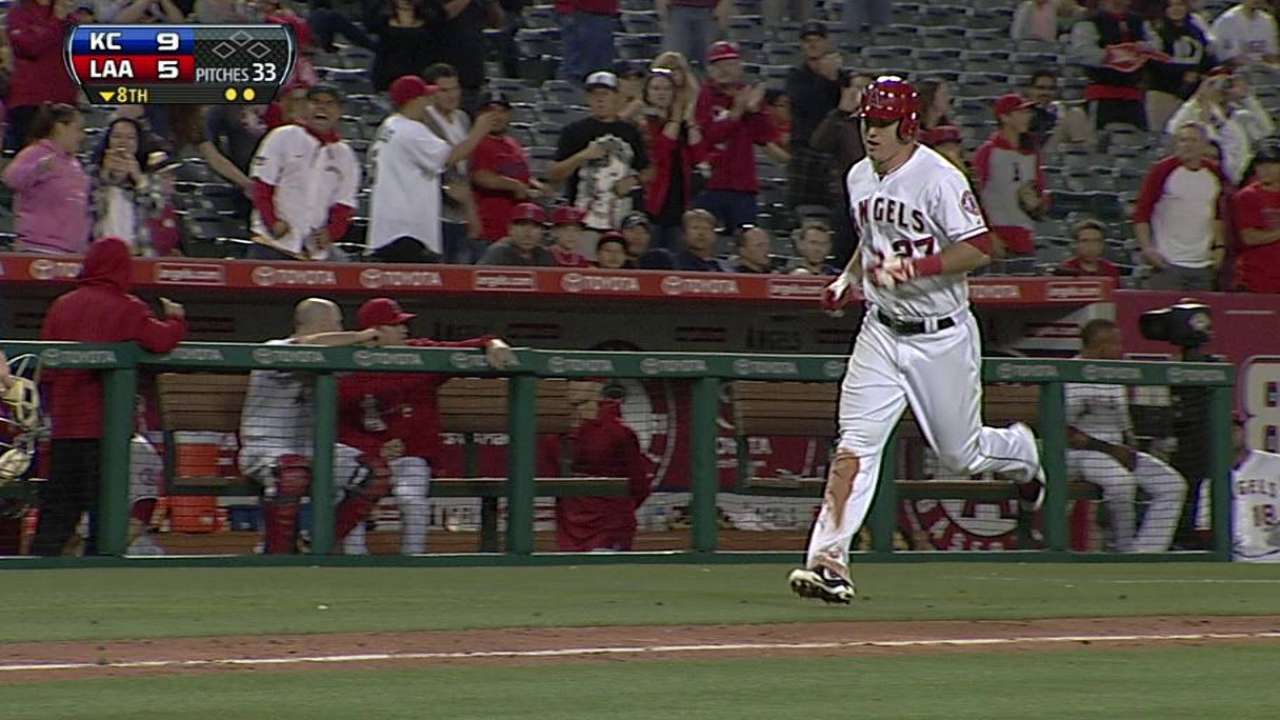 ANAHEIM -- The month of May appears to have been exactly what Mike Trout needed.
The Angels have played 17 games in May and Trout had reached base in all of them. The Angels outfielder has hits in 13 of the 17 games and his six home runs are tied with Mitch Moreland for the most in baseball during the month.
"One of the big things with Mike, obviously as you get into the season, you get a little more comfortable, that's one thing," manager Mike Scioscia said. "But I think having Albert [Pujols] behind him has really helped. He's found a comfort zone hitting two, connected with Albert, and hopefully it'll continue."
Since moving into the second spot in the Angels order, Trout has collected 28 RBIs and hit .284.
Heading into Sunday's contest against the White Sox, the Angels have 12 games left in May. Trout, who hit .325 with five home runs in May last season, has raised his batting average from .261 to .285 so far this month.
While getting into the rhythm of a season may be part of the reason for Trout's recent surge, Scioscia believes expectations may have been weighing on Trout early in the season.
"I think it's more of Mike getting through the hype of what he did last year, getting comfortable in the season and understanding that he just needs to play baseball," Scioscia said. "Now that he feels comfortable, you're seeing him do the things he is capable of doing."
Although Trout will return to left field when Peter Bourjos is activated from the disabled list, the 21-year old outfielder has played center field -- where he is most comfortable -- since Bourjos was injured on April 29.
However, Scioscia does not believe the position switch has had anything to do with Trout's recent offensive outburst.
"If you take a center fielder and ask him to catch, there's some validity to that point," Scioscia said. "Take a center fielder and ask to pitch, there's some validity. But, ask a center fielder to play left field, I think that holds no water as to a guy's comfort level of what he might be able to do at the plate."
William Boor is an associate reporter for MLB.com. This story was not subject to the approval of Major League Baseball or its clubs.