Trout showcases power, speed against KC
Halos outfielder belts mammoth homer, steals base late in Thursday's win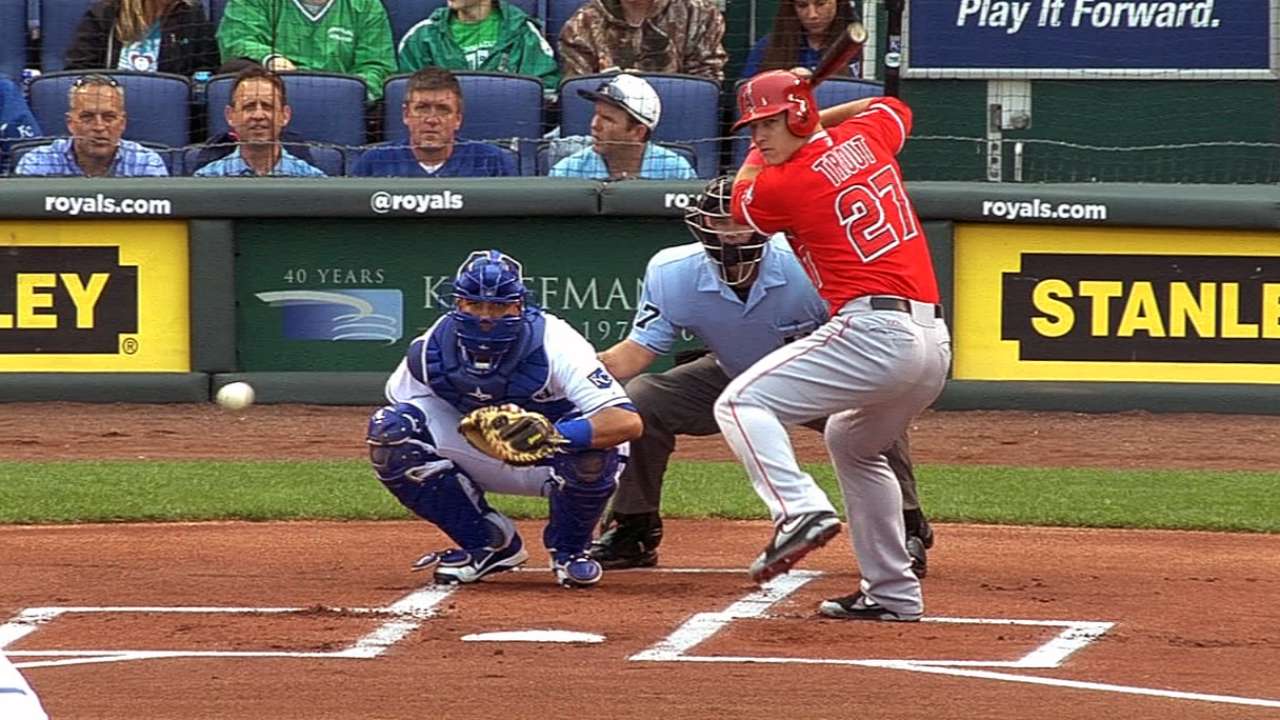 KANSAS CITY -- The Kauffman Stadium press box announcement on Mike Trout's first-inning homer to straightaway center on Thursday night was that the blast traveled an estimated 433 feet. Another estimate had the drive at 463 feet, but even that seemed tight to Angels manager Mike Scioscia.
"It had to be between 480 and 500 feet," Scioscia said. "With the naked eye looking at it, it's got to be 500 feet. "
Trout's monster drive, which was interrupted by a backdrop wall, came off a fastball from Royals starter Ervin Santana.
"You've got to get back down to the level of the plate," Scioscia said. "That thing hit still probably 30 feet above the ground. There's a way to figure it out, but calculus was out of my league."
Trout's rare blend of power and speed was reinforced in the eighth inning, when he stole second with the Angels up by one.
It marked the fourth time this year that Trout had homered and stolen a base in the same game, which led the American League entering Friday's contest. Since 2012, Trout has 11 games with a homer and a steal in the same game and that leads the Majors over that span.
"That is a select club," Scioscia said. "That's what makes Mike's talents so incredible. No only in the game today, but that's a select group in any year in baseball."
Trout came up with his 11th steal in the seventh inning in Friday's 5-2 win over the Royals on a disputed call at second base. He also had his fourth consecutive multihit game, which matched a career high.
Robert Falkoff is a contributor to MLB.com. This story was not subject to the approval of Major League Baseball or its clubs.