Scioscia defends decision to return Trout to left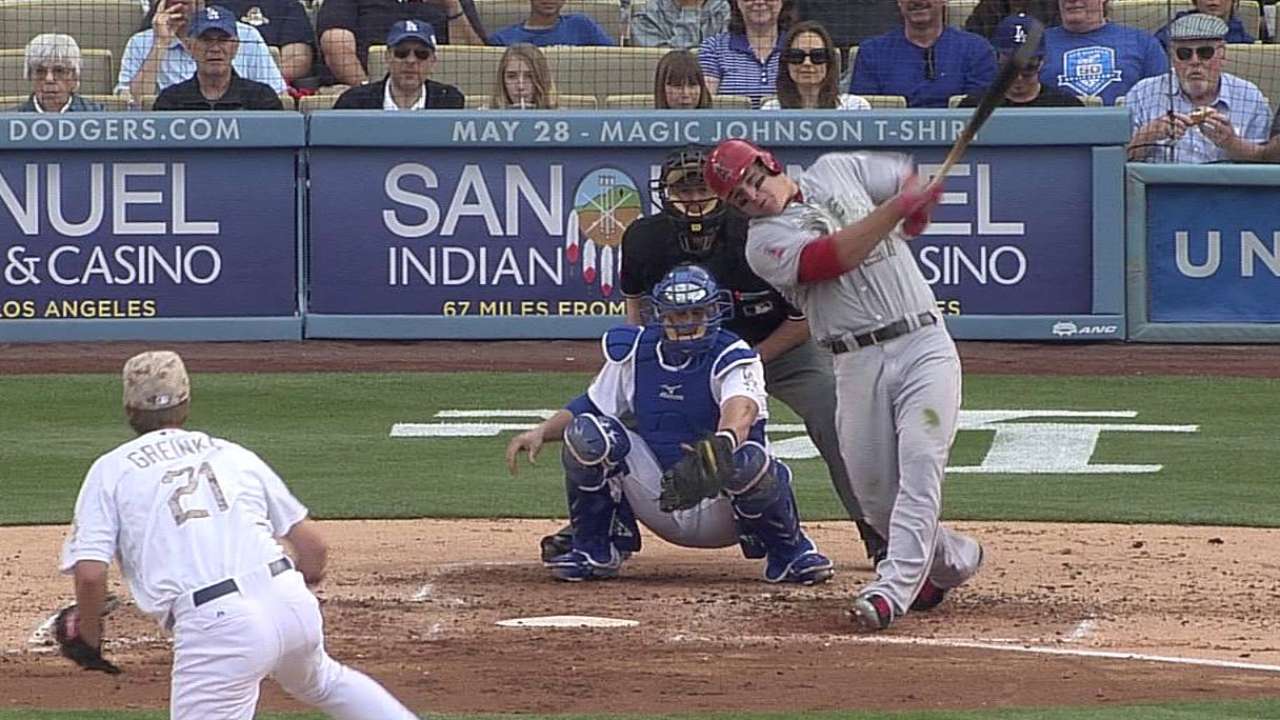 ANAHEIM -- Angels manager Mike Scioscia reiterated what he's said all along on Thursday: When Peter Bourjos returns from the disabled list, he'll once again be the everyday center fielder, and Mike Trout will go back to left field.
The decision to move Trout to left field caught a lot of attention in the offseason, with outsiders wondering why the American League MVP runner-up would move from a position he excelled at. It was then brought back to the forefront in the spring, when agent Craig Landis mentioned Trout's "disappointment" over the position change in a statement regarding his compensation.
Now it's a hot-button issue again, because Bourjos is a couple weeks away from returning from a strained left hamstring -- he could start a rehab assignment Monday -- and because Trout has caught fire since moving back to center field.
Scioscia will tell you Trout's position is unrelated to his offensive production.
"Not at all," Scioscia said. "Mike's a center fielder. We've said that. At times, his versatility, we need to tap into it. Peter's just an incredible center fielder, and it takes a little pressure off of some guys if you're able to play a corner."
Trout had a .247/.327/.412 slash line in 98 plate appearances as a left fielder earlier in the year and sports a .331/.401/.654 line in 147 plate appearances during starts at center, which have come while Bourjos has been on the disabled list.
Scioscia believes Trout's surge at the plate -- he has four triples, eight homers and eight stolen bases in May, making him the first player to ever put up those numbers in any month -- has more to do with his batting-order position and the hype subsiding.
"I think it's a function of first of all getting some at-bats and getting comfortable, getting that Rookie of the Year mystique out of the way of where people were looking at what he was doing for the first two weeks of the season," Scioscia said. "And I don't know if anybody has connected the dots to say now he's hitting in front of Albert Pujols, where before he wasn't."
Scioscia points out that Trout leads the team in at-bats with runners in scoring position (55), which was the main intent of moving him down a spot. Trout's OPS has increased by 206 points in his last 29 games, from .724 to .930 -- though that came three weeks after he was moved from first to second in the order.
Trout has never publicly said he's unhappy about the move.
"It's not like he's a center fielder and we said, 'Hey Mike, we need you to catch,'" Scioscia said.
"There are moves for individual players that are made for the benefit of the team. I know Mike understands it. I can't say it any clearer -- we know Mike's a center fielder. You're putting lineups together with the whole team there, and I don't anticipate any significant drop-off because he's moved from center to left."
Alden Gonzalez is a reporter for MLB.com. Read his blog, Gonzo and "The Show", and follow him on Twitter @Alden_Gonzalez. This story was not subject to the approval of Major League Baseball or its clubs.