Minor League rehab assignment up next for Bourjos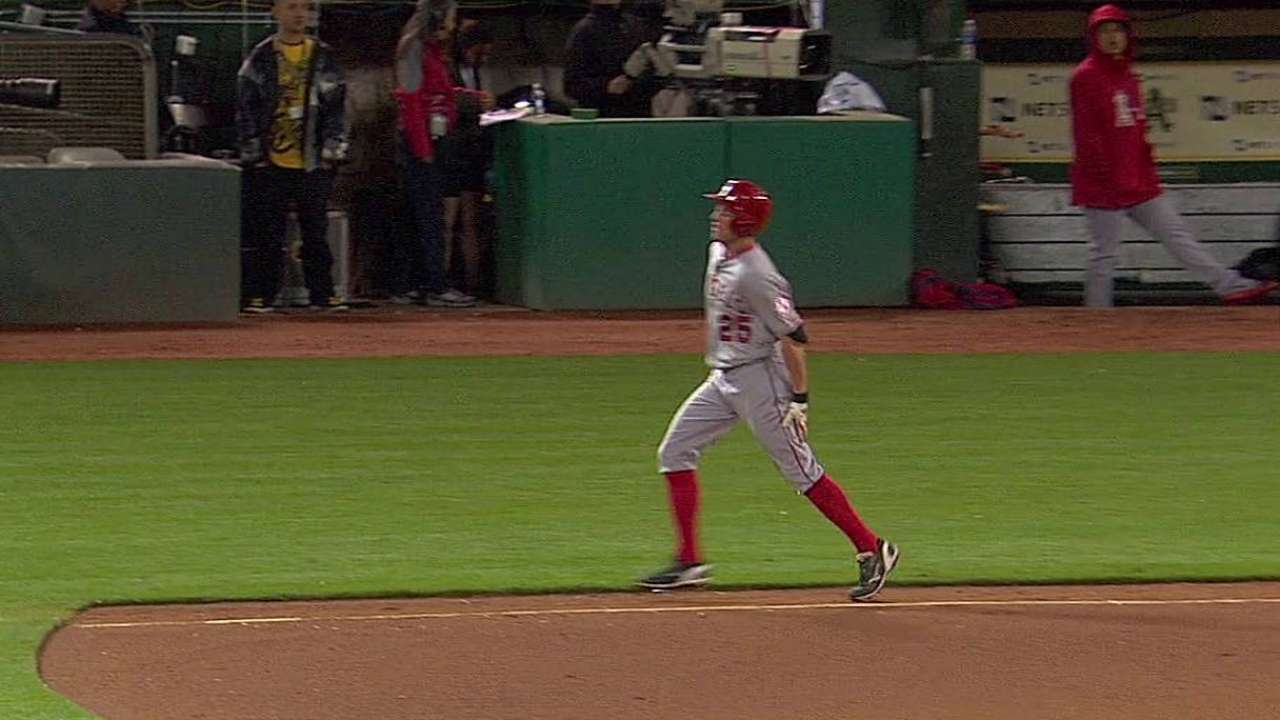 ANAHEIM -- Outfielder Peter Bourjos continues to progress as he recovers from a strained left hamstring and will begin a Minor League rehab assignment on Monday with Class A Inland Empire.
Bourjos anticipates playing in four or five rehab games, and manager Mike Scioscia envisions Bourjos returning to the Angels in a week or less.
"Hopefully I feel good right off the bat, which I think I will," Bourjos said. "So it just depends on if I feel good at the plate."
"We'll see how it goes," Scioscia said. "The thing with Pete is, his legs are important to him in everything he does, so it will give him a chance to get out there and test them. Maybe he'll have to recover and work some stiffness out. He needs to work some of that out."
Bourjos tested the hamstring -- which he injured legging out a sacrifice bunt on April 29 in Oakland -- running the bases for the second straight day on Saturday. He also took batting practice and shagged fly balls. He will rest on Sunday.
Although Bourjos will begin his rehab assignment with Inland Empire, the plan is for him to advance to Triple-A Salt Lake later in the week before being activated.
Mike Trout moved from left field to center following Bourjos' injury, with J.B Shuck getting the majority of playing time in left. Trout is expected to shift back to left when Bourjos returns.
Shuck, meanwhile, entered Saturday's game against the Astros hitting .270 with eight RBIs and eight runs scored in 27 games following Bourjos' injury.
"I think J.B. has played great baseball," Scioscia said. "He's a guy that understands his game, much like David Eckstein. He uses his speed. He plays hard. He's gotten his bunts down. He's run the bases well. He's done everything you would expect of a guy really getting his first full look of playing every day. He's given us a boost of energy that you can see on the field. He's doing well."
Austin Laymance is an associate reporter for MLB.com. This story was not subject to the approval of Major League Baseball or its clubs.