Angels sacrifice speed to keep Pujols' bat in lineup
Angels sacrifice speed to keep Pujols' bat in lineup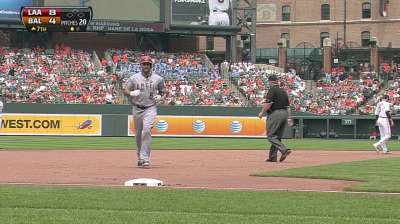 ANAHEIM -- Friday's game offered up a perfect snapshot of the Angels' dilemma with Albert Pujols.
In the Angels' 5-2 win over the Yankees, Pujols had his second consecutive three-hit game, but was also thrown out trying to score from second base on a single and failed to score from first base on a double in the right-center-field gap.
Asked how many runs a hobbled Pujols can cost the Angels on the bases, manager Mike Scioscia made an important point: "How many runs is he going to get us with him swinging in the batter's box?"
Pujols, of course, is not healthy. The plantar fasciitis on his left foot has forced him to start 37 of his 66 games -- including Saturday's -- at designated hitter, while greatly limiting his mobility and perhaps even sapping some of his power.
The Angels' approach with him is simple: If Pujols can hit, he'll play. Less foot speed, more maintenance and a necessity to often start him at DH is something they'll happily deal with -- probably for the entire season -- as long as Pujols feels comfortable enough to swing a bat.
Besides, Pujols -- .256/.324/.445 slash line heading into Saturday's game -- may just be getting hot.
"This isn't going to heal in two weeks," Scioscia said when asked if it would benefit Pujols to go on the disabled list. "The reason why you would take some time off is to get it to that minimal level to where you can play at the level that you need to. And right now he's at that level. The two weeks is maybe going to make him feel a little bit better, but won't really enhance what he can do right now."
Alden Gonzalez is a reporter for MLB.com. Read his blog, Gonzo and "The Show", and follow him on Twitter @Alden_Gonzalez. This story was not subject to the approval of Major League Baseball or its clubs.